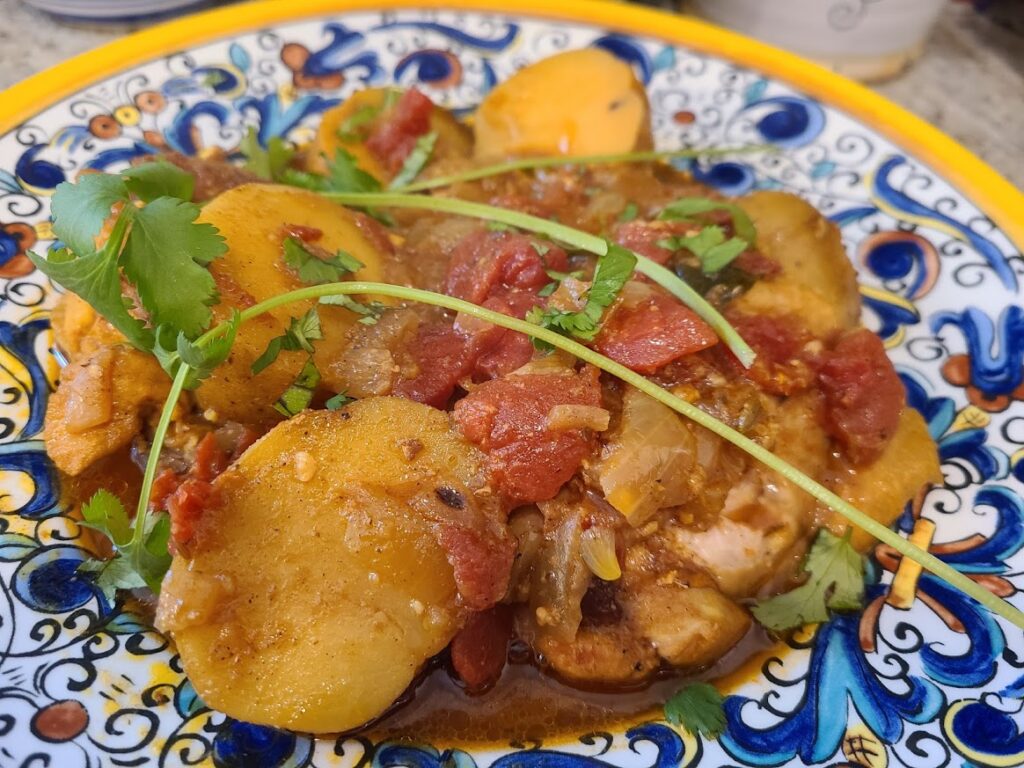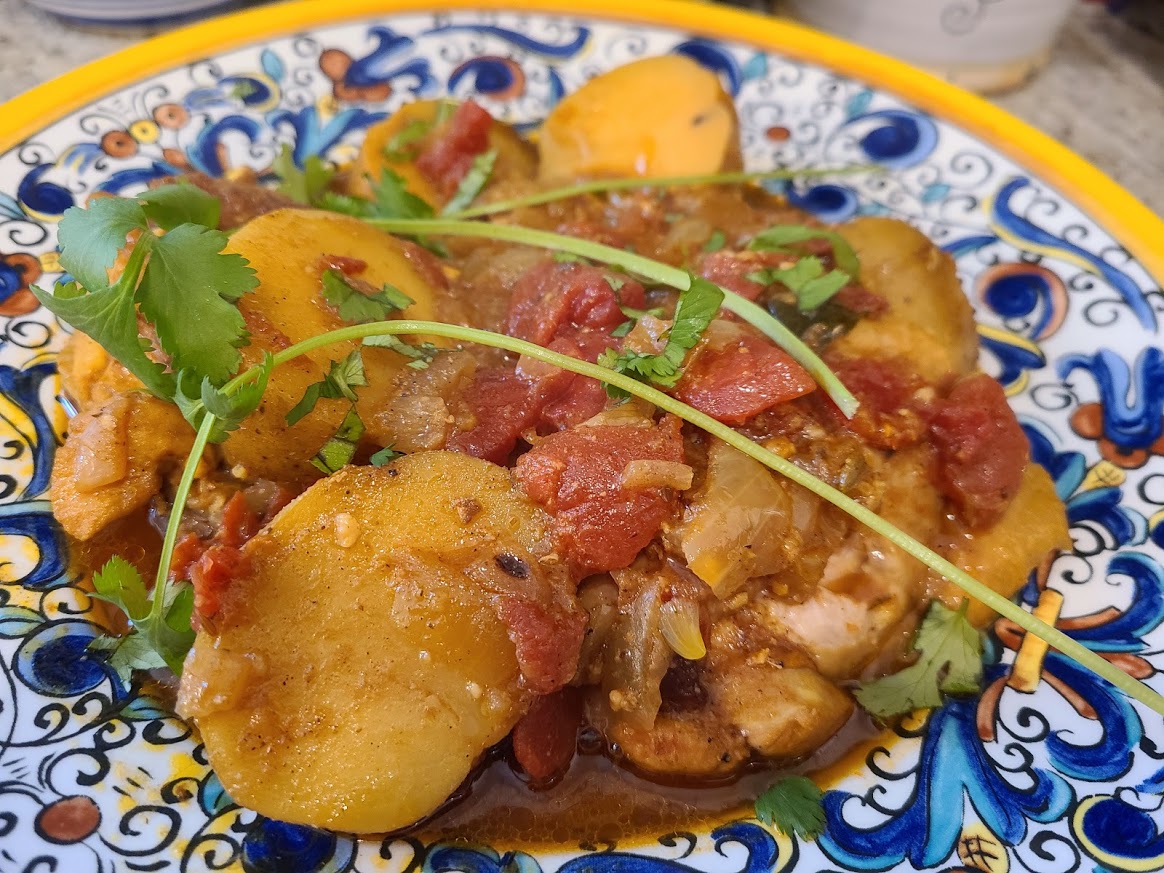 It has been a while since we have had an addition to our top 10 list, but Fijian Chicken Curry made the cut with all 3 of us rating it a 10/10 and placing it in spot number 2. Fiji, an archipelago of more than 300 islands, is located in the South Pacific to the east of Australia and to the south-east of Papau New Guinea. It's cuisine is heavily influenced by Indian and Southeast Asian cuisine. While they eat a lot of fish in Fiji, I was not able to get whole fish so settled for this Chicken Curry dish instead, served with a flat bread called Roti. You can either serve it with Roti and/or Basmati rice. This one pot dish was easy enough to make and SCRUMPTIOUS. After the chicken was gone, Scott kept going back for more sauce and was practically licking the bowl. Eva too could not get enough of this dish. While it was easy enough to make, there were a few special ingredients, namely: curry leaves, which I found at our local organics store, you can proabably find them at Whole Foods too. You can probably also find them at a local Indian market. Just slide your fingers along the stem from bottom to top to remove the leaves. I happened to have some panch parum left from the Bangladeshi dish I made a while back and that included the mustard seeds, fenugreek seeds and cumin seeds, plus two other seeds that I read were optional for a Fijian Curry. If you don't have them, you can just use the separate ingredients. This dish can be made ahead and tastes great re-heated the next day. I skimmed the chicken fat off the top after taking it out of the fridge, but you can leave it if you prefer.
Ingredients
1 chicken cut into pieces
1 large onion
4 cloves garlic pressed
1 1/2″ ginger grated
1 T garlic chili paste
1 large tomato diced (or 1 14 oz can)
1 sprig of curry leaves
1 tsp salt (or to taste)
2 T masala
1-1 1/2 tsp tumeric powder (enough to turn chicken yellow)
1 tsp mixed – cumin, mustard & fenugreek seeds (or 1 tsp Panch Puran)
Step by Step Directions


1.
Sprinkle and rub chicken with tumeric until yellow.

2.
Chop 1 large onion.


Cut 3 small potatoes in half.

3.
Press 4 cloves garlic, grate 1 1/2 inch piece of ginger.
Mix with 1 T garlic chili paste.


4.
Remove curry leaves from stem.

5.
Heat 3 T vegetable oil (or ghee) in a cast iron pot.
Add 1 small cinnamon stick, curry leaves, 1 star anis, and
1 tsp of a combo of cumin seed, mustard seed and fenugreek.
Stir until seeds crackle.


6.
Add onions. Mix.



Sautee until onions are light brown.
7.
Add chili paste, garlic & ginger mixture and mix.
8.
Add chicken and 1 tsp salt.
9.
Add tomatoes, masala & potatoes.
10.
Mix and bring to a boil.

11.
Cover. Lower heat to medium low.


Simmer until potatoes are tender (about 45-60 min)

12.
Garnish with chopped cilantro.


Serve with salad and roti and/or basmati rice.
Recipe Source: Fiji Style Curry Chicken, Fijian Chicken Curry