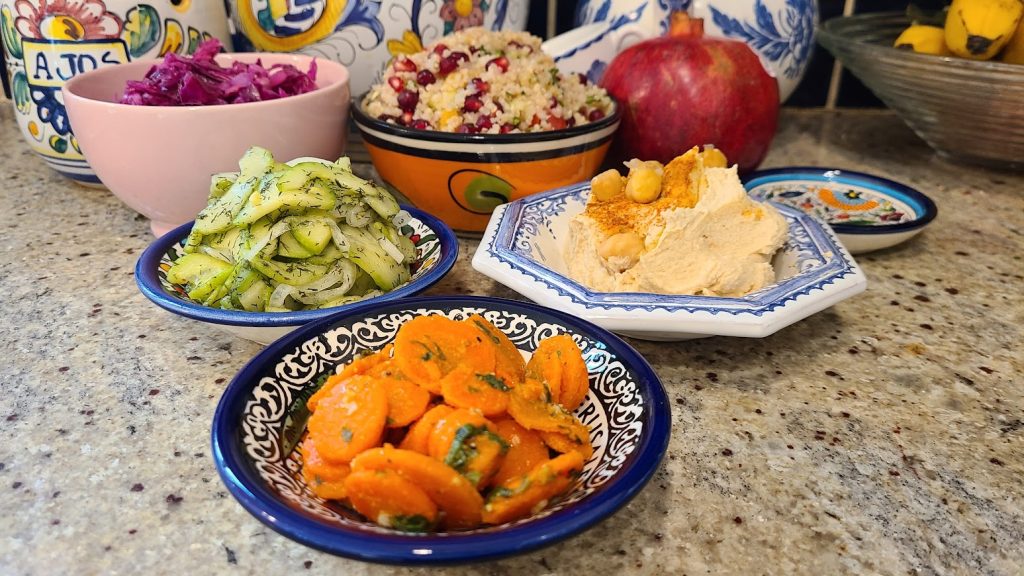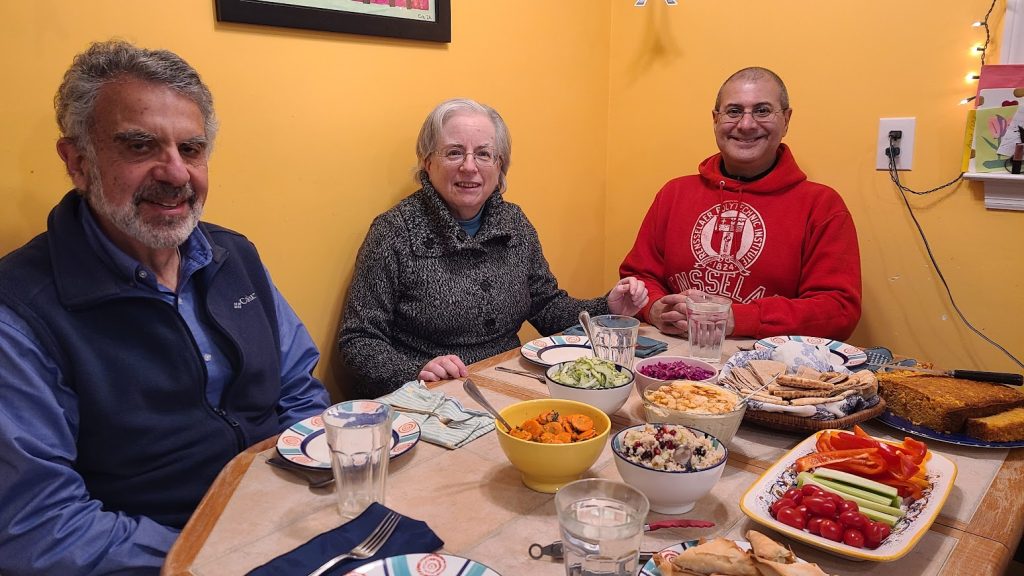 In the US, when we think of salad, we think of something like a green salad, a cob salad or a Caesar among others. But in Israel, their interpretation of salad is totally different – think salad meets tapas – small portions of a large variety of dishes that together can be a meal in and of itself or can compliment a meal or can be served as an appetizer. Hummus is always a must as is fresh bread such as pita or laffa (Iraqi pita) which is traditionally dairy free and vegan. In our hotels in Israel, there was a ginormous salad bar for breakfast every day. At lunches and dinners, Salatim abounded. Whereas I limited my salatim meal to 5 different salads (red cabbage salad, cucumber salad, Moroccan carrot salad, hummus & quinoa salad with pomegranate & dried fruit) along with fresh veggies and some spinokopita, 10-15 salads seems to be typical and in some instances they serve even more (22-23!!!). Salatim are great because you can make them ahead, keep them in the fridge and change them up by adding new ones. Salatim can range from Israeli chopped salad, cabbage salads, corn salad, Moroccan carrot salad, hummus, grilled peppers, roasted cauliflower… this list is as long as your imagination. The diversity of the Israeli population is reflected in the salatim. Salade de carottes à la marocaine (Moroccan Carrot Salad) is just one such dish, found among your traditional salatim, but clearly of Moroccan origin. Scott and I both loved this dish. I particularly liked it warm or lukewarm, but it can be served, hot or cold and is equally tasty. These dishes are generally easy to make, super healthy and tend to be vegan and gluten free. Enjoy!!! And yes, this meal was one of Scott's top 10. He could live on food like this 🙂
Ingredients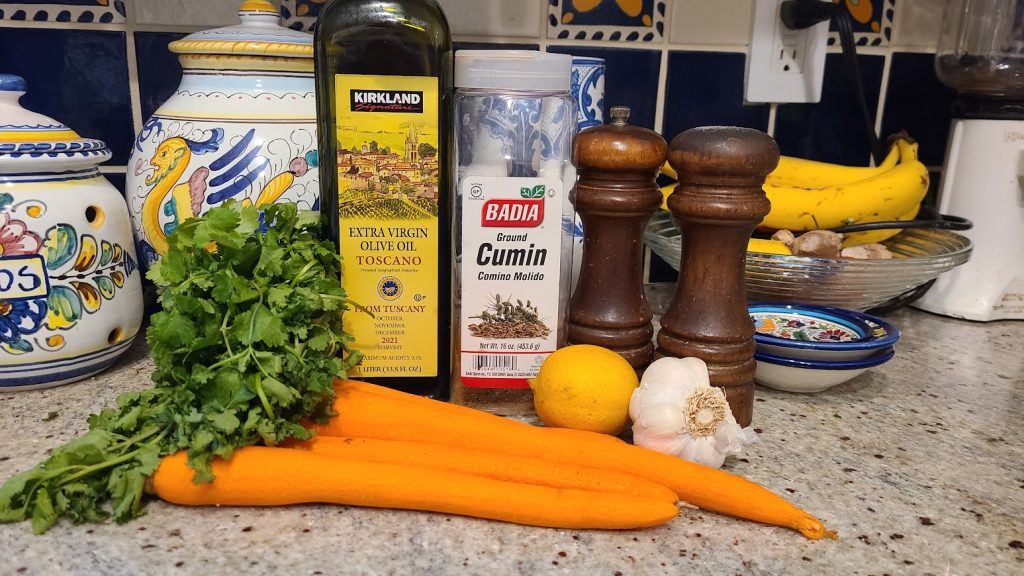 4 medium carrots (250-350 g / 1/2-3/4 lb), peeled and sliced thin
3 cloves garlic, peeled and minced
1-2 heaping T chopped fresh parsley (or cilantro if you prefer)
1/2 tsp ground black pepper
1/2 – 1 tsp ground cumin
Juice of 1/2 lemon
salt to taste (optional)
Step-by-Step Directions


1.
Peel carrots. Slice carrots (4 mm approximately 1/4 inch).
Peel and mince 3 cloves of garlic.
Wash and chop the parsley or cilantro.
Juice 1/2 lemon.



2.
Bring a pot of salted water to a boil.
Add carrots. Blanch for 4 minutes until tender but still firm.
Do NOT overcook carrots)
Drain carrots.

3.
Heat 2 T olive oil in a pan.
Add carrots, garlic, parsley (or cilantro), pepper, cumin.
Sautee until fragrant, stirring constantly (1-3 min).
4.
Transfer to a bowl.
Drizzle with lemon juice. Mix.
Adjust flavor if needed.
5.
Serve hot or cold.