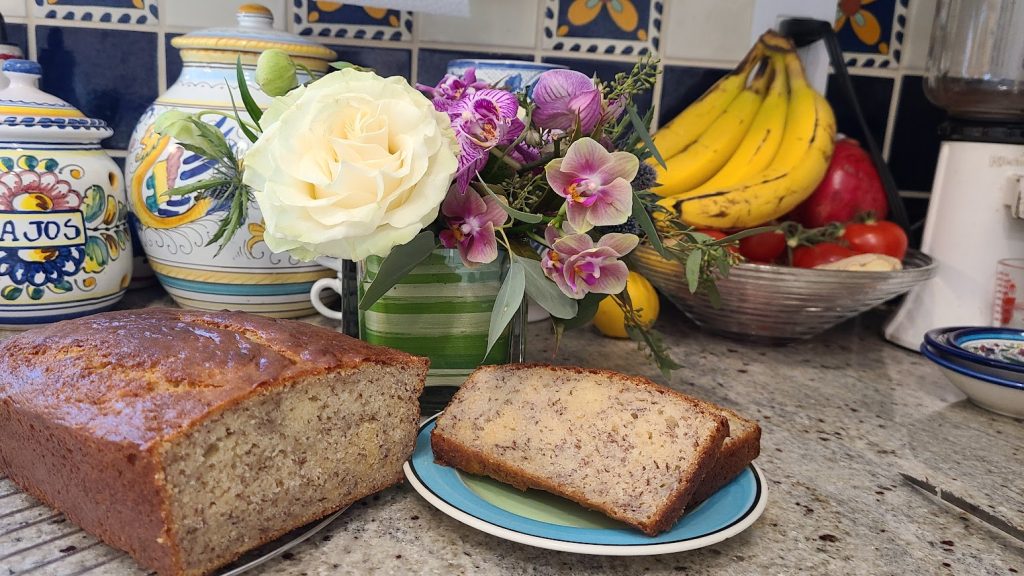 If you like banana bread than do I have a recipe for you! This banana bread is absolutely DELICIOUS!!!! It is flavorful, moist and actually a bit healthier than most recipes. My neighbor at the beach has become addicted to it (I bake it for him) and every time I see him asks me if I have made any banana bread lately and raves to everyone at the beach about how great the banana bread is. I'm glad he likes it. My dad, too, has made it clear that he needs a constant supply. Both Eva and Scott love it too as do I! I had been racking my head as to what to make for the USA. So the other day, when I was randomly doing some research on the history of Banana Bread I discovered that it is actually an American invention!!!! So voila, a super easy and tasty recipe to make that stays well. I personally like mine cold from the fridge as it gives it a denser feel. My neighbor likes his at room temperature and my brother likes his grilled. Hope you like it even half as much as we do. This definitely is in our top 10 list. For my dad and my neighbor, it is their #1 on their top 10 🙂 Enjoy!!!!
Ingredients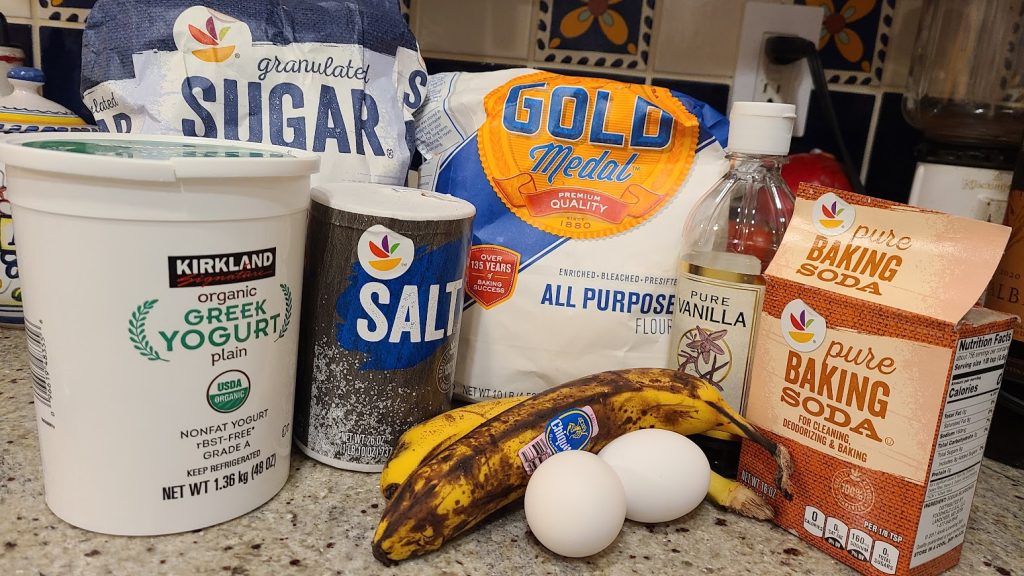 6 T (85 g) butter, melted
1 cup (220 g) white sugar
2 eggs
1 teaspoon (5 ml) vanilla extract
1 ½ cups (200g) all-purpose flour
1 teaspoon (5 g) baking soda
½ teaspoon (2 g) salt
3/4 cup (190 g) Greek yogurt
2 medium bananas (approx. 240 g peeled), mashed
Step-by-Step Directions
1.
Preheat oven to 350 degrees F (177 degrees C).
Grease a 9″x5″x2″ inch loaf pan (24x14x7 cm).
Gently wipe off any extra grease with a paper towel.


2.
In a large bowl, melt 6 T butter.
Add 1 C sugar. Stir to combine.

3.
Add 2 eggs and 1 tsp vanilla. Mix well.

4.
To a medium bowl add 1 1/2 C all-purpose flour, 1 tsp. baking soda
and 1/2 tsp salt.
Stir together with a whisk or fork to combine thoroughly.


5.
Add flour mixture to butter. Stir until combined.
I generally use a spoon for this part.


6.
Fold in 3/4 C Greek yogurt using a spatula.


7.
In the bowl you used for the flour mash 2 bananas with a fork
until they are totally mushy and have a bit of a shiny glimmer (no big lumps).
When you think they are done… mash them just a bit more

8.
Add mashed bananas to batter. Fold in until thoroughly combined.

9.
Pour batter into prepared pan.
Gently spread batter evenly into pan.
For best results push batter into each corner of the pan. (This helps avoid
a lump in the middle)
10.
Bake at 350 degrees F (175 degrees C) for 60 minutes,
or until a toothpick inserted into the center of the loaf comes out clean.
(My oven does better with 61 minutes)

11.
Cool loaf in the pan for 10 minutes on a wire rack.
12.
Remove loaf from pan. Cool on a wire rack.
13.
Serve.