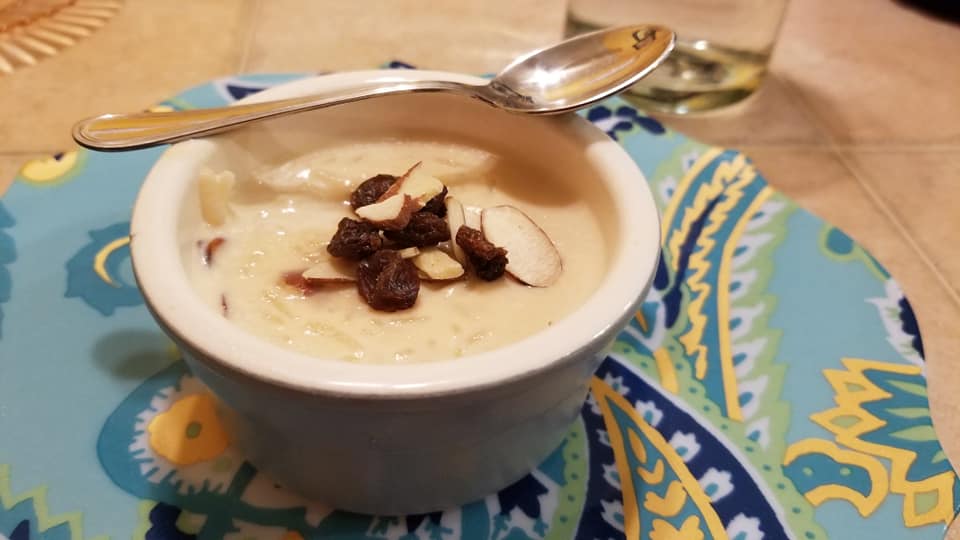 B is for BANGLADESH. You may be wondering why I am making Payesh – Bangladeshi Rice Pudding when I am already somewhere in the I's on my more or less alphabetical culinary journey around the world. Simple, Eva requested this recipe the other day before heading back to school and when I went to make it, I realized it was one of the earlier dishes I had made and I had not actually written it up properly! So I am trying to go back and do some of the ones I made before. Anyway, we all really liked this cardamon-infused rice pudding and although payesh is supposed to be served chilled, we prefer it luke warm…but are not beneath eating it straight out of the pot either. Everyone has their specialties that they make. Rice pudding, although very easy to make is neither something I grew up eating or making so as I have only made a rice pudding twice in my life (maybe 3 times), figuring out when to stop cooking it is still somewhat of a mystery to me. The first time I made it, I think I got it right. This most recent time I cooked it until it was super thick (as it would be when the thinner stuff set). Both were delicious, so figure out what you like best. You can even use that as an excuse to make this dish multiple times! Don't be intimidated by the ghee in the dish – it is just melted butter with the white milk solids removed. Enjoy!!!
Ingredients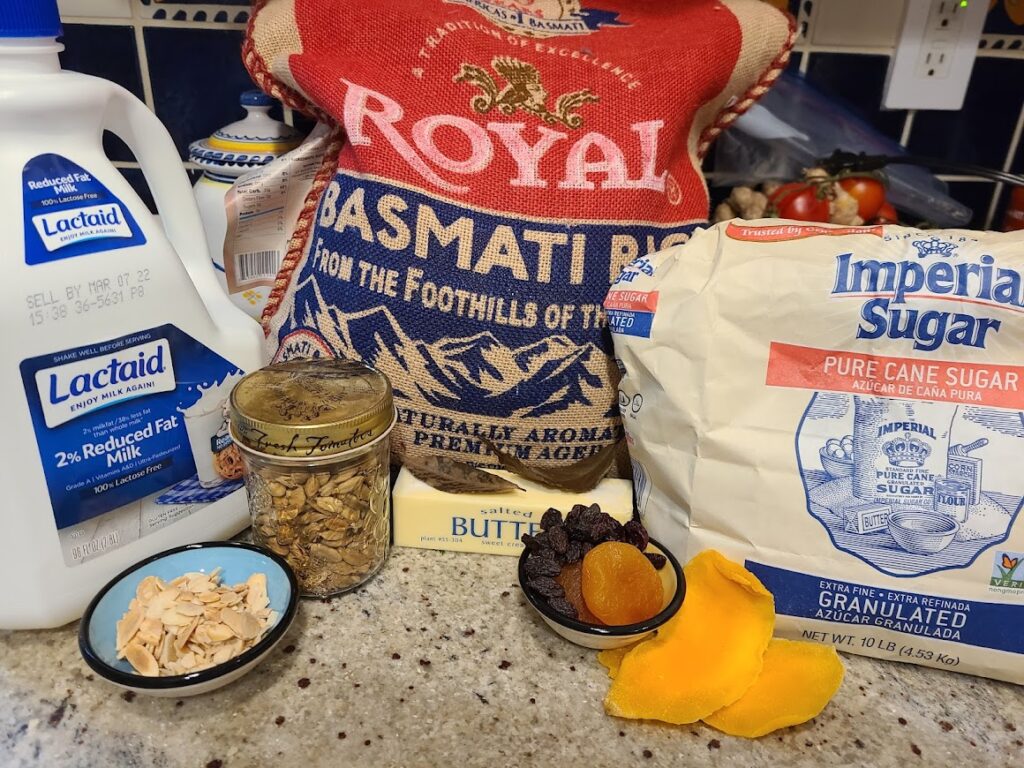 1 Litre Milk (just over 4 cups)
1/3 cup Basmati Rice
1/3 cup sugar (reduce sugar if you don't have such a sweet tooth!)
4 cardamom pods (lightly crushed) OR 1 tsp ground cardamom
Nuts (e.g. cashews, pistachios, almonds)
Dried fruit (e.g. raisins, dates, apricots, mango)
2 tsp ghee or butter
2 bay leaves
Step-by-Step Directions

1.
Pour milk into a large pot and bring to a gentle boil, stirring constantly.


2.
When it reaches a rolling boil and milk begins to thicken,
add bay leaves and slightly crushed cardamom pods.

3.
Rinse uncooked rice and add it to the milk.
4.
Allow the rice to boil over a low to medium flame until it is cooked but still firm.
Stir frequently to keep the rice from sticking or burning.
As the milk evaporates, add water if there is not enough liquid for the rice.



5.
When the rice is almost cooked, remove the bay leaves and stir in sugar.

6.
Mix well and allow to boil until the mixture thickens slightly.
Remove from heat.


7.
Melt 2T butter in a glass in a microwave.
Skim off the white foam. What is left if the ghee.

8.
Add dried nuts, dried fruit and 2 tsp ghee.
9.
Allow to cool, refrigerate and serve chilled.
If it's too thick afterbeing refrigerated, add a little boiled milk before serving
Garnish with fruit and nuts.
Serve.
Recipe Source: Payesh – Bangladeshi Rice Pudding