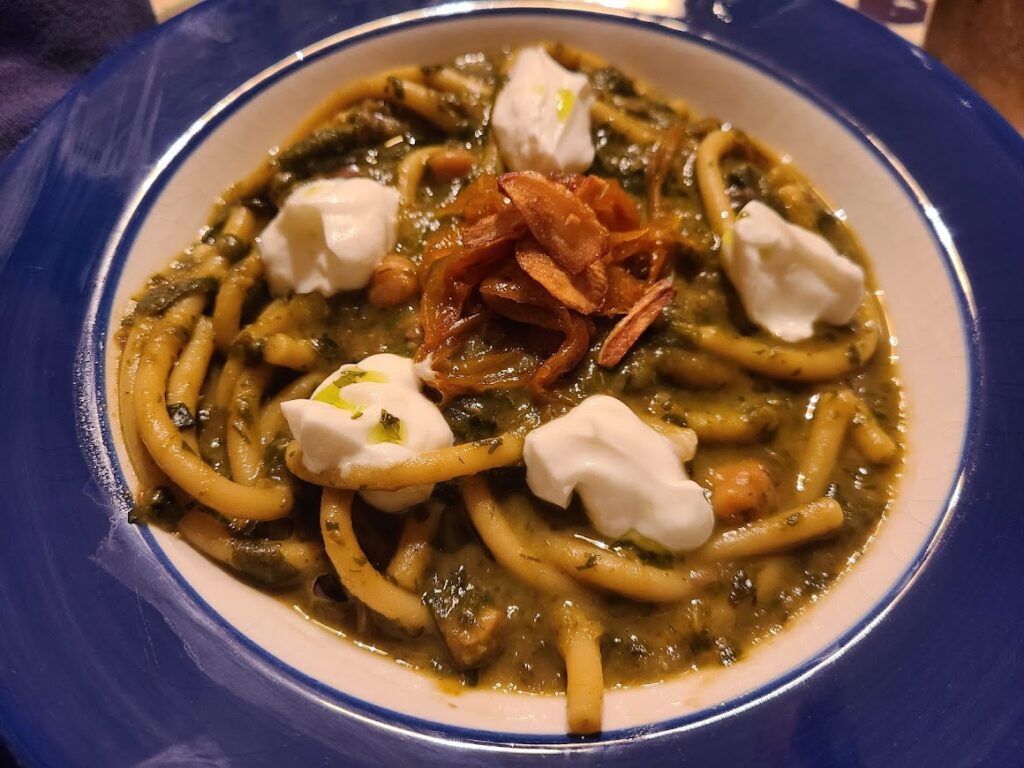 I happen to be in the middle of the I's and coincidentally while searching for foods to make in honor of the winter solstice, discovered that in Iran, there is a special holiday, Shab-e-Yaldā, which takes place on the winter solstice which is the darkest night of the year. Yalda is an ancient tradition which commemorates the triumph of Mithra, the Sun God, over darkness. Fresh summer fruits such as pomegranets (a symbol of fertility, light and goodness), watermelon and dried fruit accompany the reading of poetry from the celebrated 14th-century Persian poet Hafezs. Warm nourishing foods like soups and stews also figure prominently among the celebratory fare. Ash Reshtesh (Persion Herb, Bean & Noodle Soup) is probably one of the most popular persian soups (although it tends to be think like a stew). It is eaten year round but especially for celebrations and the Persian New Year. My husband described it as tasting like creamed spinach with a strong dill flavor. Having never had creamed spinach in my life, I would not know. I thought the dill flavor was a bit strong and it was a bit gloopy, but that was probably because most of the recipes called for a bunch of dill, a bunch of parsely and a bunch of cilantro as well as 1 lb of chopped spinach. When I went to buy my herbs, most of the bunches were unusually ginormous! I also only used 1/4 cup of each of the dried beans. Were I to make it again, I would have used more beans, thinned it out a bit with a smidge more water and cut back a tiny bit on the spinach and dill. Some recipes I saw did not have did, most did. I made some adjustments which are reflected below. As it takes a while to cut all of the onions and herbs, I would recommend doing this ahead of cooking the beans. This dish is also served with garnishes which I would highly recommend – worth the time to make them. The garnishes included fried garlic, carmelized onions, mint oil & greek yogurt. I made 5 cloves but would double that the next time. As for the onions, I did 4 large onions and wished I had more. Genernally people take 1/2 of the onion mixture and put it in the pot. Then they save the other 1/2 for garnish. I would either make more onions or do 1/4 (in pot) – 3/4 (garnish) were I to make it again. To save pans, I would also recommend doing the onions directly in the pot you will be adding the water and beans to. Also, make sure to STIR REGULARLY once you add the beans and herbs or your soup/stew will BURN!!!!! If it does, just quickly transfer it to another pot!
Ingredients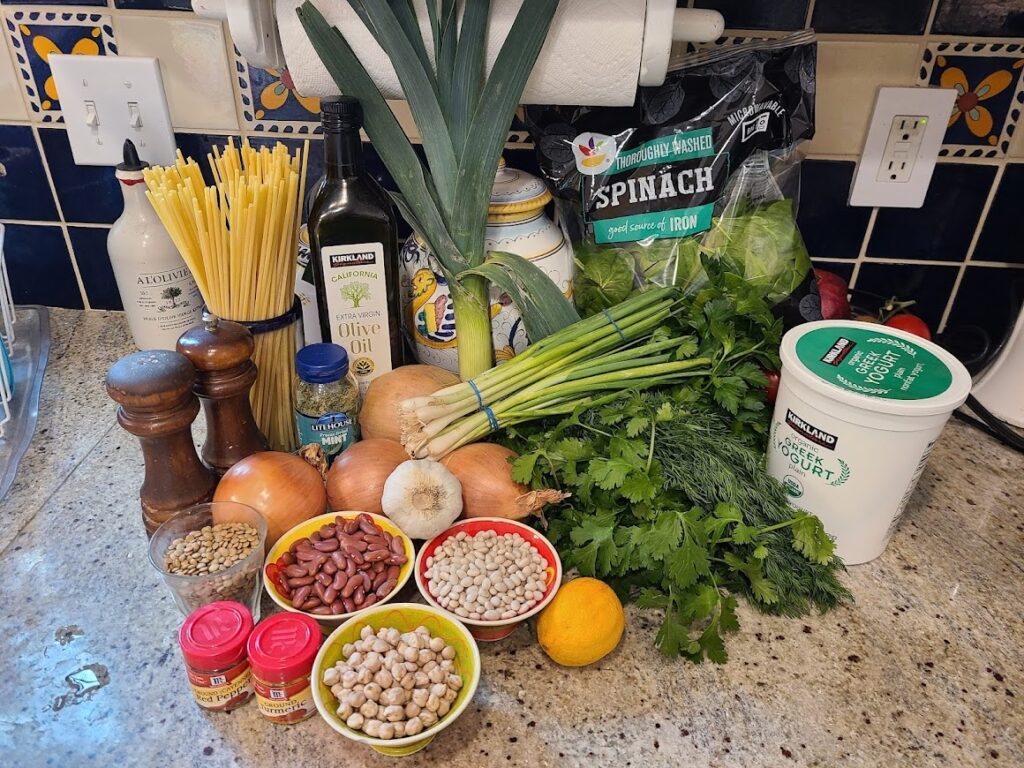 6-12 tablespoons olive oil
4 very large onions yellow or Vidalia, thinly sliced
5-10 cloves garlic sliced
1 teaspoon turmeric
2 tablespoons dried mint
1/3 cup dried chickpeas soaked overnight
1/3 cup kidney beans soaked overnight
1/3 cup navy beans soaked overnight
6 cups water or lamb/beef stock, adjust as needed
½ teaspoon ground black pepper
1½ teaspoons salt adjust as needed
½ cup green lentils
2 cups spinach chopped
1 bunch chopped cilantro.
1 bunch chopped parsley.
1 cup scallions or leeks, chopped
1/4 to ½ cup dill chopped (optional)
90 grams reshteh or linguini noodles
1 cup kashk sour cream, greek yogurt
2 tablespoons lemon juice adjust as needed
Step-by-Step Directions
1.
Soak dried bean overnight.

2.
Chop parsley, cilantro, dill & spinach. Set aside.
Slice onions thin. Chop scallions and/or leeks. (I used both, you don't have to)



3.
(I would recommend doing this DIRECLTY in the POT you
will be making the soup in)
Heat ¼ cup of the oil in a large saucepan over medium.
Add the onions and cook, stiring frequently) until golden and deeply caramelized.
About 40 minutes.


Stir in the turmeric and cook 1 minute more, then, transfer half of the
onions to a bowl to reserve for serving. Leave the other half in the pot.



Set half of the onions aside to be used as a garnish.

4.
Add chopped scallions/leeks to onions. Sautee until soft – about 2-5 min.
(Add oil if necessary)

5.
You can either boil the beans and lentils 1st for 45 min and then add the onion mixture
as pictured here, OR EVEN SIMPLER if you cook the onions in the pot instead of a
separate pan, then add the beans and onion to the pot with the water.

Drain beans. Add drained beans, green lentils and 8 cups of water to the pot.
Cover. Cook for 45 min.
6.
Add spinach and herbs to beans.
7.
Add salt and pepper a dash of cayenne

8.
Cover. Cook for an hour stiring regularly so it does not burn. This is VERY important.
It WILL burn if you don't stir it regularly or if your burner is too high.



9.
While the soup is cooking, make the other garnishes.
Slice 6 cloves of garlic.
Heat 1/4 C oil in a small frying pan. Dip the end of one piece of garlic into the
oil. If it sizzles, it is ready. Add all garlic.

Watch carefully. Remove as soon as garlic begins to brown (it will continue to cook)
Using a slotted spoon or "spider", transfer to a plate lined with paper towels.

10.
Add 2 T of dried mint to the oil you just cooked your garlic in.
As soon as you start to smell the mint, remove oil from the heat.

Add mint to the soup. Reserve oil as a garnish.
11.
Break noodles in half and add to pot. Cover. Cook for 5-8 min.
12.
Garnish with onions, fried garlic, mint oil and greek yogurt (or kashk).
Serve.