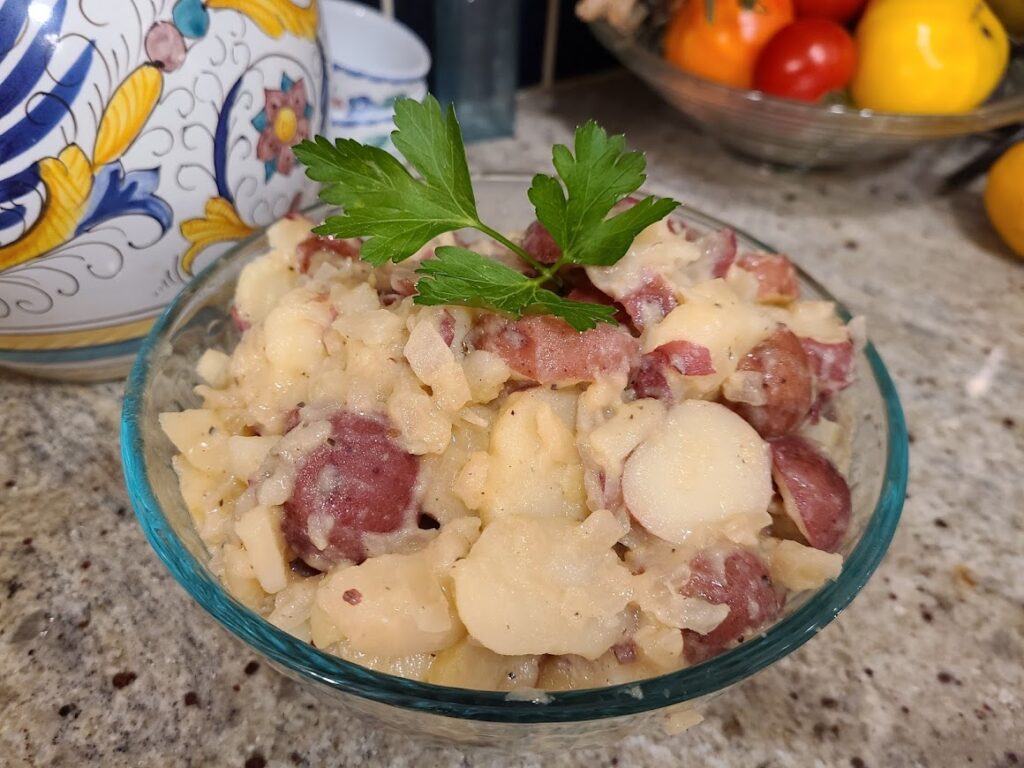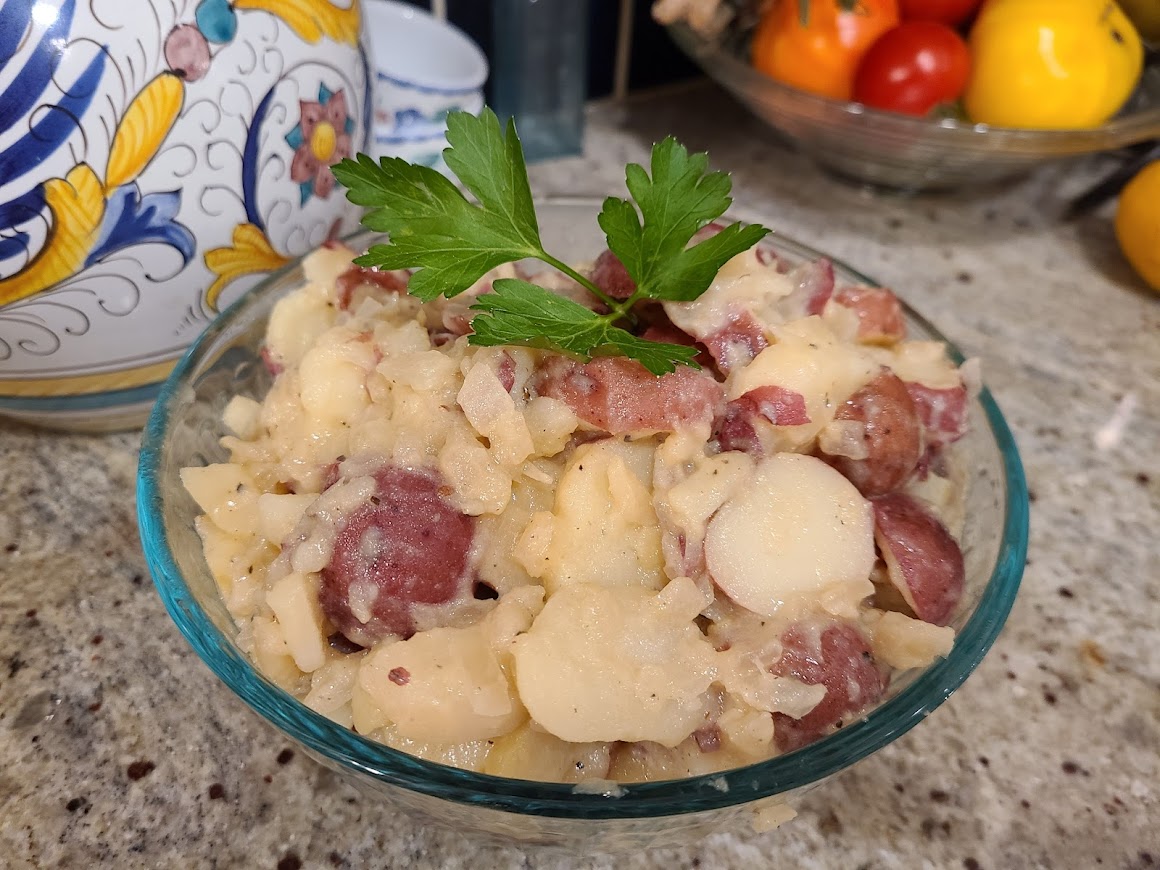 Generally, my husband is not big on starches (potatoes, rice, pasta) other than whole grains. BUT when I mentioned a tangy german potato salad with no mayo, his eyes lit up and he asked if we could have it that evening. I let him know we could, but it would be best for it to sit overnight for the most flavor. This German potato salad comes from southern Germany. It is know as Swabian potato salad and is perhaps the easiest to make and is also one of their only, if not the only, potato salad they have that can be made for vegetarians by substituting the chicken broth with vegetable broth or water. Traditionally, this potato salad is made with peeled potatoes, BUT 1. it is a pain in the tuchas to peel the potatoes 2. many of the vitamins are in the skin and 3. the red skins looked too pretty to discard. You may be thinking, well, just use larger potatoes! However, apparently using waxy potatoes is the key to authentic German potato salad. Which left me with the question…"What the heck are waxy potatoes?" Turns out they are the tiny ones, such as small red potatoes, fingerling potatoes or new potatoes. They are low in starch and high in moisture and sugar. The potato salad was fairly light and had a mild flavor with a hint of tangyness and a touch of sweetness. Both my husband and daughter loved it. Were I to make it again, I would add a bit more vinegar and some chopped parsley. We served this with Frikadellen (German burgers that have mustard and are breaded) and salad. Like the Frikadellen, mustard was a key ingredient. Scott, Eva and my folks all really liked this meal. For me, it was ok. I will probably end up making it again next October for Octoberfest as I am almost certain to get requests from Scott and Eva.
Ingredients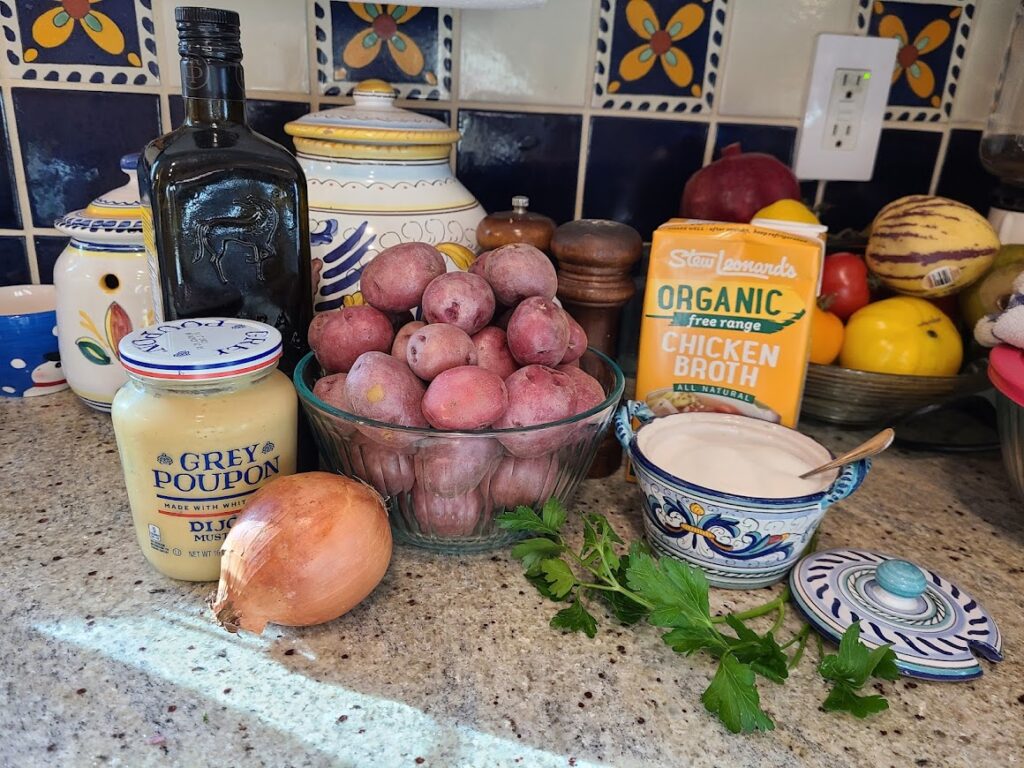 1.5 k (approx 3 lbs) Potatoes (ideally waxed potatoes – small new potatoes)
1 onion – diced
300 ml beef broth (I used chicken – for a vegetarian version use water or vegetable broth)
6 T white wine vinegar
1 T dijon mustard
1/2 tsp salt
pepper
2 T sunflower oil
parsley (optional)
Step-by-Step Directions

1.
Put potatoes in pot and cover with water.
Turn burner on high. Bring water to a boil.
Boil potatoes until tender.

2.
Remove potatoes from water.
Let cool so you can hold potatoes to peel them.


3.
Peel using a paring knife. (I left the skins on)
Slice potatoes.
4.
Dice onion. (You can do this while potatoes are cooling.)




5.
Heat broth, vinegar, sugar, onion, mustard, salt and pepper in a pot.
Stir until mustard is fully incorporated.
Turn off heat.
6.
Pour broth mixture over potatoes.
Mix well.
7.
Cover.
Refrigerate 2 to 24 hours.

8.
Right before serving…
Add 2 T sunflower oil. Mix.
9.
Serve.