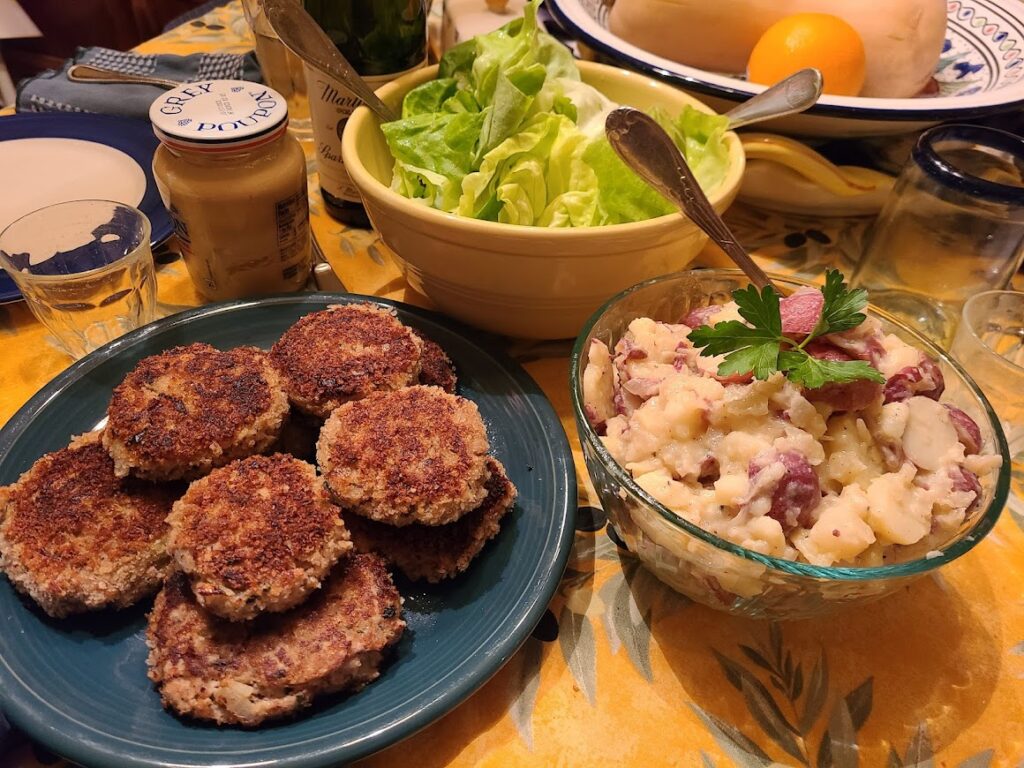 As I was watching YouTube videos for Frikadellen I realized that the way my mom makes hamburgers is essentially the German way, minus the mustard and the bread crumb coating. Growing up we used beef. As my husband does not really eat beef or pork, I used ground turkey. I recommend buying the 85% lean (which they just started selling) so that there is some fat for flavor and moistness. Some of the recipes put the onions in raw and others fried them a bit first. I decided to fry them first as I have never made burgers that way. While it seemed like it might be a bit more flavorful, I think I actually prefer it with the raw onions instead. There were differences in the recipes I watched and read in terms of eggs. I would recommend 1 egg for 1 lb of ground meat. If you use 2, as I did, it made the mixture a bit difficult to work with. Since I had some bread crumbs around, I just tossed some extra breadcrumbs into the meat mixture to bind it a bit more. About 3/4 of the recipes had some form of breading, but 1/4 were essentially straight unbreaded burgers. The crunch coming from breading the burgers was nice and something a bit different. However, in the future, I would opt for the unbreaded version. Not only is it healthier, but I felt like the breaded Frikadellen were a bit greasier than I would have liked. Using old/stale bread that has been soaked and squeezed out as a binding agent also seems to be part of a traditional recipe. The verdict: my 15 year old daughter loved these and said she is going to redo her Top 10 to add them in. My husband rated them 7 out of 10 until we reminded him that he rated the less than spectacular warm herring and greens dish from Gabon as a 6 then a 7, so he changed his Frikadellen rating to an 8, noting that the Frikadellen were much better. I served the Frikadellen with Kartoffelsalat (German Potato Salad) which comes from southern Germany – also known as Swabian potato salad – and has a light and basic vinegar-mustard dressing. The two dishes went very well together.
Ingredients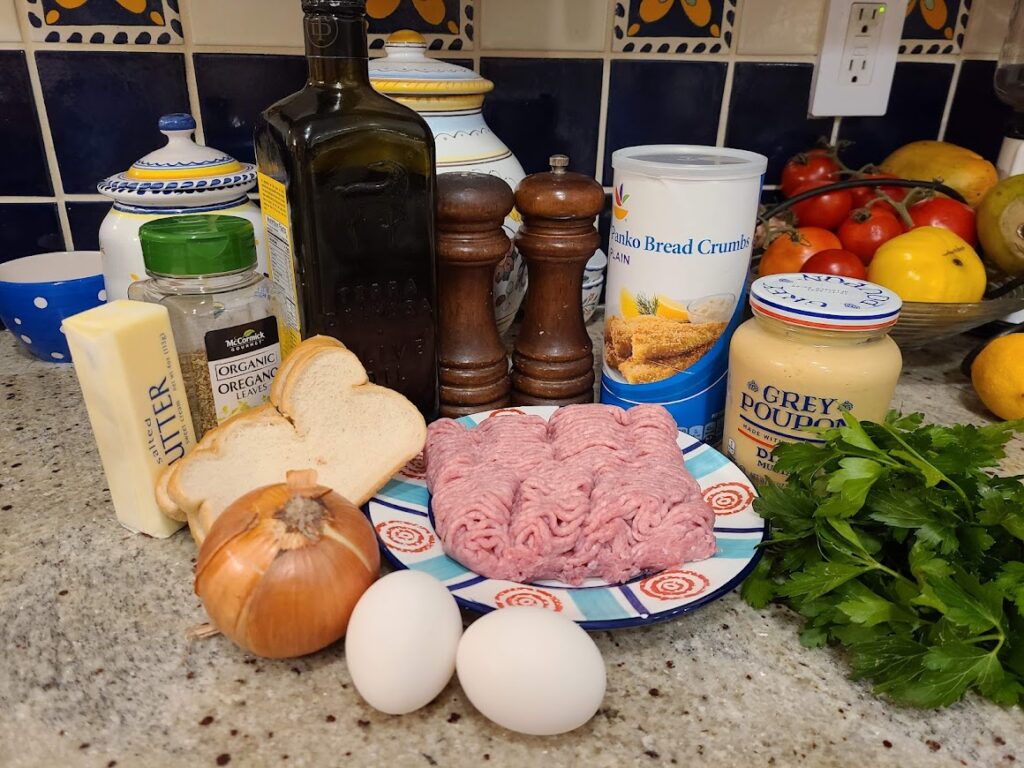 1 lb ground turkey (or 50/50 ground pork and ground beef)
1 eggs (2 eggs if you want them light and fluffy)
2 slices stale bread, cubed
1 onion diced
2 T chopped parsely (10 sprigs)
1 tsp oregano
2 heaping tsp Dijon mustard
salt
pepper
vegetable oil (and/or butter)
Step-by-Step Directions
1.
Dice onion and chop parsley.

2.
Heat oil in a frying pan. (You can use a combo of oil and butter if you prefer)
Add chopped onions, parsely and oregano.
Sautee, stiring, until onions are golden.

3.
Wet the bread. Squeeze it out.

4.
In a large bowl add all ingredients except the oil.
(groung meat, egg(s), sauteed onions, mustard, salt, pepper
and bread ripped into little pieces).
Mix well using your hands.

5.
Grab a handfull of meat. Form a ball then pat it to shape
it into a patty.

6.
Coat patty with breadcrumbs.


7.
Heat oil in a pan.
Add patties. Fry until golden. Flip.
Cook until patties are golden on both sides and firm.
8.
Serve.
https://www.youtube.com/watch?v=eUk6f4pCDhc
https://www.daringgourmet.com/frikadeller-frikadellen/#recipe