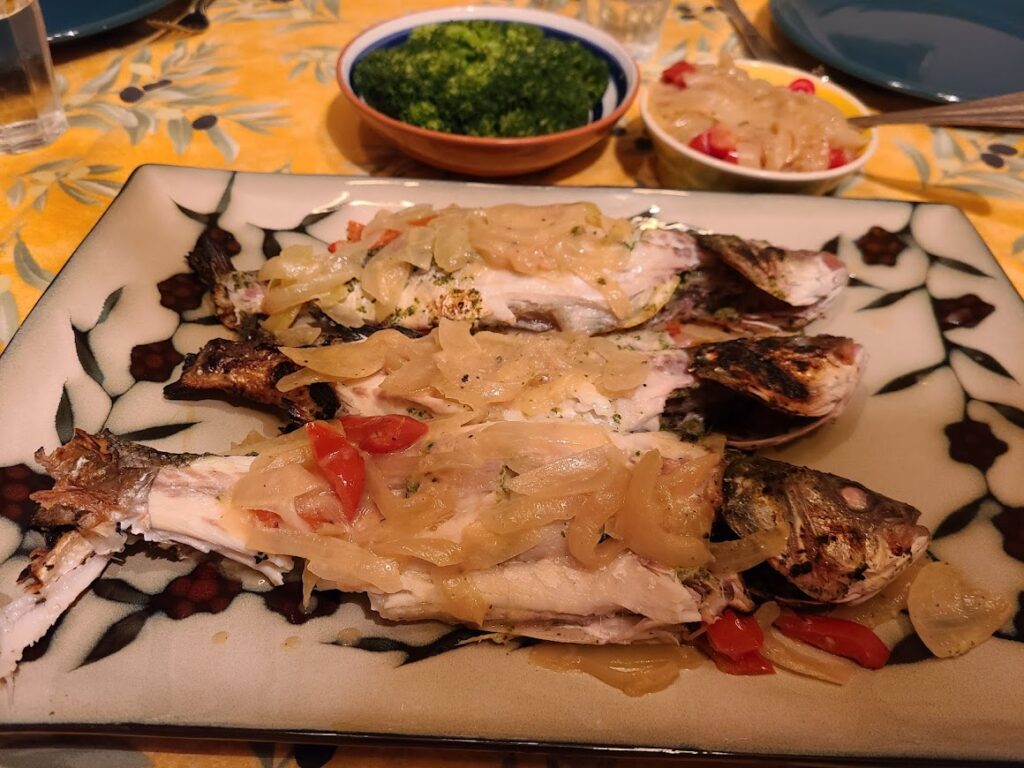 New top 10 alert for all 3 of us (and for our special guest). Yassa, made with an unforgetable tangy onion-lemon-mustard sauce is one of my absolute favorite dishes and super healthy. I first had it years ago in a teeny tiny Senegalese restaurant in Paris nestled in far reaches of the heavily African neighborhood I lived in. Lucky for me, pre-internet, I had a friend who taught me how to make Senegalese Chicken Yassa! So why am I writing about Senegal when today's country is The Gambia? Because The Gambia is actually a very narrorw strip of land (15-20 km wide) that follows the Gambia River and it is entire surrounded by it's neighboring country, Senegal, except for the westernmost part which touches the Atlantic. Not surprisingly, Yassa is prevalent all over The Gambia. In The Gambia, however, fish instead of chicken seems to be the main protein for the Yassa. Additionally, Fish Yassa, is one of the most popular street foods in The Gambia. After sampling it the other day, I can definitely understand why. The senegalese version tends to be a bit more lemony than the gambian version – too lemony for my family, but the gambian version seems to hit the sweet spot. All 3 of us loved this dish. The gambian version also tends to have red bell pepper. Some recipes used vinegar and a tiny amount of lemon, and some recipies use a thick paste of super hot peppers. I have now made the gambian version twice, once with tilapia filets (not the traditional way) and once with whole fish (the traditional way). We can all attest that Fish Yassa made with fresh whole fish is heads and shoulders (or should I said heads and tails) above making it with filets. The fish comes out moist, succulent and loaded with flavor. Eva, who always has a bone to pick (ha ha) about eating whole fish even had to admit it was great. With Covid, fish selection has dwindled in the standard supermarket, so if you are wondering where to get whole fish, I recommend Costco (I bough branzino), a local chinese supermarket if you have one. Other places like Whole Foods and some local shops carry whole fish too. The fish itself, with the garlic rub was AMAZING! Worthy of eating by itself. But smothered in the onion mixture…heaven. Yassa is not too hard to make, BUT it is really worth it to let your fish marinate. On a positive side, you can do most of the work a day ahead (preparing the onion mixture, marinating the fish) and then all you have to do is grill the fish and let it reheat cook a bit on the onions. I marinated my fish and made my onion mixture at the same time, then let the onions sit until I was ready. Fish Yassa is generally served with rice. Short and sweet, if you are not grossed out by whole fish…make this dish. If you are grossed out by whole fish… make it anyway or find a friend to make it for you. Oh, yeah, one last word of advice, remove the habenero peppers before serving!!! My husband accidentally mistook the habanero (one of the hottest pepper) for a yellow tomato and popped the whole thing in his mouth. Huge mistake to say the least! Luckily, he is ok. For dessert, I made a popular dish called Chakary which is found in many West African countries.
Ingredients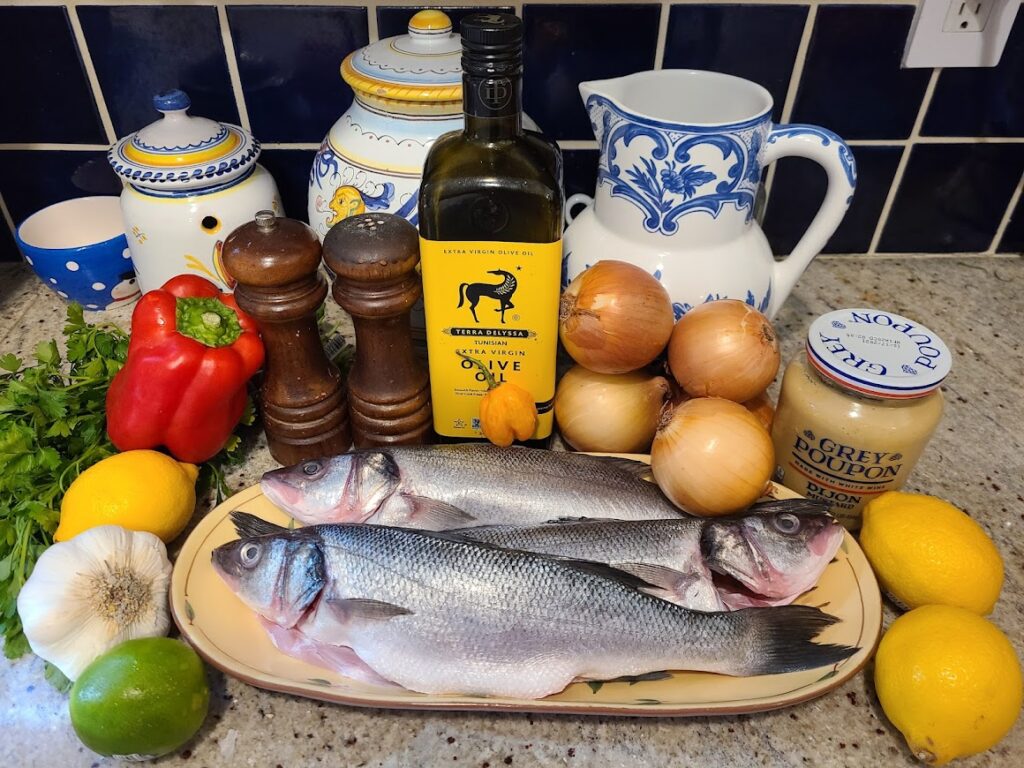 2-3 lbs whole fish (talapia, branzino..)
2-3 lbs onions, sliced (3 giant onion or 6 medium onions)
1 red pepper sliced
6 large cloves garlic, divided (4 cloves for garlic puree, 2 cloves for onions)
12-15 sprigs parsley
1 C lemon juice (4 lemons), divided (2 T for garlic puree, 3/4 C for the onion mixture)
2 T lime juice (1 lime)
2 heaping T mustard, divided (1T for garlic puree, 1T for onions)
salt
pepper
1-3 habanero peppers (I used 1)
1 bay leaf
1.
Wash fish well.
Cut slits into both sides of each fish. Cut to the bone but not through.

2.
To make the garlic puree…
Place 4 large cloves garlic, parsley & 2 T lemon juice into a small blender.
Puree in a small blender or with a hand mixer.

3.
Drizzle lemon juice and sprinkle salt all over fish – inside and out.
Rub the garlic mixture all over fish, inside and out. Push into slits.
Place lemon peel in the fish.
4.
Cover fish. Refrigerate 2-4 hours. You can leave it overnight, if that is easier.
You don't have to marinate as long, but the flavor will be fabulous if you do.
5.
While the fish is marinating …
Chop the onions and pepper. Press the garlic.

6.
Heat 3 T vegetable oil in a large pan.
Add onions, pepper and garlic.
Sautee over medium high until translucent. About 5-10 min.


7.
Add 1 heaping T mustard, 1 tsp pepper, 1/2 tsp salt, 3/4 C lemon juice, 2 T lime juice,
1 bay leaf & 1 habanero pepper. Sautee for 5-10 min to reduce some of the juice.
Lower heat. Cover. Let simmer for 15-30 min.
You can make this ahead and let it sit.

8.
Grill the fish.
Time will depend on the type of fish you get. Approx 15-10 min.

9.
Carefully place fish in the pan with the onions. (I used 2 spatulas to transfer fish.
Spoon onion mixture over fish.
Cover. Simmer 5-10 min.
10.
Serve with extra onions on the side and white rice.