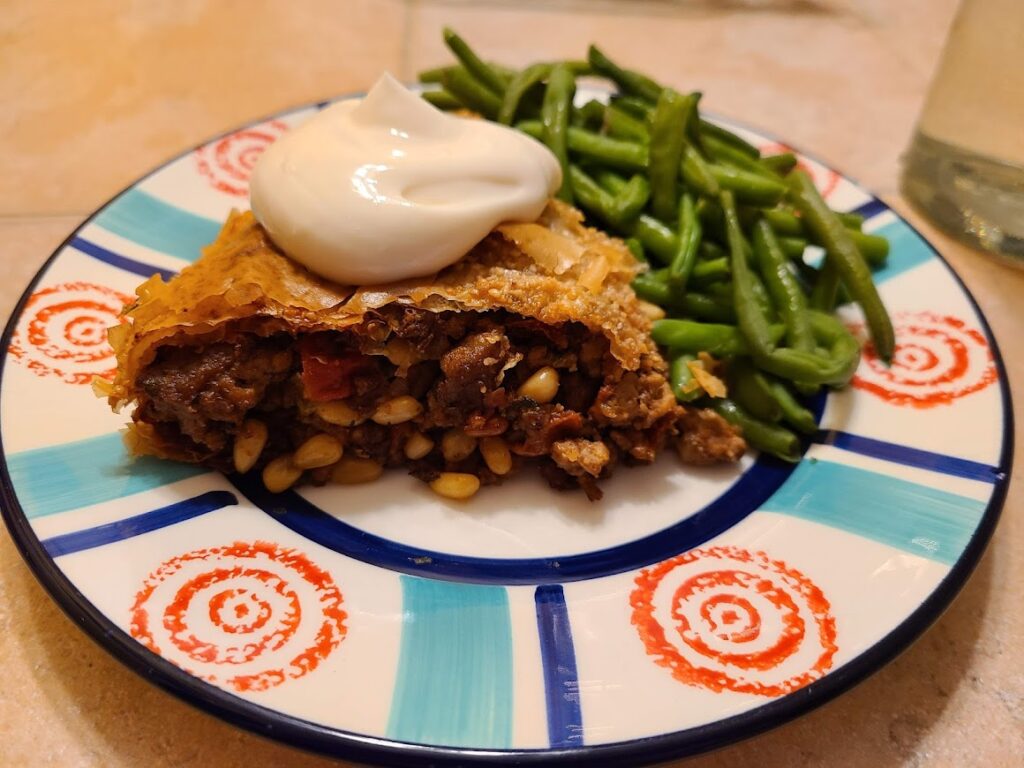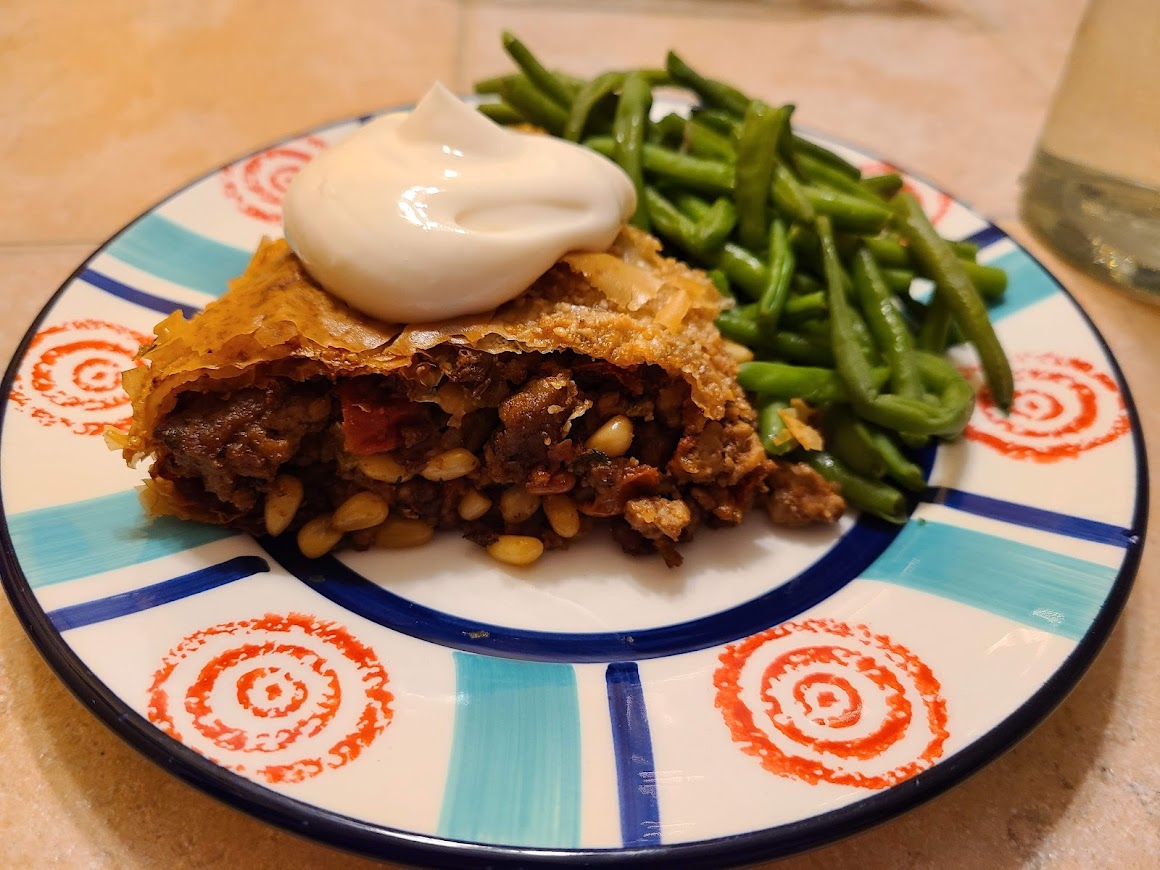 Moroccan Lamb Bastilla (Moroccan Lamb Pie) is #1 of Eva's Top 10 and also one of my Top 10 as well – in fact, I may move it up on my top 10 list. It is a savory pie encrusted in a light, crispt and scrumpious phyllo shell and served with a dollop of honey yogurt. A sprinkle of ground pine nuts, sugar and cinnamon between the layers of phyllo give the shell a slightly sweet and nutty flavor that complements the filling without overpowering it. I think if I had made it with pulled chicken instead of lamb, Scott might have put it in his top 10 too, but to be fair, the flavor of the ground lamb really makes the dish. As those who read my blog know, I rarely use red meat, but for this dish and the Algerian tagine coming up, the rich and lucious lamb flavor really makes the dish. I have made this with ground turkey and it does come out a bit drier and is not quite as flavorful. However, while researching, I found a number of authentic looking recipes in arabic where people were using pulled chicken that had been boiled first. They also had a cool wrapping technique for the bastilla, AND it looked like they were using schmaltz (rendered chicken fat) rather than butter, on each layer of phyllo. Interesting…have to try it some time. Moroccan Bastilla may look a bit complicated and intimidating to make at first glance, and I will admit I was intimidated the first time I made it, but actually, it is fairly easy to make. It just take a bit of time as you have to let the meat simmer and then you have to bake it. Making the meat mixture is really no more difficult than making taco meat. For the phyllo dough, fear not! Also easy. If you can spread melted butter, sprinkle sugar and can squeeze out a dish cloth so that it is just damp then you have all the skills you will need to succeed at making this. I read a lot of recipes. This one looked fairly faithful to ones I have seen except that it had wine in it – which is generally not very typical in Muslim countries, so I removed it and instead increased the quantity of broth I was using and added some lemon juice as the removal of the wine took out some of the acidic tang. Fresh mint is also common in bastillas. I did not use any here, but you can feel free to add some. As lamb tends to be a fatty meat, I would highly recommend trying to drain out as much of the fat as you can before putting the meat onto the phyllo base. After taking my bastilla out of the oven and letting it cool a little (not a lot) I gently tilted the pan to drain some more of the remaining fat and finally sopped some up with a paper towel. You don't have to, but I think it is worth the effort. Make sure to serve your Moroccan Lamb Bastilla with the honey yogurt – it really enhances the dish. My main problem making this dish was that my daughter kept coming over and eating the filling while it was cooking. Every time I turned around she was sneaking some more! That is generally a good sign 🙂 Enjoy! This is truly one of our favorite dishes.
Ingredients
For the filling:
1 onion, chopped
3 cloves garlic, minced
2 Tbsp olive oil
2 lbs lb ground lamb
2 Tbsp tomato paste
1.5 T ground cumin
1.5 Tbsp ground coriander
2 tsp salt
freshly ground black pepper
2 tsp fresh thyme leaves
1 bay leaf
3/4 tsp cayenne pepper
3/4 tsp paprika
3/4 tsp cinnamon
1 tsp sugar
2 T lemon juice
1 ¼ cup beef or chicken broth
½ cup cilantro, chopped
2-3 scallions, finely chopped
2 medium fresh tomatoes, chopped
¾ cup pine nuts
For assembling the pie:
10 sheets phyllo pastry
½ stick butter
¼ cup pine nuts
2 Tbsp powdered sugar
¼ tsp cinnamon
½ tsp salt
For Serving:
1 cup plain yogurt mixed with 1 Tbsp honey
Step-by-Step Instructions


1.

Chop onion and press garlic.


Heat olive oil in a large skillet over medium-high heat.
Add the onions and garlic, and sauté until the onions are translucent,
about 4-5 minutes.
Do not brown the onions (reduce the temperature if needed).


2.
Add the ground lamb. Cook until meat is cooked through and no
longer pink, and is broken up into small chunks.

3.
Add the tomato paste and stir to mix well.

4.
Add the next 10 ingredients (cumin, coriander, salt, pepper, thyme,
bay leaf, cayenne, paprika, sugar and cinnamon).
Mix well and cook for 2-3 minutes to let flavors blend.

5.
Add the broth and lemon juice. Mix well. Bring to a simmer. Reduce
heat to medium or medium low (enough to keep the mixture at a low simmer).
Simmer for about 45 minutes, stirring occasionally. At this point, the vast
majority of liquid should be evaporated and the mixture should be quite thick.
6.
While the meat is simmering…
Chop the tomatoes, scallions & cilantro.




7.
Add the cilantro, scallions, tomatoes and ¾ cup of pine nuts to the mixture
and stir well. Allow to cook so that the tomatoes release their juices,
about another 4-5 minutes, then remove from heat. Taste and season
as needed. Allow mixture to cool to nearly room temperature.

8.
While the meat mixture is cooling…
Preheat oven to 375 degrees F.
To assemble the pie, first grind the ¼ cup pine nuts with the powdered
sugar, cinnamon and salt in a spice mill, mini food processor or mortar
and pestle and set aside.



9.
Remove 10 sheets of phyllo dough from the package and lay out flat.
Turn the cake pan you plan to use upside down and lay over the phyllo.
Cut around the edges so the phyllo dough is the same size as the pie pan.

10.
Cover the sheets of phyllo with a damp kitchen towel to keep from drying out.
Melt the butter in a small dish or cup and have a pastry brush on hand.


11.
Place one sheet of phyllo on the counter top or a work surface and
brush with just a small amount of the melted butter.
Sprinkle with the pine nut, sugar, cinnamon, salt mixture (about 1 tsp worth).
Repeat with 4 more sheets of phyllo for a total of 5, laid one atop the
other so you have a stack.

12.
Brush the bottom of the pie pan with some melted butter.
Place the pile of phyllo sheets in the bottom of the pan.

13.
Add the filling on top ofthe phyllo in the pie pan.


14.
Place another single sheet of phyllo on the counter or work surface.
Repeat the brushing with butter and sprinkling with the nut mixture with four layers.
For the fifth and final layer of phyllo, just brush with butter (no nut mixture).



15.
Place the stack of phyllo on top of the filling in the pie pan,
tucking in the edges. I used the back of a plastic spoon to tuck the
edges in a bit deeper so none of the meat was showing.
16.
Make four knife cuts in the pastry to allow steam to escape while cooking.

17.
Bake in the oven, uncovered, for about 40 minutes, until the pastry
is nicely browned and the pie is hot throughout.
Allow to rest for 10 minutes before serving.

Note: if you make this with lamb, there is a lot of fat. I drained the fat and
then used a paper towel to soak up the rest.


18.
While the Bastilla is cooking, Make the honey/yogurt mixture.
Put the yogurt & honey in a bowl.
Stir until it is fully mixed and uniform in appearance.

19.
Serve.
Recipe Source: WhitKitchen.com
بسطيلة الدجاج أكثر من رائعة خطوة بخطوة و ناجحة – Pastilla au poulet