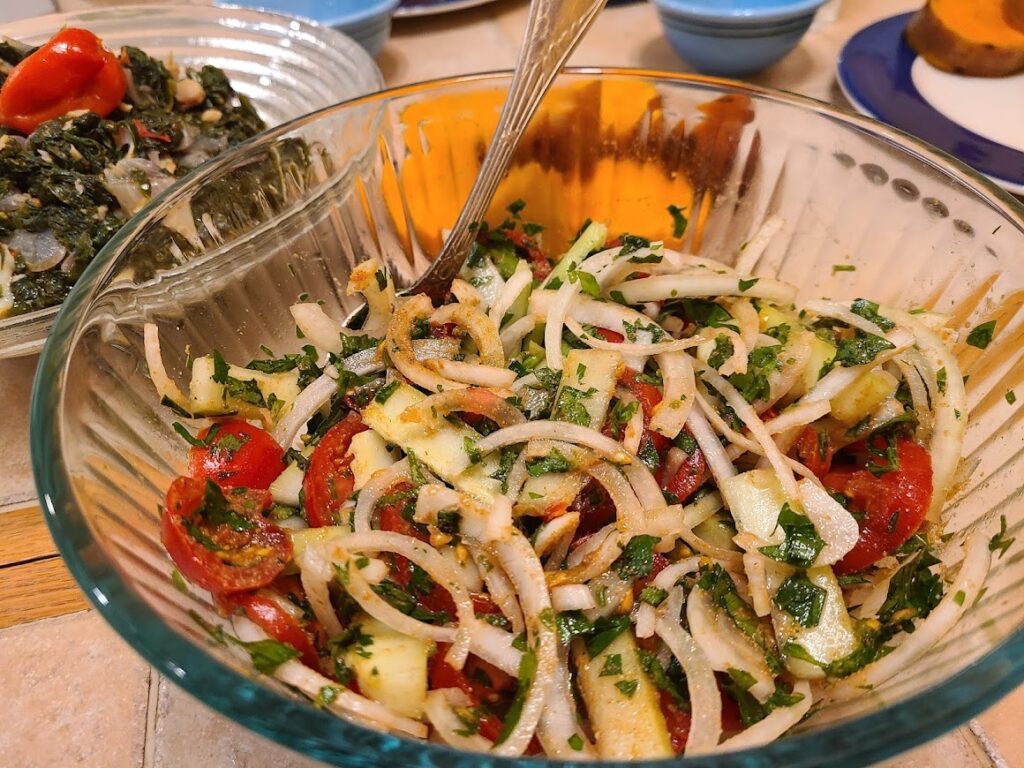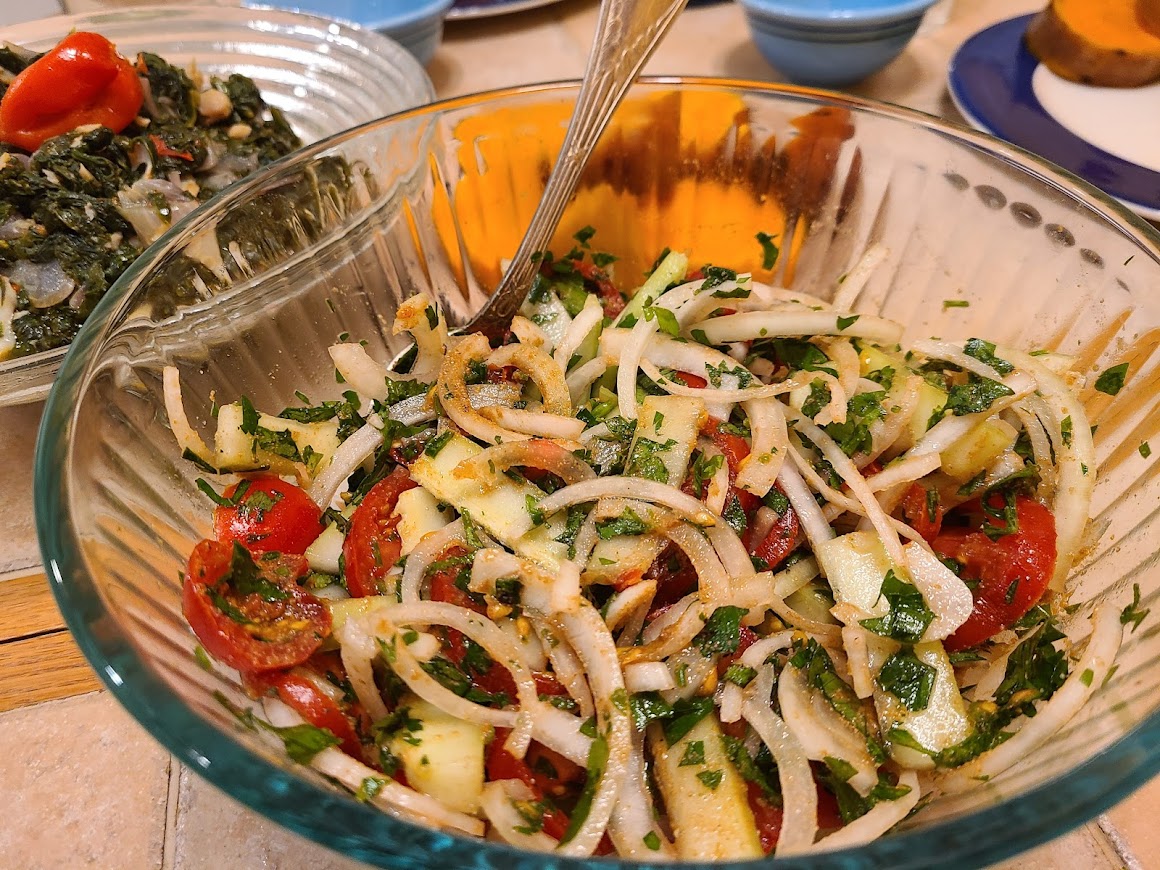 G is for Gabon which is located on the equator on the west coast of Africa. Finding recipes for Gabon was NOT the easiest. There were slim pickins. As I mentioned in the last post where I wrote about the Gabonese dish Folon Mink Ot Mi Kwass (Amaranth Leaves with Smoked Mackerel) almost every recipe I found either had greens and smoked fish or palm oil. I personally did not like that dish, but my husband found it ok and even raised his rating from 6/10 to close to 7/10 on day 2 of eating it. I did, however, find 1 recipe that was not bad: Gabonese Cucumber and Tomato Salad. It is basically a cucumber, tomato and onion salad but with a heafty dose of cumin. The orginal recipe called for 1T of cumin. We tried it that way and even though we like cumin and I season our food with it a lot, it was a bit overpowering and made the otherwise refreshing tomato, cucumber and onion salad feel a bit gritty/chalky. I recommend cutting down on the cumin – ideally to 1 tsp, but you may want to try with 2 tsp as that is more faithful to the original recipe. Enjoy!
Ingredients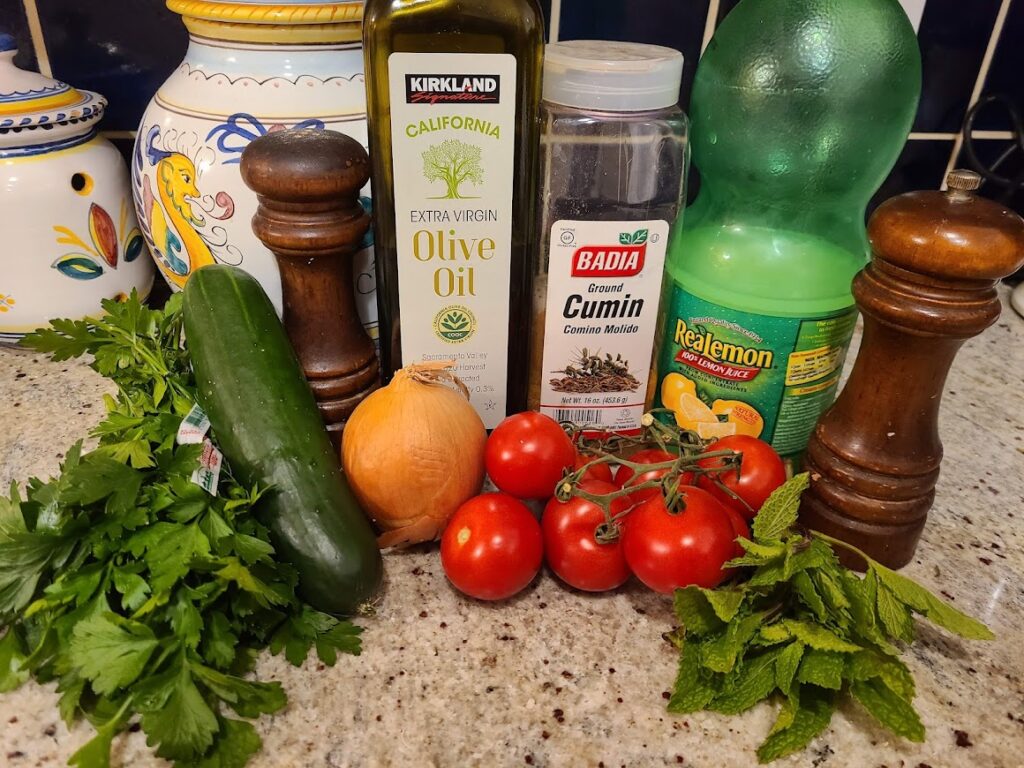 1 large onion, sliced paper thin
2 medium tomatoes, sliced (I only had campari tomatoes in the house which are smaller, so I used more)
1 cucumber
1 bunch parsley, minced
2 tbsp olive oil
juice of 1/2 lemon (2 T)
1 tsp minced mint
2 tsp ground cumin
salt and black pepper to taste
Step-by-Step Directions



Slice the onions paper thin and tomatoes in rounds.
Peel the cucumber, cut in half lengthwise. Remove the seeds.
(easiest if you use a teaspoon to scrape them out) Cut into thin slices then cut in 3rds.
Mince the parsely & the mint.
Mix all together in a medium sized bowl.




Add oil, lemon juice, salt, pepper and cumin.
Mix well.
Serve.