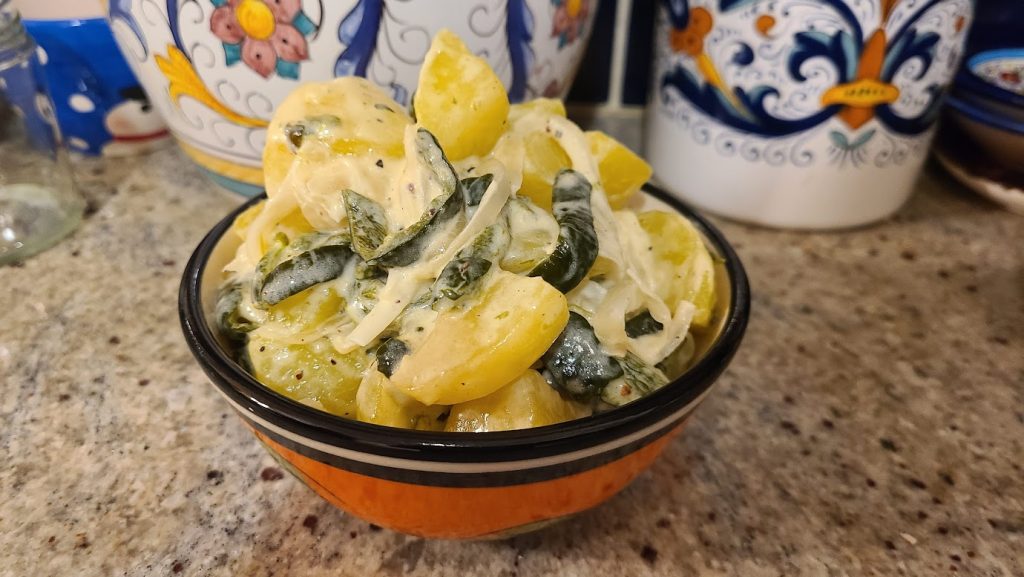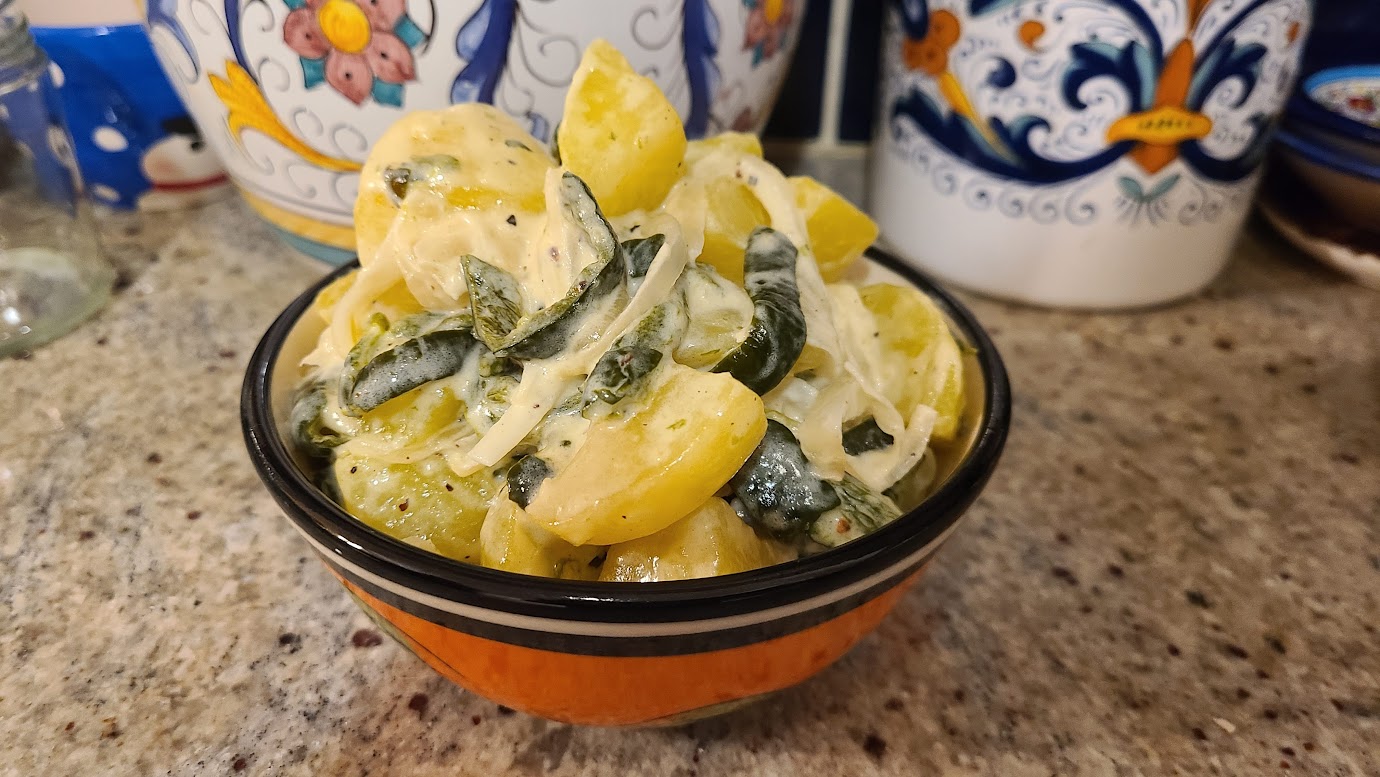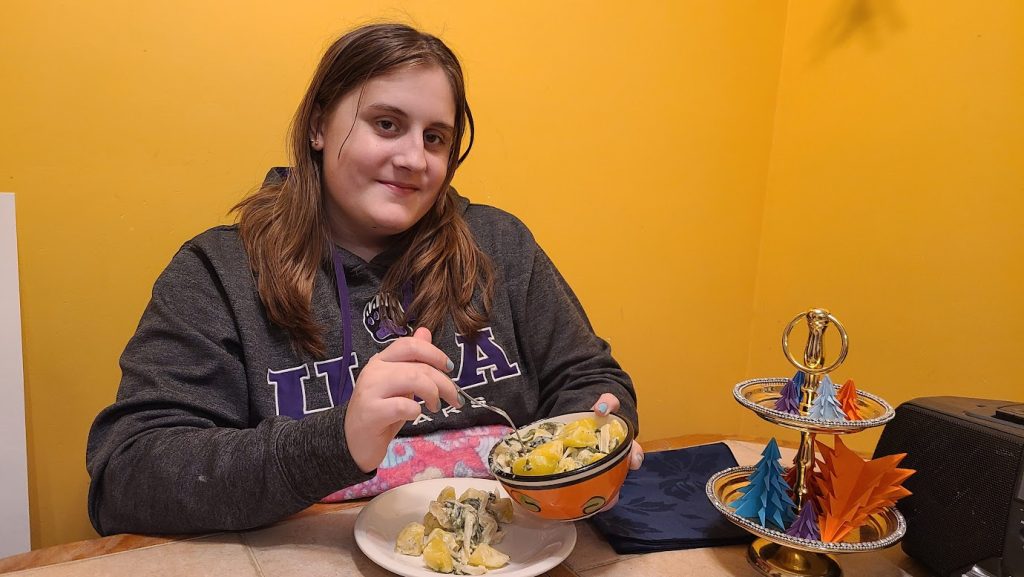 If you are looking for a potato dish that is a bit different, try this authentic Mexican dish, Rajas con Papas – Potatoes & Poblanos in Cream! It is both GF and vegetarian. Yum. I had this dish years ago when I was studying abroad in Cuernavaca, Mexico. I lived with a Mexican family and this was not only my favorite dish she made, but one of my all time favorites. YUM!!! The blend of the onions, potatoes, poblanos and cream is simply luscious and the way the flavors meld together is perfection. If you do not like things that are too hot, fear not, poblanos are fairly mild. A little trick when making roasted peppers, after you roast them and before you peel them, place the peppers in a closed paper back. Let them sit for at least 3 minutes, then take them out to peel them. The skin will come off very easily. With regard to the cream, ideally, you can use the Mexican crema, but if not, heavy cream works just as well. Our whole family loves this dish. Even Scott, who avoids things with cream, could not help himself from sampling, and resampling and resampling. This dish is generally served hot, but we like it at room temperature and cold as well. Enjoy!
Ingredients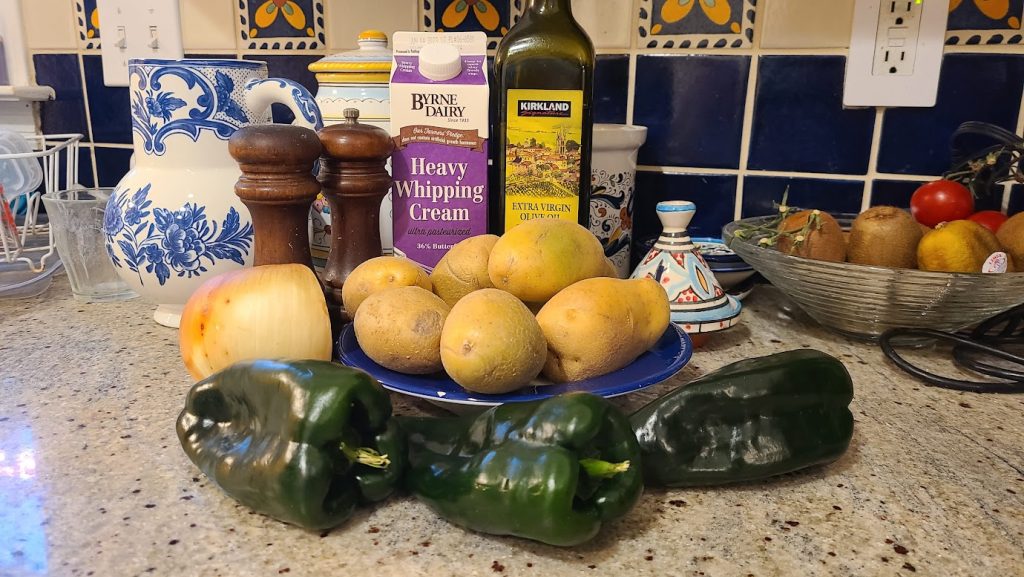 2 lbs golden potatoes, peeled, cubed
2-3 poblano peppers
1 large onion (1/2 an extra large onion), sliced
1/2 pint cream
2T olive oil
salt
pepper
Step-by-Step Directions




1.

Peel the potatoes and cut into 1 inch cubes.
Put potatoes in a pot. Cover with water.
Boil until tender but still firm (10-13 min). Test with fork.
Do NOT overcook.
Drain and set aside.




2.
Wash 3 poblano peppers and roast them, turning every few minutes
so that the skin gets brownish-black and wrinkly on all sides.
You can do this by broiling them in a toaster oven or in a regular oven,
or by grilling them.

Remove from oven and place in a paper bag.
Close the bag and set aside for at least 3 minutes.
3.
Remove the peppers from the paper bag and peel them.
Be careful, peppers may still be hot.



4.
Using a knife, remove the core and seeds.
Cut the peppers into slices lengthwise.
Set aside.
5.
Slice 1 large onion.


6.
Heat 2 T olive oil in a pan.
Sautee the onions over medium high heat until translucent
or slightly golden brown.

7.
Add the potatoes to the onions.
Mix.
Cook for 3 minutes mixing periodically.





8.
Add the roasted peppers and cream to the potato and onions.
Mix.
Cook for 3 minutes, mixing periodically.
Season with salt and pepper (to taste).

9.
Serve.