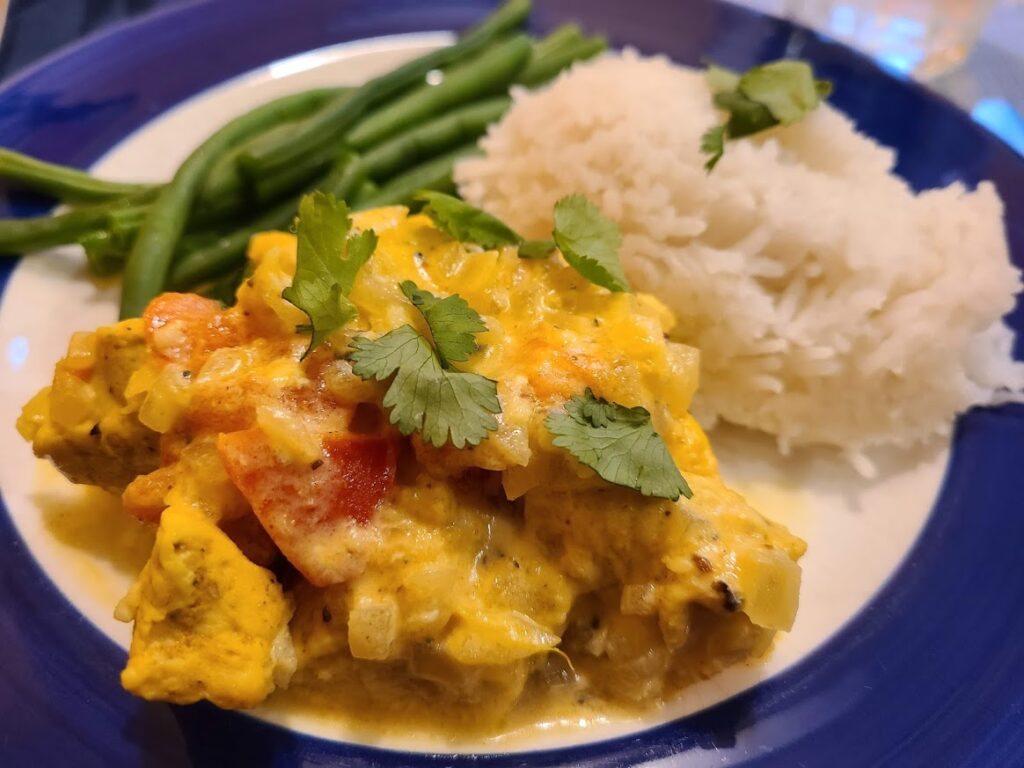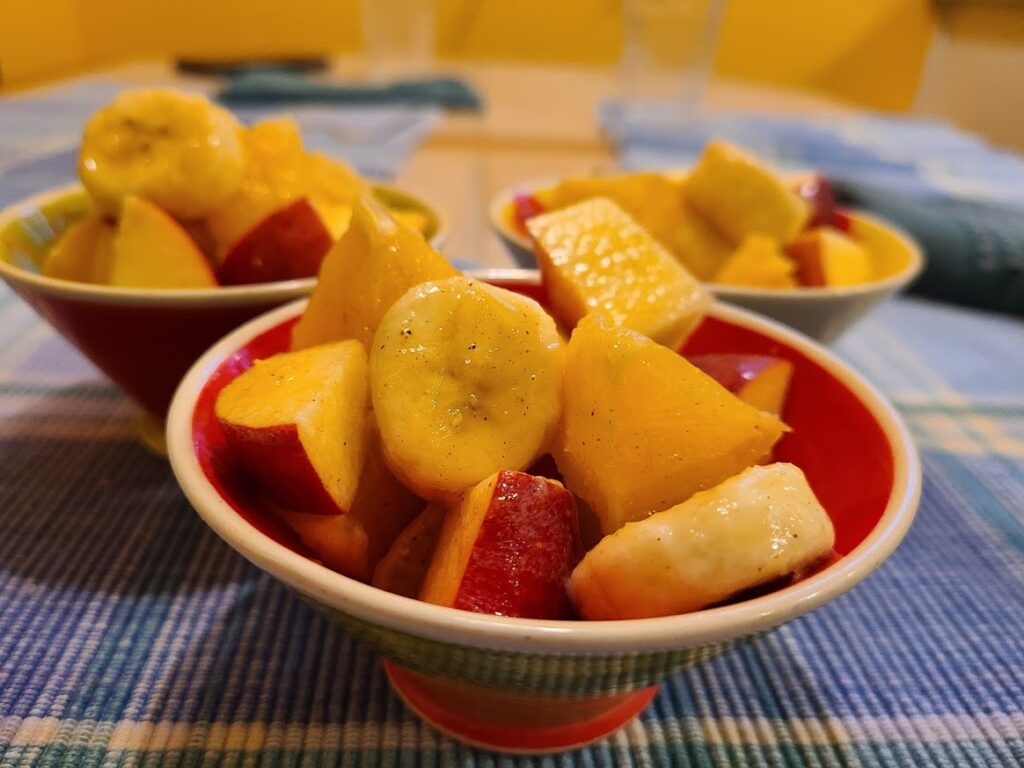 Slowly winding down the C's on our Culinary Adventure. Today we enjoyed a meal from the Comoros. Where, might you wonder, are the Comoros? The Comoros, is a volcanic archipelago off Africa's east coast, nestled in the Indian Ocean between Madagascar and Mozambique in the Mozambique Channel. It is comprised of independent 3 islands and a fourth which is administered by France. Comoros is known as the "perfumed islands" as they have very fragrant plant life there. The country was also a once a key stop on the trade routes between East Africa and India & Japan. For today's meal we had a dish called Akoho sy voanio or Chicken in Coconut Milk. As I was searching more, it appeared that this dish is also very common in Madagascar – so we may try another version of it when we get to the M's as it was scrumptious enough to make the top 10. I looked at a bunch of variations of the recipe and blended them togeher. Essentially it is chicken marinated in lemon juice, tumeric and cumin (typical in middle eastern and north African countries). There is also, garlic, onion, ginger a touch of tomato and coconut milk. Reminded me a bit of Thai Curry or the Brazilian dish we had. The meat was a smidge dry which is why it gets an 8/10 as opposed to a 10/10 (yes we have decided to rate each dish going forward). For dessert we had a fruit salad that was marinated in vanilla, citrus and cinnamon. Again, quite tasty.
Recipe – Poulet au coco (Chicken in coconut milk)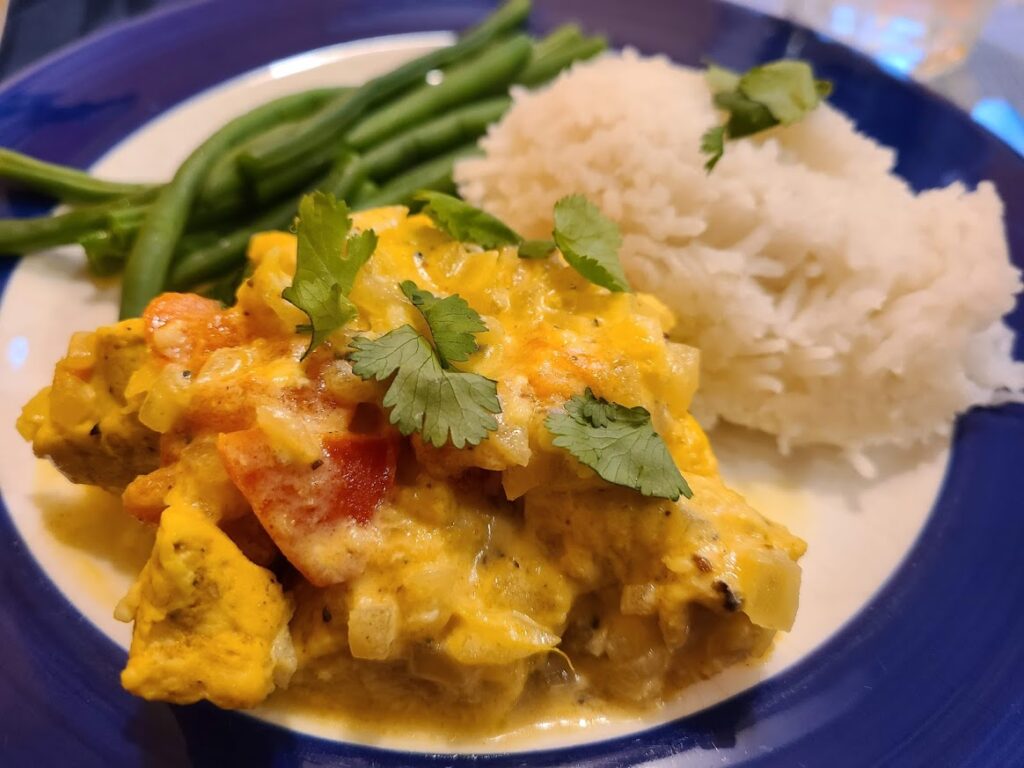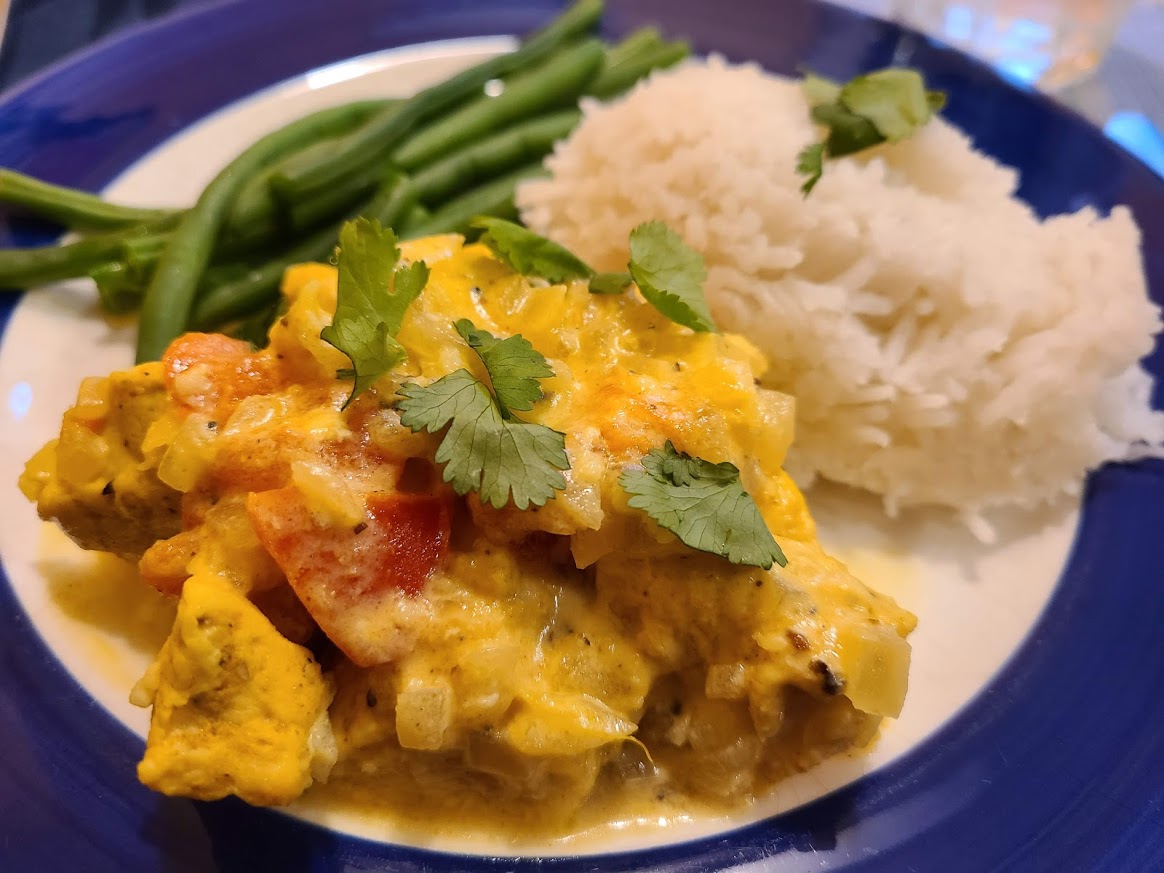 Ingredients
2-3 chicken breasts
juice from 1/2 a lemon
1/2 tsp tumeric
1/2 tsp cumin
salt
pepper
1 onion finely chopped
1 tomato chopped
2 cloves minced garlic
1 T grated ginger (about 1 inch of fresh ginger root)
1 C coconut milk
fresh cilantro
Step by Step Directions
1.
Combine lemon juice, tumeric, cumin, salt and
pepper in a dish.
Add chicken.
Mix well.
2.
Cover chicken.
Refridgerate 1-2 hours.
3.
Chop onion and tomatoes. Grate fresh ginger.
Mince/press garlic. Chop fresh corriander.
4.
Add 2 T oil to a frying pan.
Add chicken.

5.
Sautee chicken 5-7 minutes until brown
(or until outer edges look cooked)
6.
Add onions, tomatoes, ginger and garlic.
7.
Mix well and let cook over medium heat
for 5-10 minutes, stirring occassionally
8.
Add 1 C coconut milk and simmer for 20-30
minutes until it reduces and chicken is cooked.
9.
Serve with rice.
Sprinkle chicken with chopped cilantro before
serving.
Recipe – Fruits Frais a la Cannelle (Fresh Fruit with Cinnamon)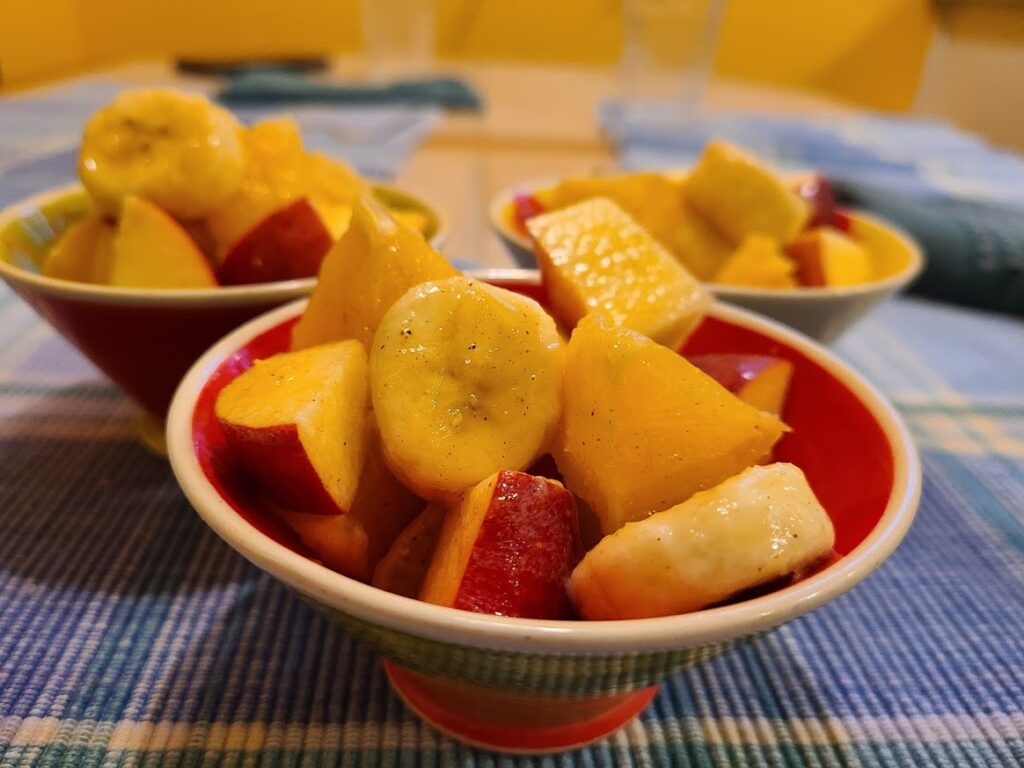 Ingredients
2 bananas
3 oranges (one for juicing)
2 apples
1 lemon
1/4 tsp cinnamon
1 1/2 T sugar
1 tsp vanilla
fresh mint (optional)
Step by step directions
Cut apples and bananas into bite sized chunks. Put in a medium bowl.
Peel and cut 2 of the 3 oranges into bite sized chunks. Add to bowl.
Juice the remaining orange and the lemon. Add juice to fruit.
Add cinnamon, sugar and vanilla to fruit.
Mix well.
Cover.
Refridgerate at least 15 minutes.
Garnish with fresh mint (optional).
Serve.