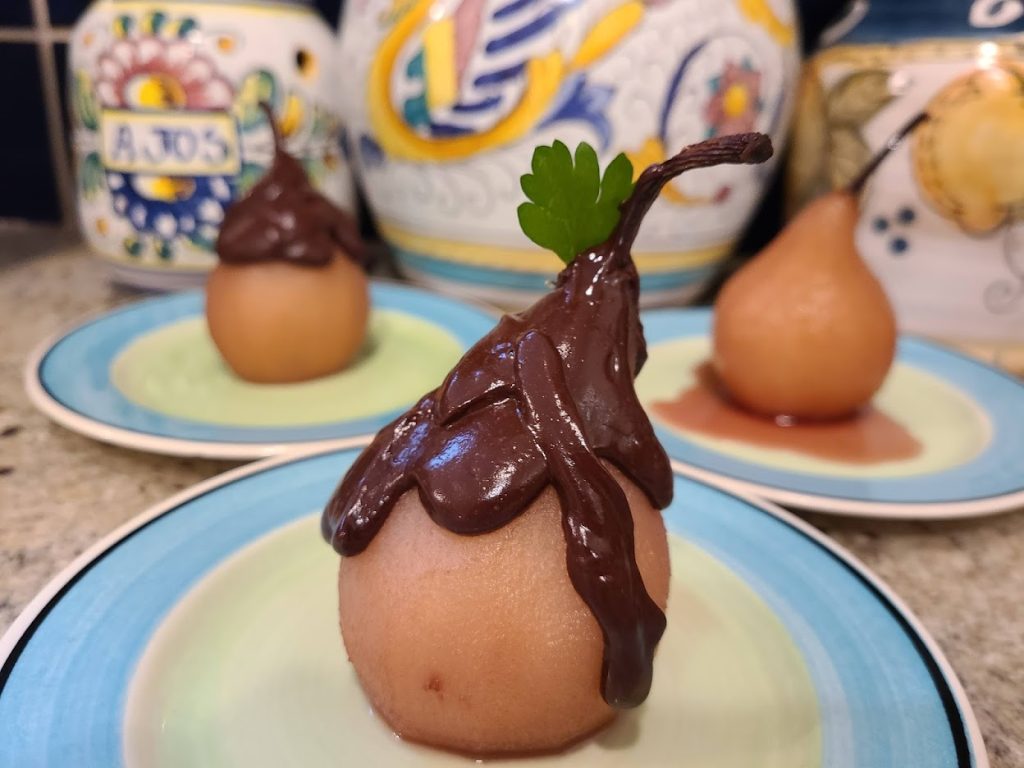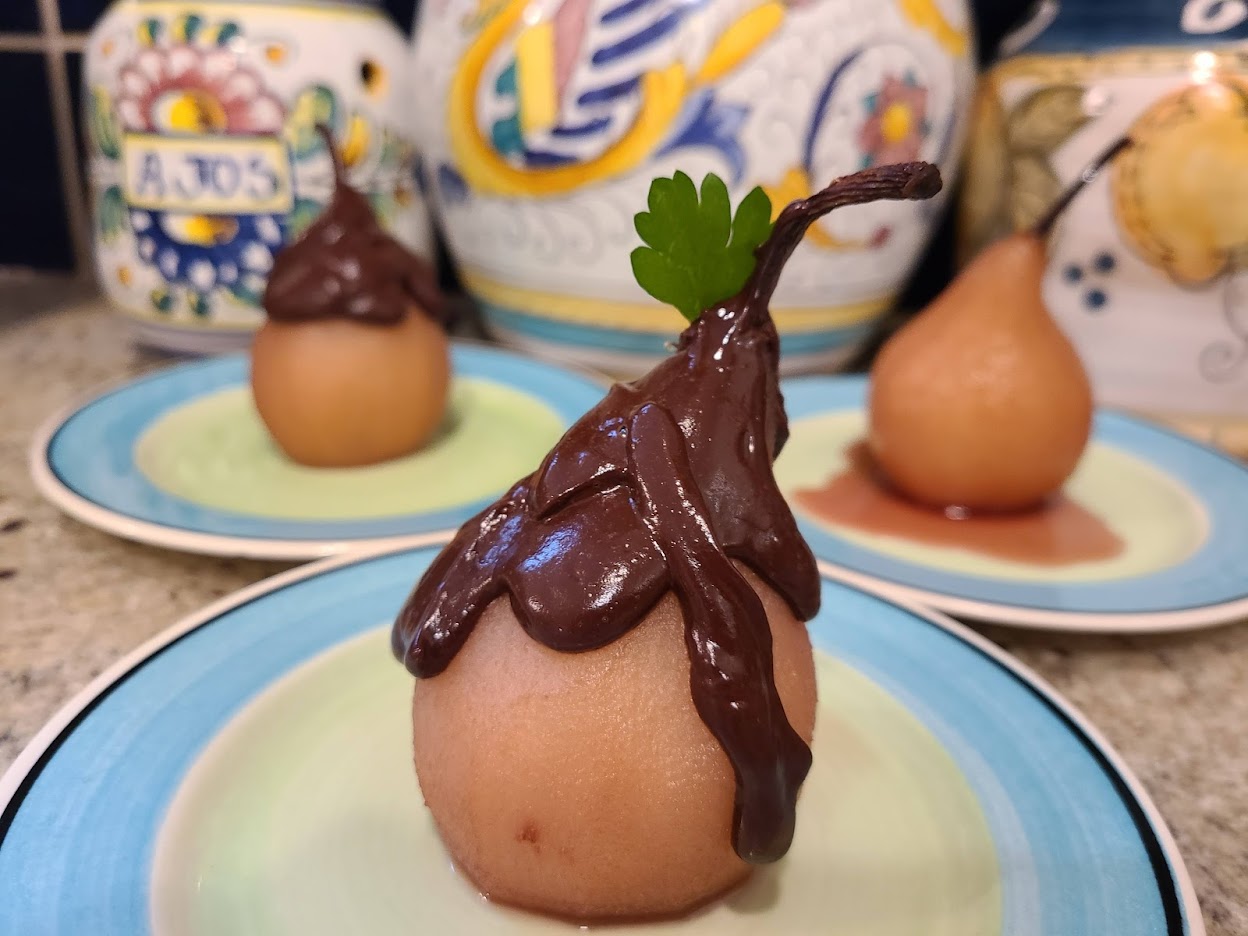 French Poached Pears with Chocolate Sauce (Poires en Cagoule de Perpignan) is that absolute perfect dessert for any meal. Because it is fruit, it feels light and refreshing. Visually it is appealing and flavor-wise it packs a punch. The way the pear juices subtly infuse the wine reduction makes is the secret to the chocolate sauce. Best of all, it is fairly simple to make, can be made ahead, is gluten free and best of all, if you make it the day of, the pleasant aroma turns your house into a warm and welcoming home. My mom is a diabetic and she is able to have about half a pear (no chocolate or wine reduction). Our entire family LOVES this dish. Not sure what to make for Passover or your GF friends? Search no further, this dish is a winner and one of my top 10 favorite dishes. It is an ideal fall or winter dessert when pears are in season.
In addition to being delicious, this recipe actually has sentimental value for me. It comes from a tiny themed recipe booklet my French pen-pal, Marie-Pierre, gave to me when I went to France for my very first time at age 15. In fact she gave me a series of little booklets – each with a different theme Aimez-vous… (le chocolat, les fruits, les cremes…), all of which I still have to this day, over 40 years later, and still use regularly. The recipe calls for Anjou pears, but I find that the bosc pears have a beautiful shape and hold up a bit better. Make sure to choose pears that have the stems. This is very important for the presentation and also for steadying them as you lift them. Do not lift them by the stem. Also use a wooden spoon to turn the pears so that you don't gouge them with the sharp edge of a metal spoon. As for the wine, don't stress out, you are literally cooking it with a bunch of sugar, so let's be real. Make sure to cut the bottoms of the pears off BEFORE you stick them in the pot. This enables the pears to stand up straight when you plate them. You can serve the pears warm, cool, cold, without any sauce, glazed with the wine reduction (thin or thick based on how much you choose to reduce it) or a chocolate sauce infused with the pear-wine reduction. How much of the wine reduction should you add to the chocolate? Start with a few tablespoons, taste and add more if you want more or if you want to thin it out a bit. The wine reduction is also great over vanilla ice cream. Hope you like this half as much as our family does!
Ingredients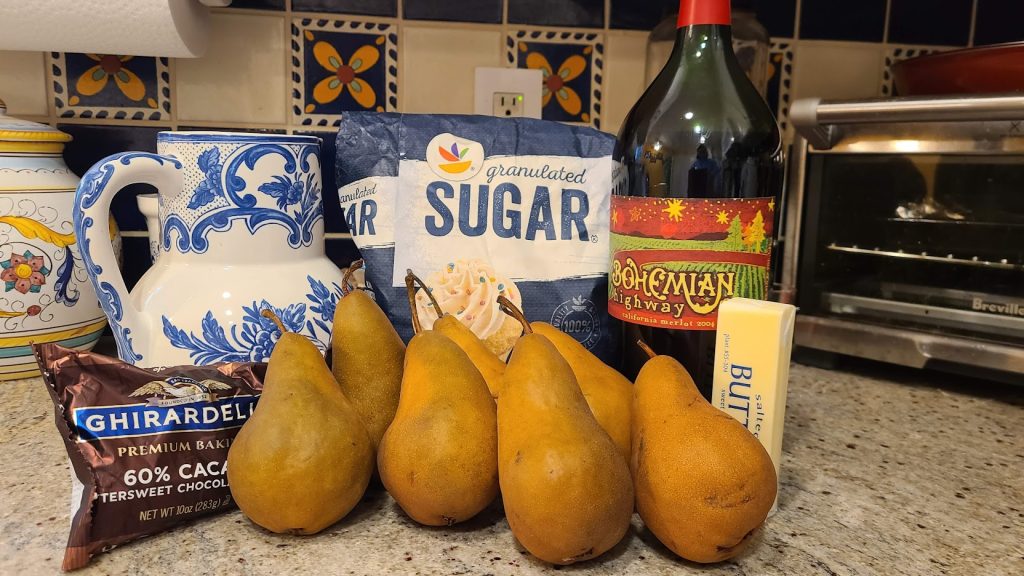 6-7 pears (firm bosc pears)
1 liter water
500 ml red wine
400 g sugar
125g dark chocolate
25g butter
mint (optional for garnish)
candied violets (optional – for garnish)
Step-by-Step Directions

1.
Pour water, wine and sugar into a pot
that is just large enough to hold your pears.
Bring to a boil while preparing the pears.

2.
Peel pears and cut off the bottoms (this helps them to stand up nicely)


3.
Carefully add pears to the wine mixture. Bring to a boil
Reduce heat a tiny bit so it does not bubble over.
Periodically, gently roll the pears over using a wooden spoon
so they cook on all sides.
Cook until a sharp knife goes in easily but pears are still firm (about 40 min).



4.
Carefully remove pears. Do NOT pull pears up by stem.
Use a wooden spoon to lift bottom. Only hold stem to steady them.
Set aside to cool.
Pears can be made ahead and stored in the refridgerator.
5.
Reduce the wine mixture until it becomes a syrup.
6.
Plate pears.

7.
Chocolate with wine reduction (You might want to double the chocolate sauce.)
Melt 125g dark chocolate with 25g butter in small saucepan.
Add some of the wine reduction to the chocolate. Stir well.
8.
You can serve the pears as is or spoon some of the
wine reduction or chocolate mixture over them.
Optional: garnish with mint leaves and candied violet at base of stem.

9.
Serve.
(No mint at home? Use parsley!).
Recipe Source: Aimez-vous les fruits.