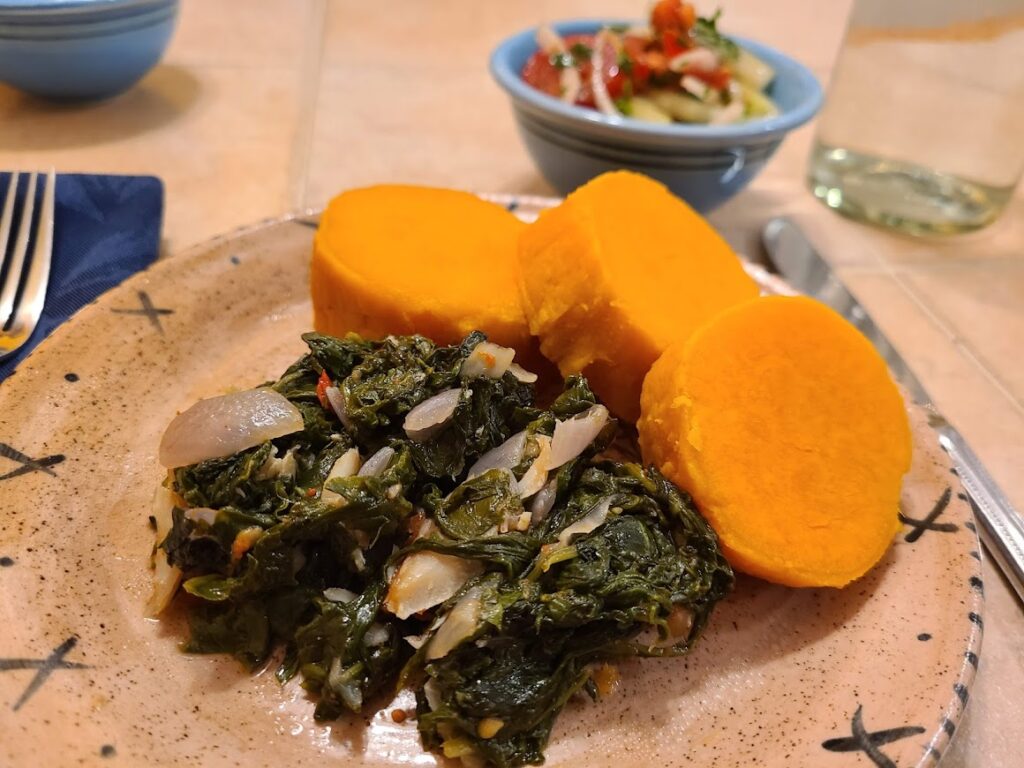 Finding a recipe for Gabon was not the easiest. But then I stumbled upon a "Top Chef" Gabonaise competition where Gabonais participants, many of whom were ex-pats, were making dishes from a Gabonais cookbook. The first recipe I found had fish cooked in palm oil. Looked easy enough and thinking about how tasty Nutella is (loaded with palm oil) I was excited but hesitant as palm oil cultivation does not seem to be done in an enviromentally friend manner. My husband said no because palm oil is not healthy. Back to the drawing board. Most of the other competitors made a recipe that had dried salted fish and green hibiscus leaves or canned sardines and hibiscus leaves. My husband and daughter have protested before about eating dried salted fish so I kept looking and finally settled on one that had smoked fish and greens. Amaranth falls in the family of quick growing weeds that don't need lots of water. They are like spinach or kale but apparently healthier and a bit peppery (probably like arugala). I read that lots of health food shops carry amaranth leaves. Unfortunately that did not turn out to be the case, so I made this this with the next best alternative…spinach. As for the smoked mackerel, I had as much luck with that as I did with the amaranth. Mackerel tends to be an oily fish. The smoked flavor seemed to be key to me. In the states finding smoked fish is not the easiest aside from smoked salmon…which was not the texture nor flavor I was looking for. I did, however find smoked whitefish – a Jewish delicacy. So, despite the name of the dish..Folon Mink Ot Mi Kwass (Amaranth Leaves with Smoked Mackerel), I made Spinach Leaves with Smoked Whitefish! The recipe called for salt, but knowing how salty smoked fish can be from years of eating smoked whitefish or haddock, I decided to eliminate the salt. Good call because the whitefish was super salty! If you want a vegetarian, gluten free, vegan option – just skip the fish, but make sure to season with salt. Tried it before adding the fish and liked it. So you are probably wondering how the meal came out…let's just say … not every meal can be a winner…and this most certainly came in last in the race. It is probably an acquired taste…that I have yet to acquire. I found the smokeyness of the fish too overpowering. But if you like STRONG smokey flavors, you may like it. Scott said it was "not that bad"…he rated it a 6/10 which I reminded him was a D. He clarified that in his book 6/10 is above average noting that 5 /10 is average. He changed his rating the following day after eating it cold as leftovers to almost 7/10. Normally this is served with steamed cassava or some type of cassava bread. As the supermarkets did not have cassava, I got yams which are typical in Gabon. Thank goodness…the yams moved the "folon" (which seems to be the common name for any dish with chopped greens) from inedible to barely edible. If you want a new experience and are feeling adventurous…go for it. Otherwise, I have liked every other dish I have made thus far MUCH better!!!! Blech! Eva says I should add that it smelled atrocious. Sadly, I have to agree. I think it was the smokiness of the whitefish that I did not like. If I were to make it again, I would go with canned tuna or any type of grilled fish – this would be a variation on the dish, but in my opinion would make it not only edible, and probably more to my liking but yummy. Good luck. Let me know if any of you try it… or the variation. I also made a Gabonese Cucumber and Tomato salad to go along with this meal. That dish helped redeem my impression of Gabonese food.
Ingredients
1.5 kg amaranth leaves or spinach leaves – chopped (you can get it pre-chopped in the frozen section)
2 smoked mackerels or 1 lb smoked whitefish (about 8 oz of meat when off the bone) – skip for vegetarian option
1 onion – diced
1-2 medium tomatoes (1/2-1 lb)
1 habanero pepper
1/4-1/3 C water
1/4-1/2C (4-8 T) vegetable oil
salt (to taste – I recommend skipping it if you used smoked fish)
Step-by-Step Directions


1.
Chop spinach. (Roll it up or squish it together tight to chop)
Dice onion and tomatoes.
Remove skin and bones from the fish. Break fish up into pieces.

2.
Heat oil over high.
Add onion. Saute stiring until it becomes translucent (about 3-5 min)

3.
Add the tomato. Stir and cook a few minutes until the tomato cooks down a bit.




Add the spinach. Mix.
Add water. Cover for a few minutes until spinach wilts.


Add the fish. Mix.
Cut a slit into the habenero. Add to spinach mixture.
Cook covered for 15 minutes.
Transfer to a serving dish using a slotted spoon.
Serve with steamed cassava or steamed sweet potato.
In Gabon, they use their fingers to eat. You can eat it that way or with silverware.