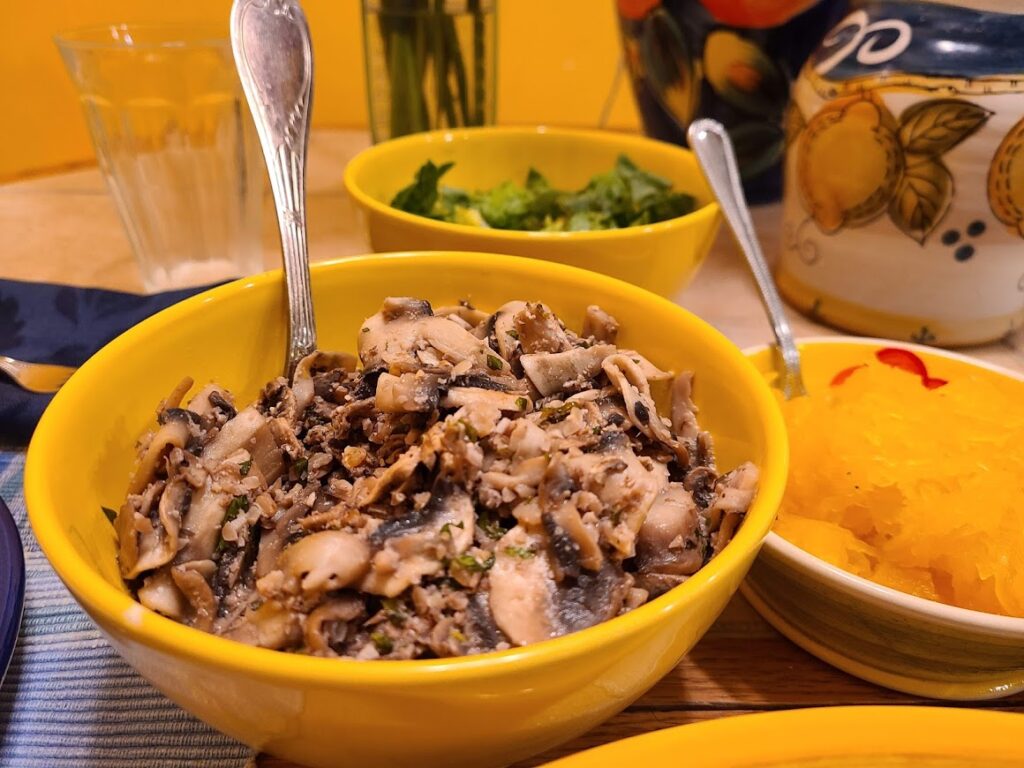 Georgia (the country), is located at the crossroads between Eastern Europe and Western Asia and lies just south of the Caucasus Mountains. As Georgian gardens and forests have an abundance of walnut trees, it is not surprising that their cuisine features this nourishing and healthy ingredient which is not only readily available, but inexpensive, if not free. Soko Nogozee (Georgian Mushrooms in Walnut Sauce) has a fresh, subtle but slightly tangy flavor – quick and easy to make. In addition, it is both vegan and gluten free. As walnuts are a key ingredient in Georgian cuisine, I chose a recipes that featured walnuts. While Soko Nogozee can be served as an appetizer, I opted to serve it as a side dish to Satsabeli Bazha (Poultry in Walnut Sauce). The two worked well together. Next time, I think I will try it as a warm appetizer served with hearty bread. As mentioned, this dish is quick to make, but if you want to make it even faster, you can buy pre-sliced mushrooms. This dish can also be made ahead of time and eaten warm, cold or at room temperature. Enjoy.
Ingredients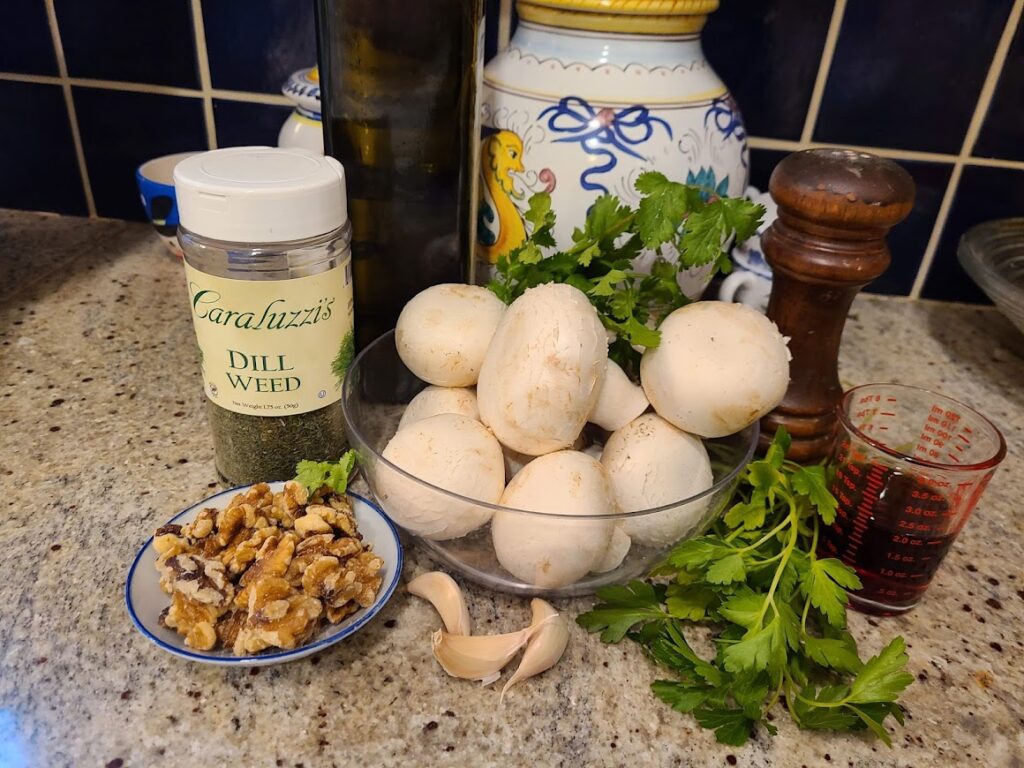 2 T corn oil (in Georgia as in Turkey sunflower oil is used)
1 pound mushrooms, cut into thin slices
1/2 tsp salt, or to taste
1/2 cup shelled walnuts
3 garlic clovess
1 T chopped cilantro (fresh coriander)
1 T chopped fresh flat-leaf Italian parsley
1/4 C red-wine vinegar
1 T chopped fresh dill
Step-by-Step Directions


1.
Chop the walnuts and garlic together rather fine.
2.
Slice the mushrooms.
Chop the parsley & cilantro (fresh coriander).
3.

Heat oil in a pan.
Add the mushrooms and salt, and saute over medium heat for 3-5 minutes.

4.
Put nuts & garlic in a small bowl.
Add coriander, parsley and vinegar to the nuts.
Mix well.

5.
Add the nut mixture to the mushrooms.
Simmer over low heat for 5 minutes.
6.
Garnish with dill.
Serve warm.
Source: Sephardic Cooking by Copeland Marks, Donald I Fine Inc, NY c. 1992 p. 205.