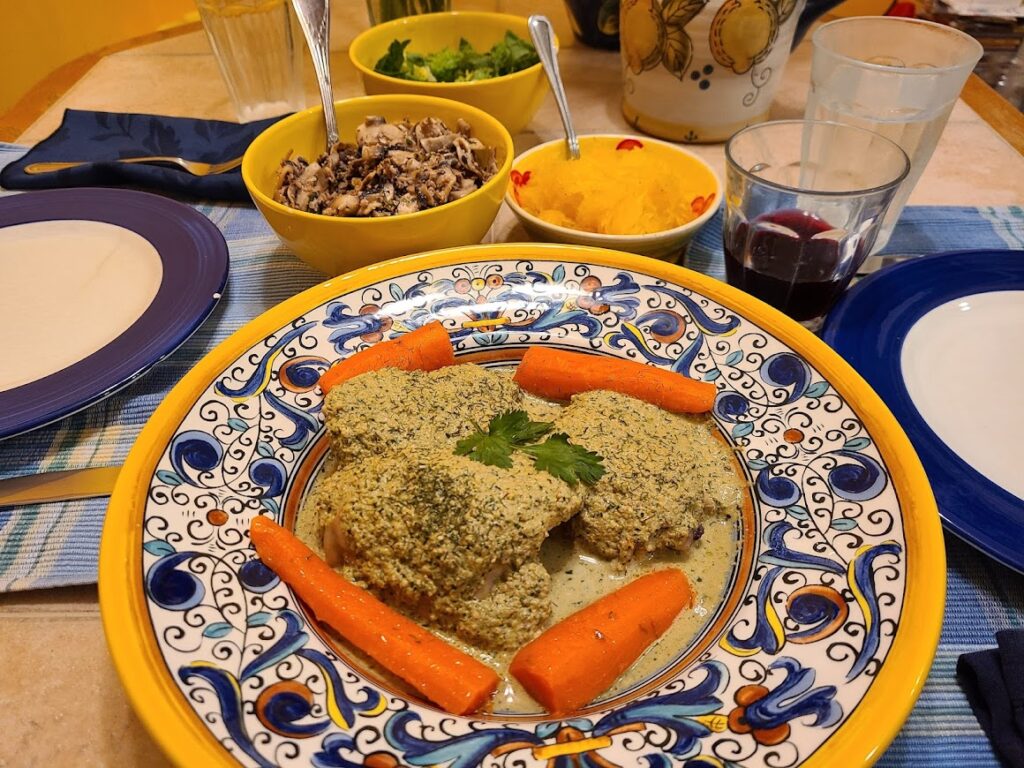 Nestled between Turkey, Russia, Armenia and the Black Sea Georgia sits at the crossroads of Europe and Asia and is considered one of the to be one of the possible cradles of civilization. Georgian cuisine is loaded with walnuts. Vegetables with walnuts, meats with walnuts and of course desserts with walnuts. In short, Georgian cuisine has no shortage of walnut sauces. So of course, I felt obligated to make a few dishes with walnuts. Plus, we had a nice big bag of walnuts in the house and everything else I needed to make this dish. According to Copeland Marks, author of my favorite Jewish cookbook, Sephardic Cooking, it seems as if this fascination with walnuts comes from the Persians who dominated Georgia for quite some time.
As a main dish, I opted for Satsabeli Bazha, Georgian Poutlry in Walnut Sauce. This dish was flavorful and easy enough to make. All 3 of us liked it and thought it was worth making again. The recipe says to discard the seasoning from the broth, but I thought it was a pitty to get rid of the carrot and that it would add some nice color, so I kept it. As for the sauce, the directions were a little vague so I was not quite sure how thick it was supposed to be. You can either look at my picture for the sauce thickness or go with how you like yours. To accompany the dish, I made Soko Nogozee, Georgian Mushrooms in Walnut Sauce – this was a different type of walnut sauce with an altogether different flavor. We liked that dish too.
Apparently rice and pasta are not big items in Georgia so I served the dish with some spaghetti squash and a bit of lettuce for a touch of color. I also found it interesting that many of their dishes are served cold or at room temperature, which actually makes things easier!
Ingredients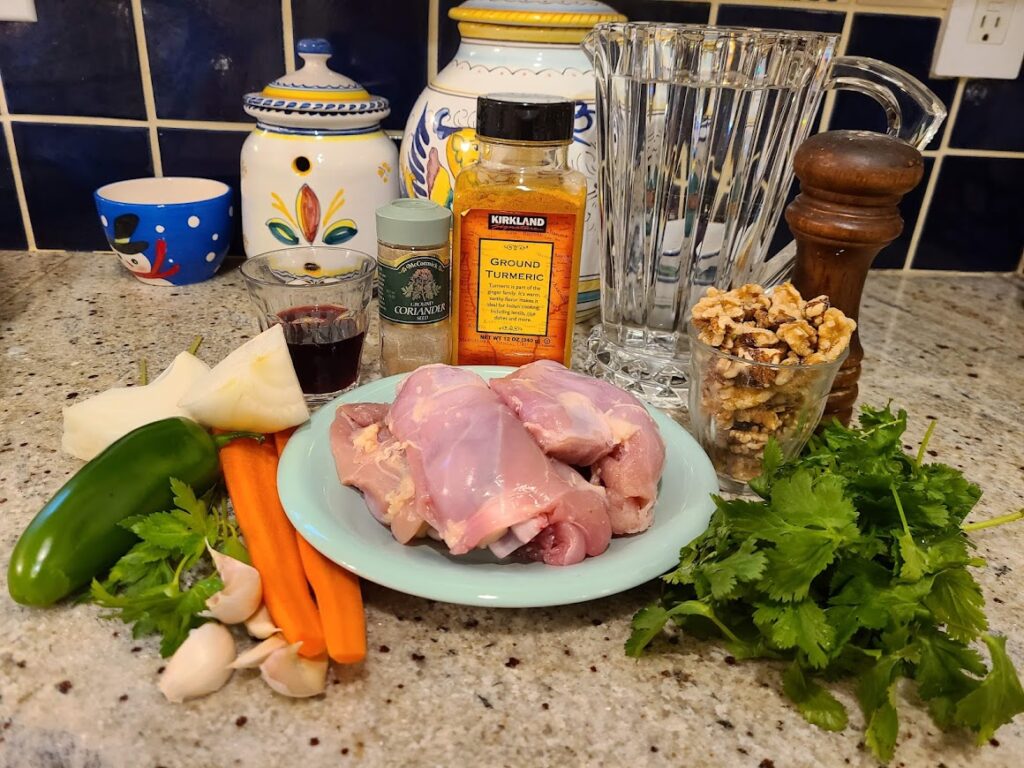 POULTRY
3 1/2 to 4 pounds of chicken, turkey or duck. (Remove skin and cut into pieces)
4 C water
1 medium onion halved
1 carrot, halved lengthwise
2 sprigns of flat-leaf parsley
2 teaspoons salt
SAUCE
3/4 C shelled walnuts
5 garlic cloves, peeled, sliced
1-2 tsp minced fresh hot red chili (I only had jalepeno at home, so I used that instead)
1-2 teaspoons ground coriander
1/4 teaspoon ground tumeric
1/4 C chopped fresh coriander
1/4 C pomegranate juice or 2 T pomegranate concentrate dissolved in 2 T water, or 2T red-wine vinegar
2T fresh pomegranate seeds for garnish (optional)


1.
Put the poultry, water, onion, carrot, parsley and salt into a pot.
Bring to a boil. Skim the foam and discard.
Reduce heat to low and cook for about 40 minutes, or until tender.

2.
Remove the poultry pieces.
Discard the seasonings, and reserve 2 C of broth.
3.
While the chicken is cooking, make the sauce.
Peel and slice the garlic.
Dice the chili pepper.
4.
Make a paste in a food processor. First add the walnuts followed by the garlic,
chili, ground coriander, tumeric, fresh coriander and pomegranate juice.

Dilute this paste with enough of the reserved broth to provide a smooth
but not too liquid dressing.
Put the poultry pieces on a serving platter and pour the sauce over all.
Garnish with pomegranate seeds (optional).
Serve cold or at room temperature as an appetizer, salad or main summer dish.
(You can also garnish with a sprinkle of dill)
Source: Sephardic Cooking by Copeland Marks, Donald I Fine Inc, NY c. 1992 p. 227-228.