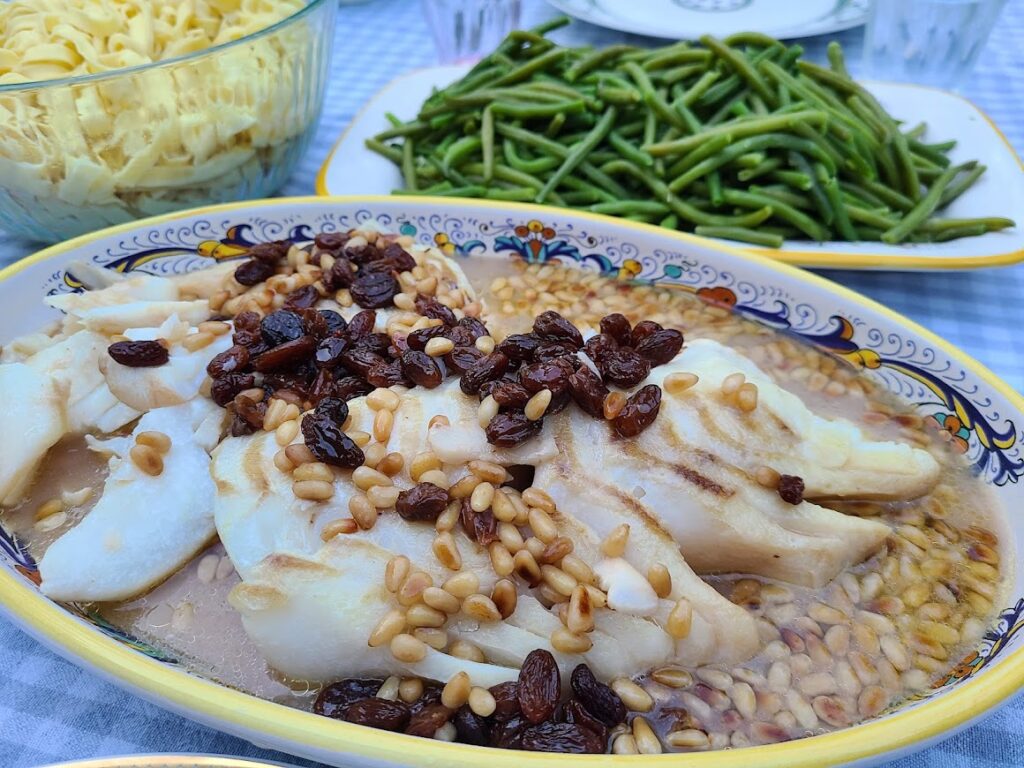 What to make for Italy? So many scrumptious options. My Italian friends sent me recipes and tried to sway me. But for me, there was only one recipe to make: Triglie con Pinoli e Passerine (Mullet with Pine Nuts and Raisins) also known as triglie all'ebraica. I first had this dish about 20 years ago when I traveled with my boyfriend (now husband) to Italy. It was a hot summer day and we stopped in the Jewish ghetto in Rome at one of the oldest Jewish restaurants. We ordered this dish, which we were told was a classic that was often eaten for the High Holidays (Rosh Hashanah and Yom Kippur) for a sweet new year. I guess it is their version of sweet and sour brisket which is a very traditional dish for American Jews of Eastern European descent. I love the combo of the succulent plump raisins with the toasted nuts. Years later I was in a book store and perusing cookbooks when I stumbled upon Cucina Ebraica, Flavors of the Italian Jewish Kitchen by Joyce Goldstein. To my delight and amazement, I found a recipe for my beloved dish. Triglie con Pinoli e Passerine (Mullet with Pine Nuts and Raisins) is savory yet sweet, delicate yet flavorful. I personally like bathing it in the sauce. In Italy, they served it with fresh tagatelli. I had to settle for fresh fettuccini with the sauce ladled on top. Quite delcious all the same. If you don't have access to mullet (I did not) you can use another white fish such as cod, halibut etc. This dish can be made using the whole fish or with filets. Everyone loved it. In addition to being very tasty, this dish is easy to make, gluten free. Just pay attention when toasting your pine nuts as once they start to brown, they can burn if you don't stir them constantly and remove them promptly from the pan. My first time toasting them, I burnt them, had to throw them out and start again. Generally, you learn that nut toasting lesson pretty quickly and don't repeat it. 🙂 L'shana tova to all who are celebrating Rosh Hashana!
Ingredients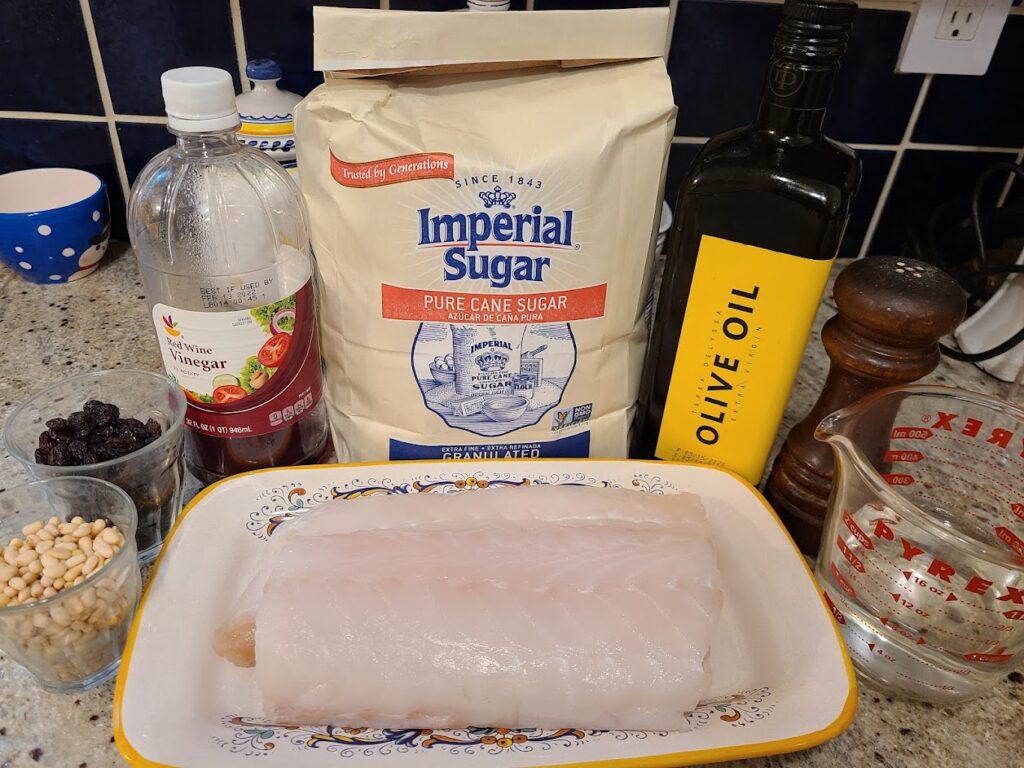 1/2 C red wine vinegar
3 T sugar
1/2 C pine nuts, toasted
1/2 C raisins, plumped in hot water
3-4 T extra virgin olive oil
1 whole fish (about 2 pounds, cleaned or 1 1/2 pouns fish fillets
salt to taste
Step-by-Step Directions


1.
Plump raisins:
Bring 1 C water to a boil. Add raisins.
Let them sit at least 15 min. (water will turn a light brown)



2.
While raisins are plumping, toast pine nuts.
Heat a pan to medium high. Add 1/2 C pine nuts.


Stir constantly. As soon as you start to smell them, keep an extra
close eye on them as they brown very quickly and you don't want them to burn.
I often just take them off the burner and continue to stir a bit more.
Remove them from the pan. Set aside.

3.
Add vinegar, sugar, raisins, pine nuts and a little of the plumping liquid (about 2-4 T)
to a small bowl.
Mix.

4.
Add oil to a large frying pan. Heat oil over medium high.
Add fish and brown lightly (just a few minutes)

5.
Flip fish. Salt.

6.
Pour vinegar/nut/raisin mix over fish.


7.
Cover. Cook until done (approximately 5-10 min)
8.
Serve.
Recipe Source: Cucina Ebraica, Flavors of the Italian Jewish Kitchen by Joyce Goldstein.