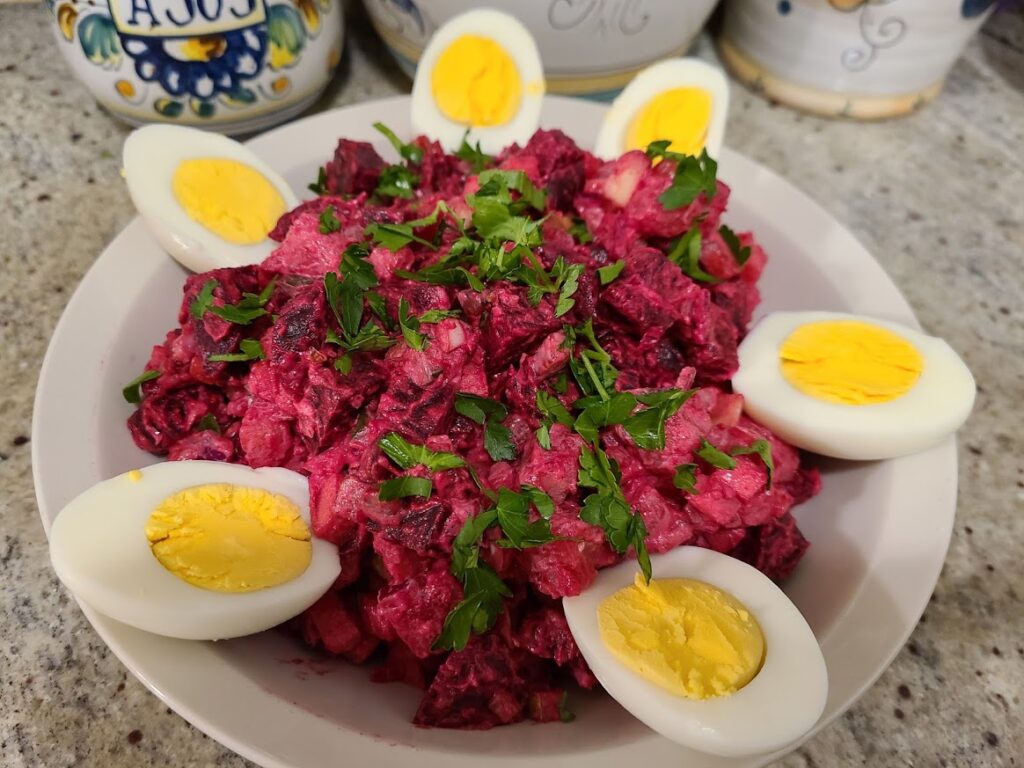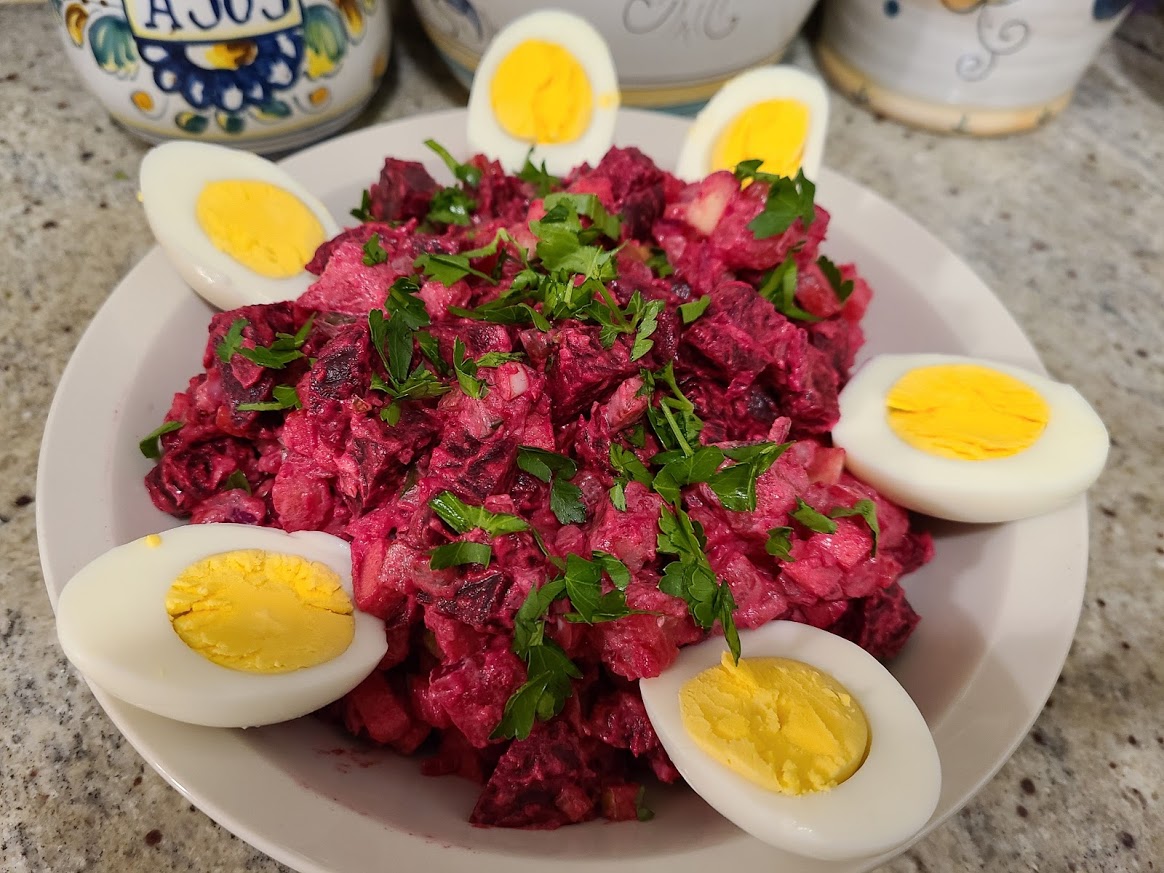 Estonia is nestled between Latvia and the Soviet Union and sits on the Baltic Sea, directly across from Finland. Estonian food seems like your basic hearty Jewish food – probably because so many American jews immigrated from Russia and Eastern Europe at the turn of the century. I can even imagine my ancestors in the woods of Radauti Bucavinia in the Carpentras Mountains enjoying just such a meal. If you only had one pair of shoes to wear for a year and didn't wear them in the summer or spring so you could save them for when it mattered (as did my great grandfather when he was a child), this type of filling and economical meal (Mugli Puder & Rosolje) would probably be a staple – beets, barley and potato. Rosolje is an Estonian Beet and Potato Salad with scrumptious sweet and savory undertones and a hint of spice coming from the horseradish and mustard in the creamy. Although I love beets, I was not sure about making a beet salad with mayo and pickles – it just kind of said "ewww" to me, but I was having trouble finding anything else from Estonia to make. I was also a bit skeptical because I am not a big Ensalada Rusa fan (Russian potato salad) as the mayo makes it goopy. I was pleased to discover that the additon of yogurt in the Rosolje definitely helped make the dressing smoother and gave it a nice tangy hint. Perhaps what made the dish work for me too is that I did NOT use all of the dressing. I poured it in little by little and used enough for my liking. I would recommend this. We served the dressing with the salad so people could add more if they liked. Scott actually liked it on the Mulgi Puder too. As the dressing was good we kept the rest and used it here and there. But it turns out that Rosolje (Estonian Beet and Potato Salad) was definitely a hit! To my astonishment, my husband actually loved it and asked for me to make it more often! My daughter liked it too. This dish was easy enough to make and can be made ahead of time – or even parts of it can be made ahead and you can combine them last minute – such as cooking the beets and eggs. I often have cooked beets hanging out in my fridge just screaming to be used. If you make it in one fell swoop, I recommend that you put your beets up to boil (you can roast them at 400 for an hour if you prefer) and while they are cooking, boil the potatoes, hard boil your eggs, make the dressing and chop the veggies. Then all you have to do is dice the beets when they are cool and mix it all together. Herring also seems to be a popular addition to this Estonian classic. I try not to waste anything so I made a beet green dish to accompany the meal. Adds color and extra vitamins. Enjoy!
Ingredients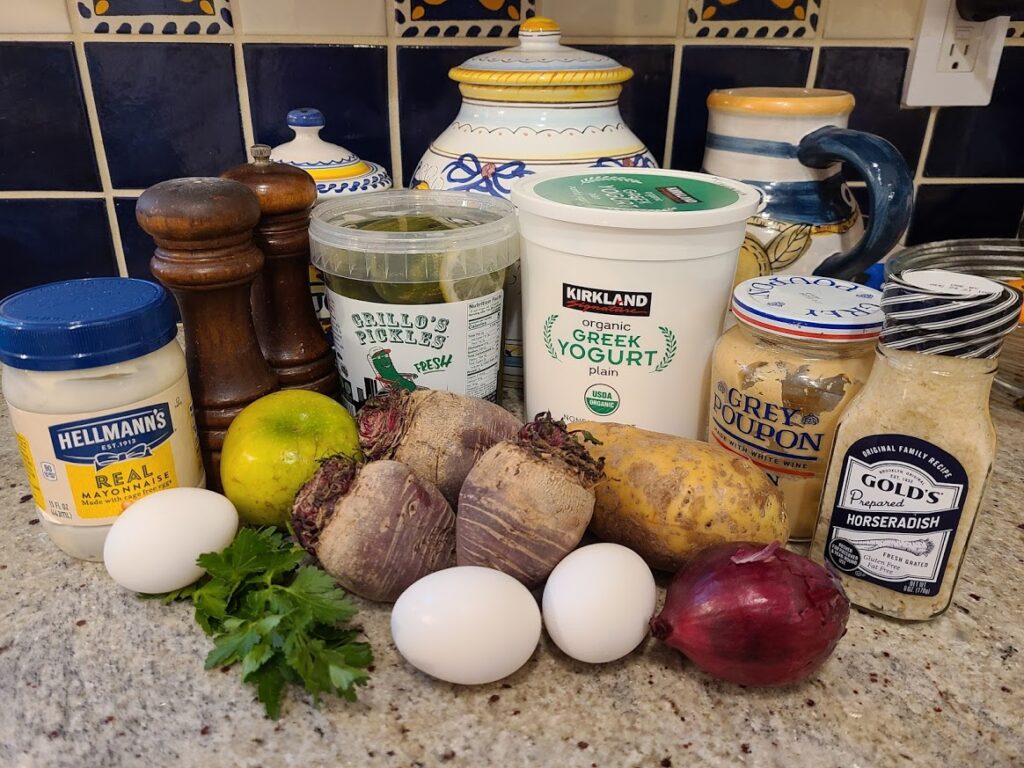 2 pounds potatoes of similar size, peeled (4 medium)
1 ¾ pounds red beets of similar size, scrubbed (4 medium)
½ cups – 1½ cups of ¼-inch-diced dill pickles or bread and butter pickles
1 granny smith apple, peeled, cored, and finely chopped
½ cup finely minced red onion
½ cup mayonnaise
½ cup whole milk Greek yogurt
1 tablespoon hot English mustard
1 tablespoon prepared horseradish
2 teaspoons salt, divided
½ teaspoon freshly ground black pepper
3 large eggs, hard-boiled, peeled and sliced, optional garnish
2 tablespoons chopped parsley leaves, optional garnish
Step By Step Directions


1.
Remove greens from beets and rinse. Place in a pot of water.



Bring to a boil. Simmer for approximately 1 hour, until they are tender when
you stick a knife in.


Drain, rinse in cool water. When cool enough to handle peel skin off by lighly
squeezing them in your hands (skin will pop off). I tend to peel them in a pot
of cold water.




While beets are cooking…
Peel potatoes. Dice into 1/2 inch cubes.




Place potatoes in a large pot. Cover with water so water is a few inches above potatoes.



Add 1 tsp salt. Bring to a boil. Simmer until tender (about 10 minutes).
Test by poking with a fork. When done, drain and set aside to cool.



While beets are still cooking prepare eggs (can be done several days ahead).
Place eggs in a steamer pot. Bring water to a boil. Cover. Steam for 12 minutes.
(You can boil them uncovered if you don't have a steamer).
Remove from pot. Cool under cold water. Peel. Set aside until ready to serve.


Dice beets (1/2 inch cubes), apple (1/4 inch cubes), onion, and pickles (1/8-1/4 inch cubes).
Chop parsley.



In a small bowl combine mayonnaise, yogurt, mustard, horseradish, 1 teaspoon of salt, and pepper.
Add all of the chopped ingredients to a large bowl.
Add the mayonnaise dressing. Mix well (but gently so potatoes don't turn to mush).
Chill for at least an hour.
Garnish with hard boiled eggs (cut in half) and parsley.
Serve with extra sauce on the side.