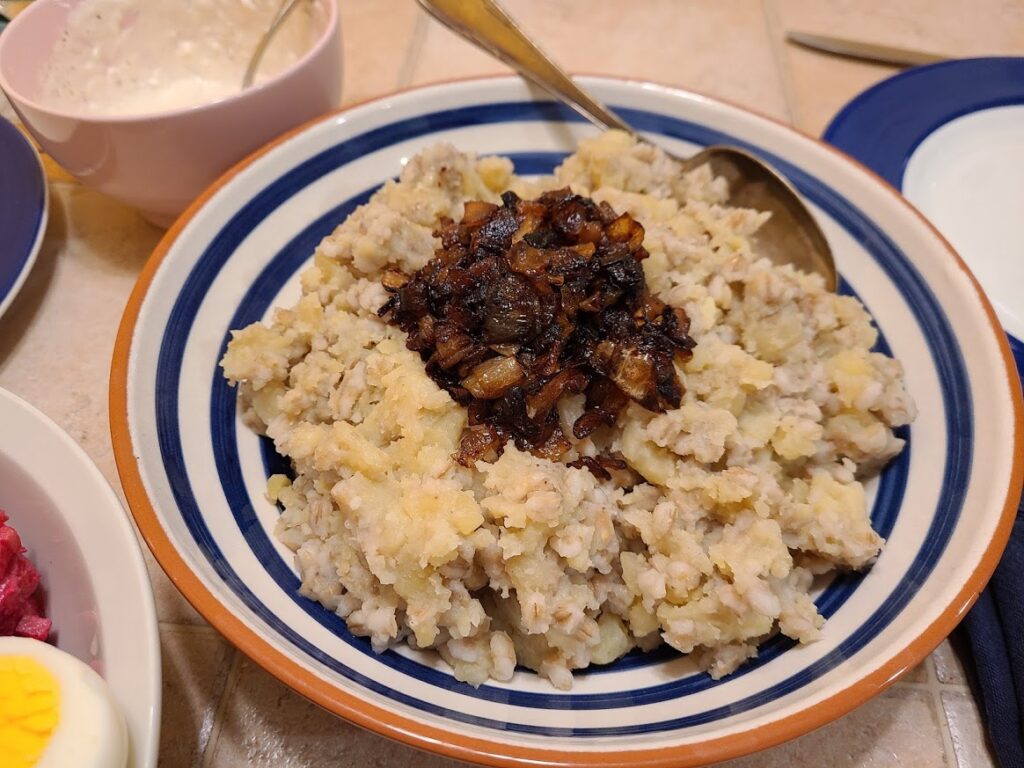 Estonia is located in Northern Europe just across from Finland. I mention this because their foods are both quite hearty and similar. This is also fairly reminiscent Kasha Varnishka, a classic Jewish dish of kasha and bow tie noodles, but moister. As usual, I searched YouTube for authentic videos. Interestingly, this was only the second time I saw men in videos! In fact, in every single video I saw for Mulgi Puder (Estonian Potatoes and Groats) men were doing the cooking! There was even one guy camping and making this over an open fire using a piece of bark as a cutting board – he added a carrot. This is a super easy dish to make. Basically you just put potatoes and barley in a pot with salt and water. Cook and mash it. It is often served with fried onions. Scott commented that tonight's meal felt very jewish… between the mulgi puder and the Rosolje, a beet dish which also had pickles in it, I must say, it made me think…hmmmm…. I bet this would have been something my ancestors might have eaten in the deep woods of the Carpentras mountains…not too far from there. Generally, this dish also has chunks of thick cut bacon in it, and sometimes they just use giant chunks of the bacon fat instead of having any meat. As my husband does not eat pork, I made a vegetarian version. If you want to make a vegan version, just replace the 2 T of butter used to fry the onions, with more oil. Scott loved both dishes. Rated them both 8/10, and kept eating and eating. Definitely a good winter meal.
Ingredients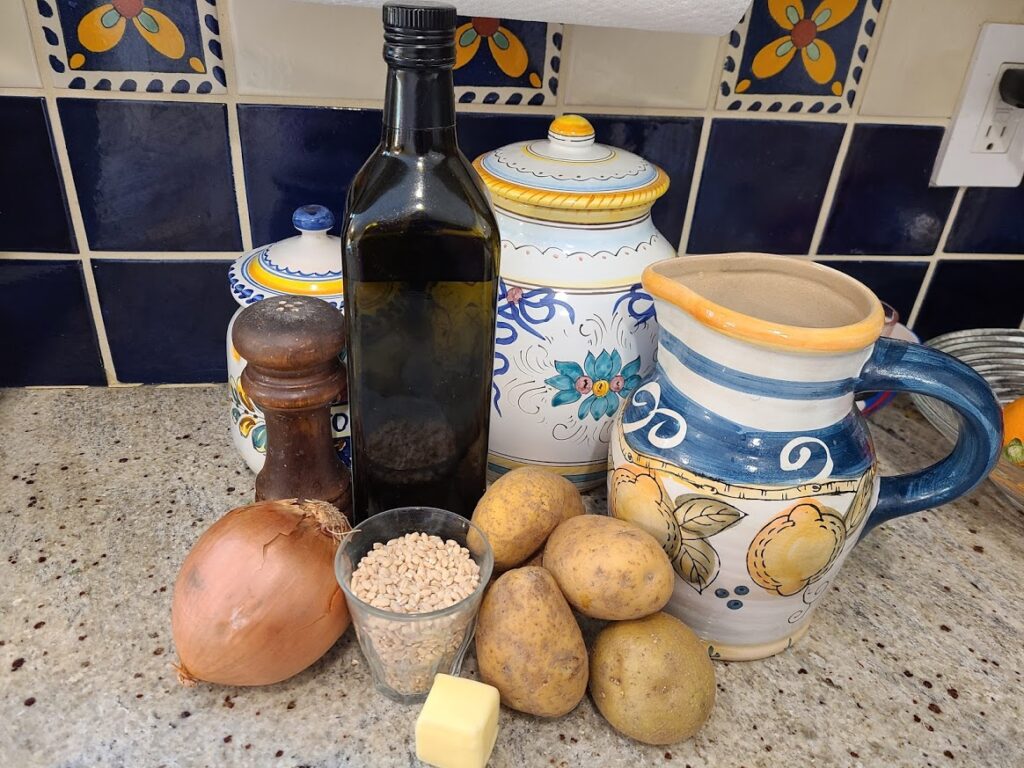 600 g potatoes, peeled & cut in large chunks
100 g barley (groats), washed & soaked
1 liter water (you will not need the whole amount)
1 tsp salt, divided
1 large onion chopped (300 g)
2 T butter
3 T vegetable oil
Step by Step Directions
1.
Put 100 g of barley in a bowl and cover with water.
2.
Peel 600 g of potatoes. Cut into chunks.
3.
Drain barley.




4.
Put potatoes & barley into a cast iron or heavy pot
with a lid.



Cover with water (3 cm above the potatoes/barley).




Add 1/2 tsp salt.


5.


Bring to a boil.


Cover. Lower temperature to medium.
Simmer for 1 hour- 1 1/2 hours, until barley is tender and
water has been absorbed.
Check periodically and add water if necessary.
6.
While potatoes are cooking…
Chop 1 large onion.
7.
Add 2 T butter & 3 T oil to a frying pan.


8.
Add onions and 1/2 tsp salt.



Fry over high heat stirring frequently until brown.
* You can also cook slowly over low, and stir occassionaly.
This will take longer.




9.
When potatoes and barley are soft, mash roughly.


10.
Transfer to bowl. Top with onions.
Serve.
Recipe Sources: Mulgi Puder, Mulgi Puder on an open fire, Mulgi Porridge, Potatoes & Groats