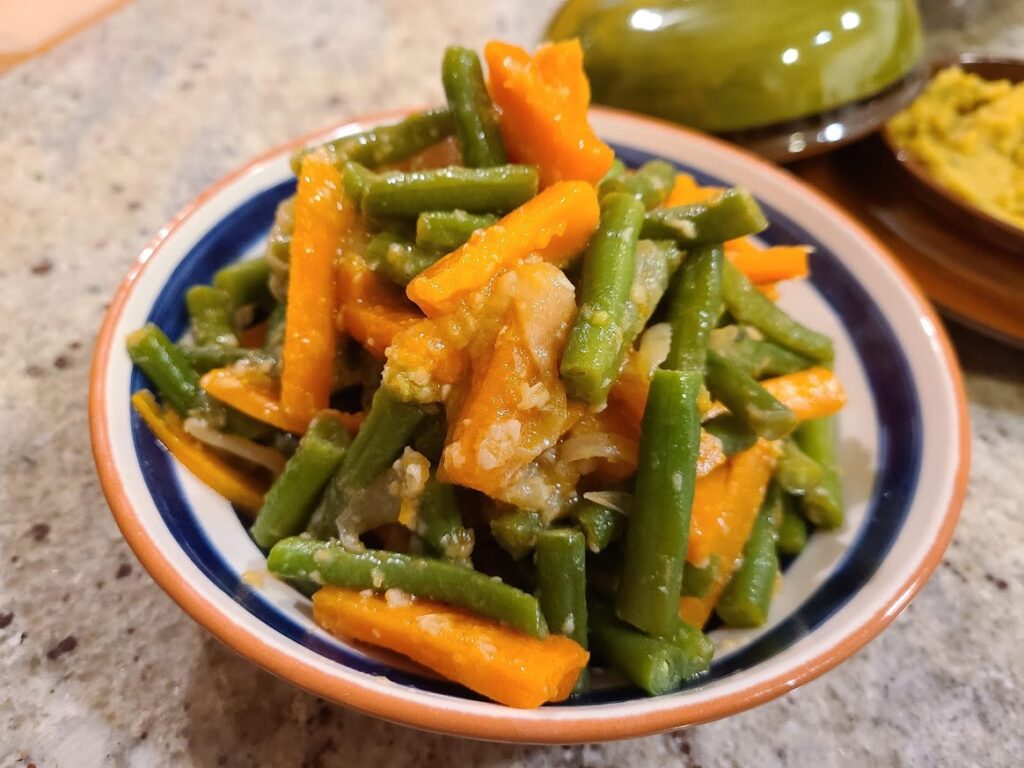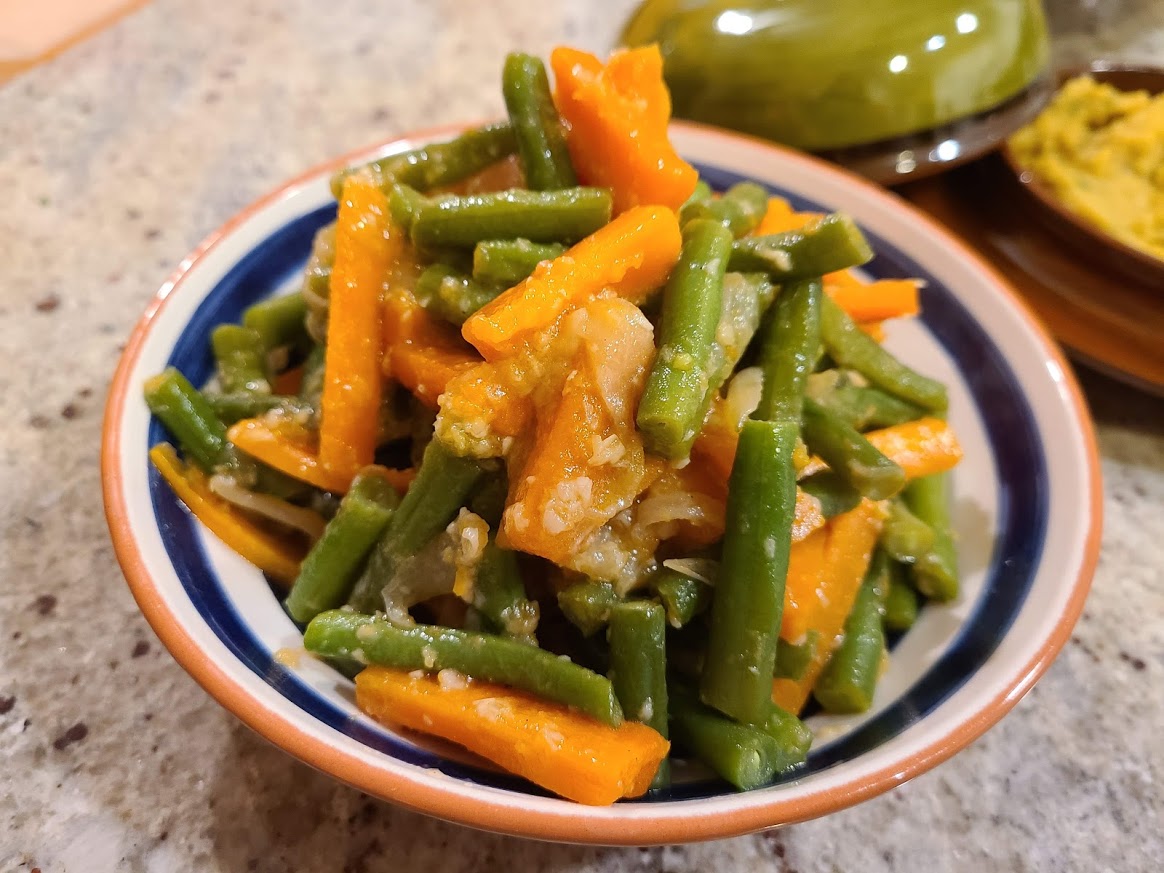 Another winner in our Ethiopian extravaganza was Fassolia, a carrot and green bean dish seasoned with ginger and garlic. Light, refreshing, easy to make and flavorful. When I first saw this dish, I was thrilled as we love string beans. Scott really wanted it too. But as I kept looking, reading recipes, watching Ethiopian grandma's make this, I saw that everyone was making it with somewhere in the neighborhood of 2 cups of oil – which in our family, is a "no-go." I mentioned to Tizze, our friend who is not only a fabulous Ethiopian cook but also happens to be Ethipian and she came to the rescue letting us know she generally makes it with just a few tablespoons of oil! Pfew!!!!! It is funny because on the one hand, we loved this dish, as it is extremly typical of food I just whip together. But when I asked Scott and Eva what they thought of this Ethiopian dish, they said it was just ok because we eat stuff like this all the time so it was nothing special – but they did admit they really like it…but didn't consider it Ethiopian…which in a weird way made me feel good that we do indeed eat a very eclectic range of foods on a regular basis – so much so, that they take it for granted.
I had read as well that Ethiopians like their vegetables cooked much more whereas Americans tend to eat them crisper. I cooked them more this time as I was making an Ethiopian dish.
Ingredients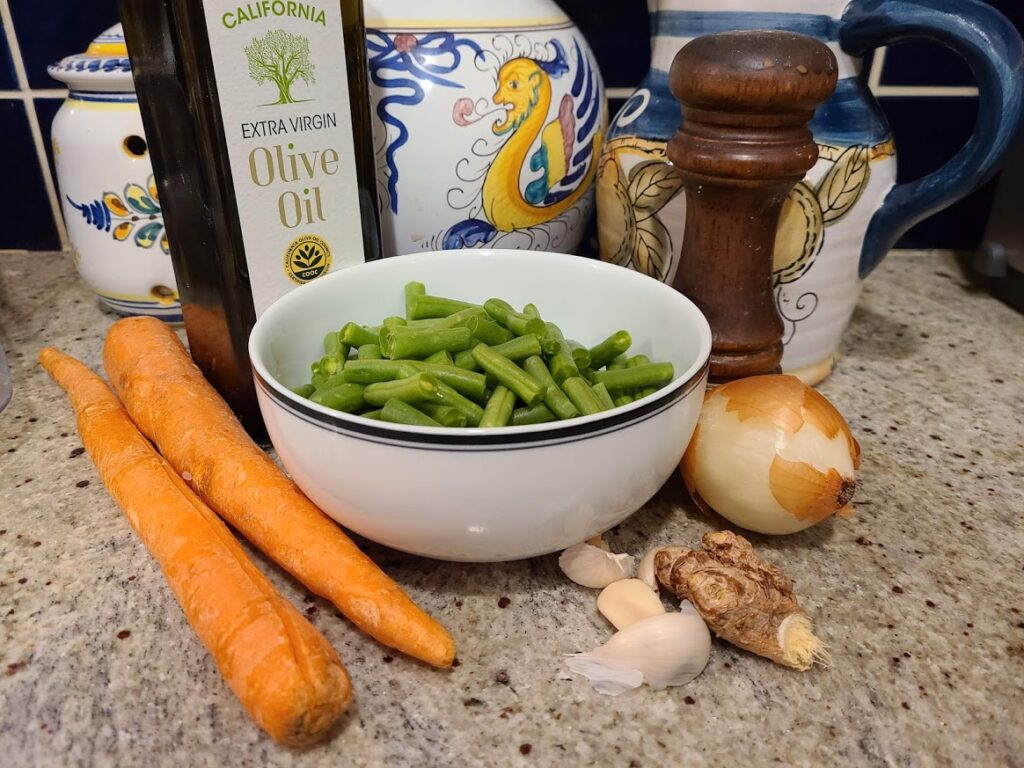 1 pound string beans, remove the ends and cut in half
1 pound carrots, julienned
1 medium onion
1 T garlic, pressed
1 tsp grated ginger (1 inch piece)
2-3 T olive oil (or vegetable oil)
salt
1/4 to 1 C water (as needed)
Step by Step Directions
1.
Trim ends from 1 lb string beans.
Cut beans in half.
Julienne 1 lb carrots. (Cut into 1 1/2 in x
1/2 in strips)
Slice onion. Grate ginger. Press garlic.
2.
Sautee onions in a dry pan over medium
heat for about 5 minutes.
3.
Add 2T oil, ginger and garlic.
Sautee for 2 minutes.


4.
Add carrots and 1/4 C water.



Mix.



Simmer, 10 minutes, stirring occassionally,
until tender.

5.
Add string beans. Simmer over medium heat,
stirring regularly until tender.
Add water as needed so nothing sticks to pan.
6.
Serve.
Recipe Source: Fassolia