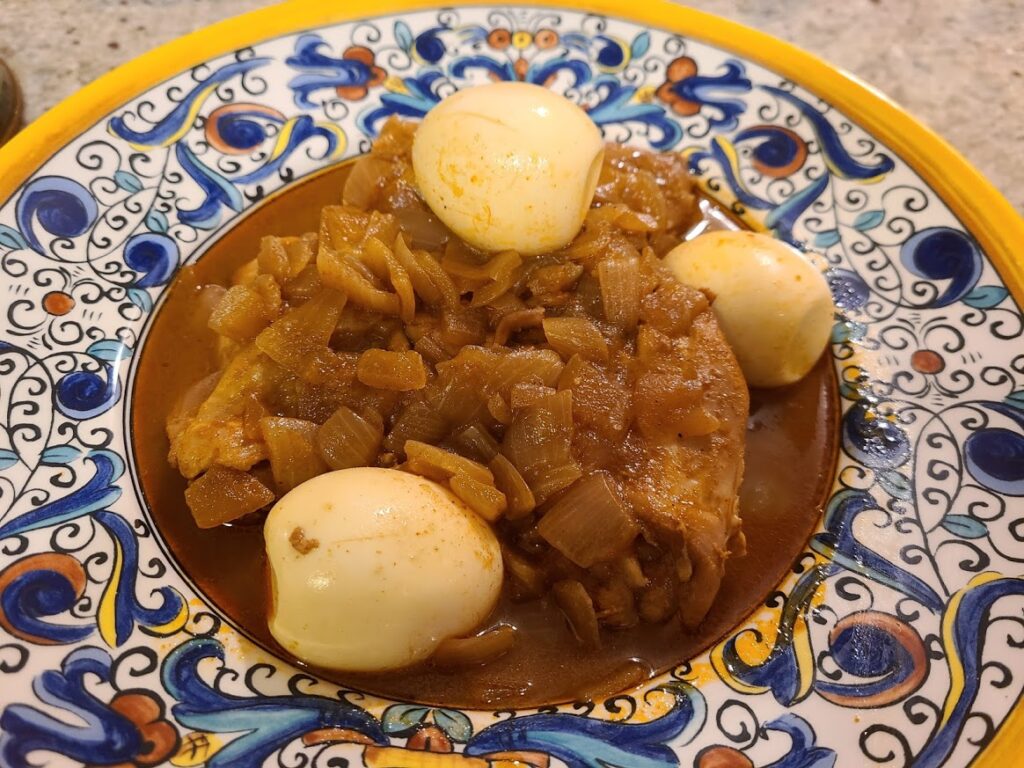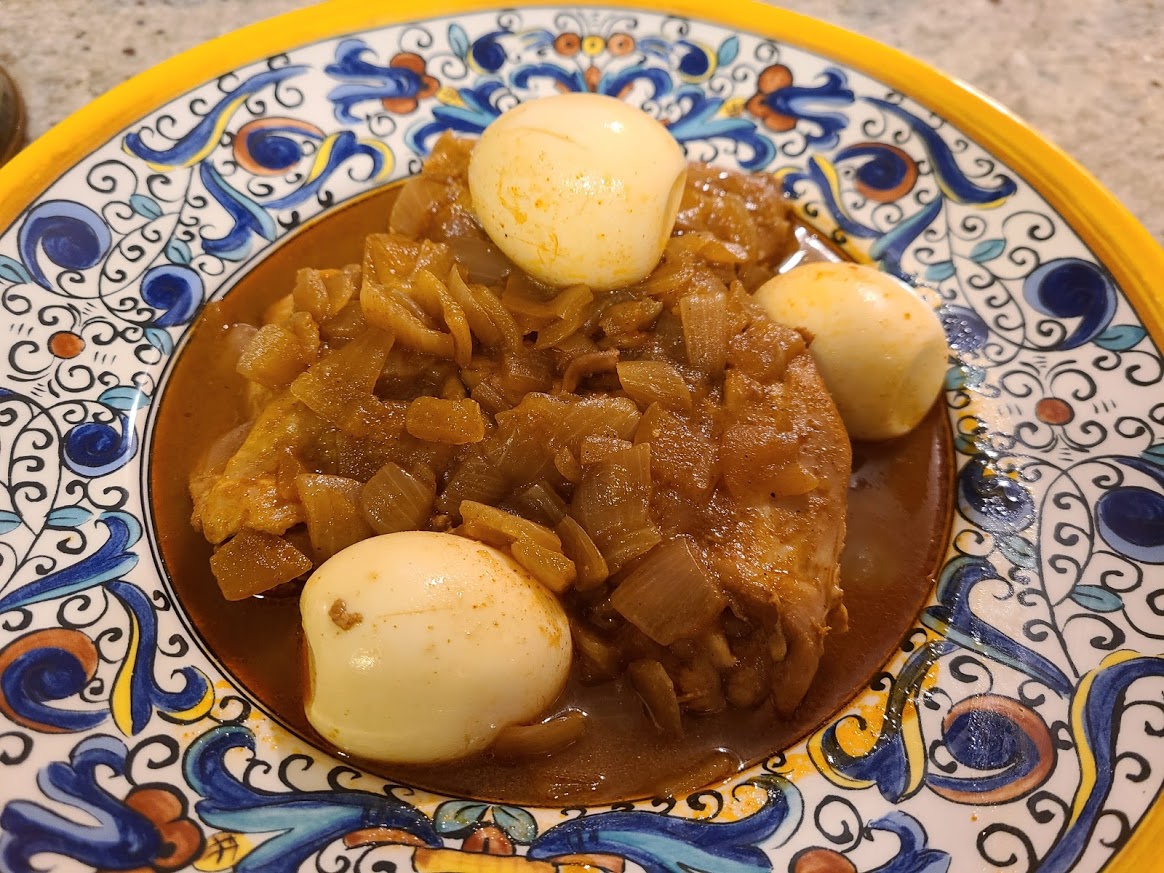 As part of our Ethiopian extravaganza on our alphabetical cullinary tour du monde we made a Doro Wot. Wot (Ethiopian Spiced Stew) can be made with Chicken, Beef, Goat, Lamb or lentils and is typically served with hard boiled eggs that have slits in them so they can soak up the sauce – YUM. While people don't really think of an egg Wot – and you will probably never see it on a menu, you can indeed make a vegetarian version of this stew by using vegetable stock in the place of water and then serving the sauce with eggs. We actually loved it so much we made extra eggs and ate them with the sauce for a few days after we finished the chicken. Berber, is the quintessential Ethiopian spice blend that gives Ethiopian food it's classic flavor. We ordered our Berber spice from Amazon. Ethiopian Berbere Chili Pepper Blend by Brundo Ethiopian Spices.
Ingredients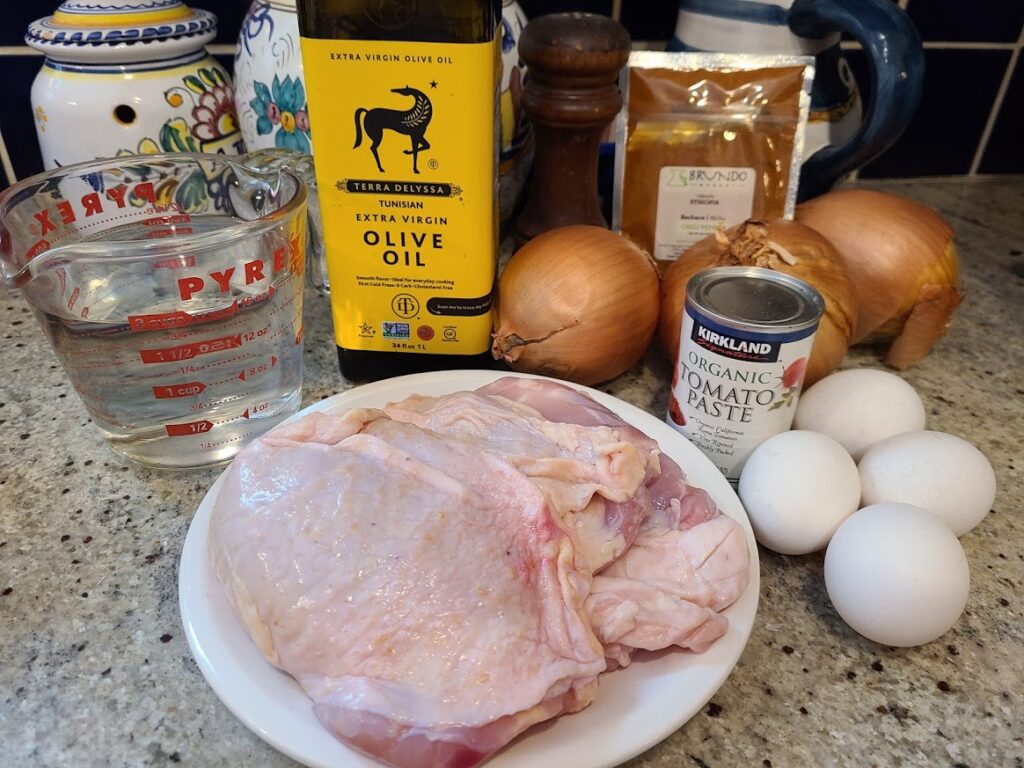 2 large onions, chopped (4 cups)
3 T olive oil or vegetable oil
2-3 T Berber spice mix (I used 2)
3 T tomato paste
1/2 tsp salt (or to taste)
2 C water (substitute vegetable broth for a vegetarian version)
1-3 pounds chicken thighs (4-6 thighs) (skip the chicken for a vegetaian version and add more eggs)
4-6 eggs (use 1 egg per thigh)
Step by Step Directions
1.
Chop 3 large onions (about 4 cups)
2.
Sautee onions in a dry pan over medium
heat for about 4 minutes, stirring constantly.

3.
Add 3 T of oil.


Sautee for one minute.


4.
Add 2-3 T of the Berber, 3T tomato paste,
1/2 tsp salt and 1/4 C water.
Stir well.
*Use vegetable broth or water and
vegetable boullion cube instead of plain
water if making a vegetarins version.
5.
Add the chicken and the remaining 1 3/4 C
water.
* If making a vegetarian version, skip the
chicken and replace water with vegetable
broth.
6.
Mix well.
7.
Cover and cook over medium heat for 45 min.
Taste. Adjust salt to taste.
8.
While the chicken is cooking hard boil 4-6 eggs.
Put and inch of water into the bottom of a
steamer pot. Put eggs in steamer.
Bring water to a boil over high. Cover.
Cook for 15 min.
* Make extra eggs for vegetarian version.
9.
Run eggs under cold water.
Peel.
Put 5 slits per egg to let juice soak in.
10.
Spoon Doro Wot into a dish.
Dip eggs into the sauce, then place on
serving dish. Serve with Injeera
and extra Berber on the side.