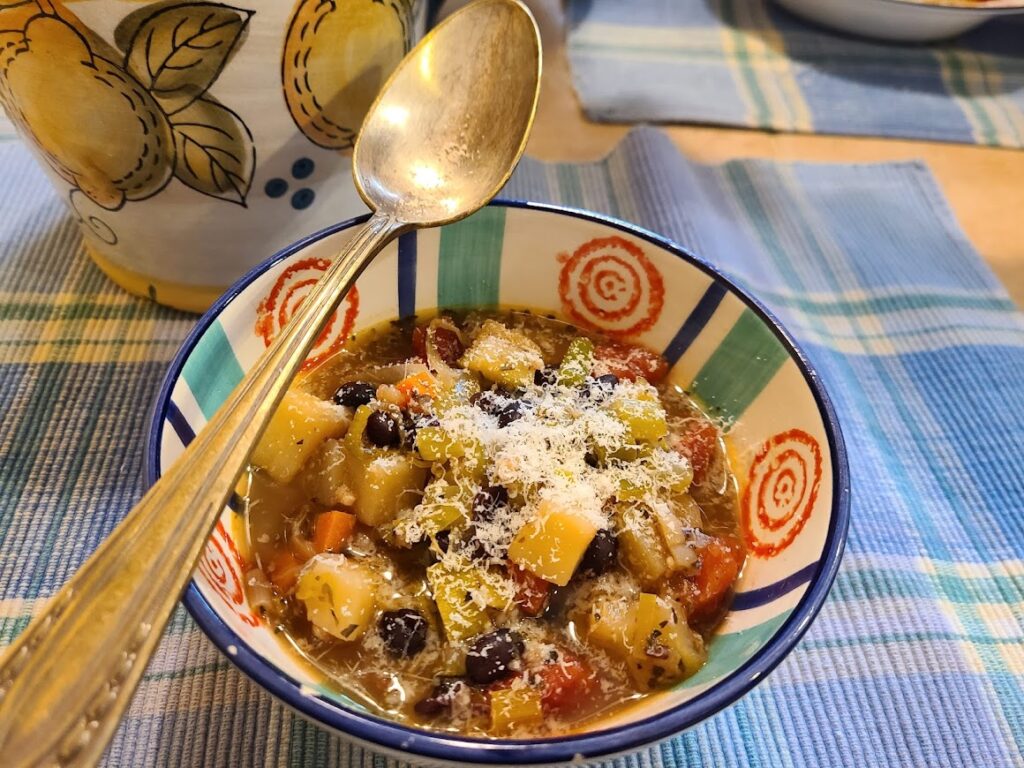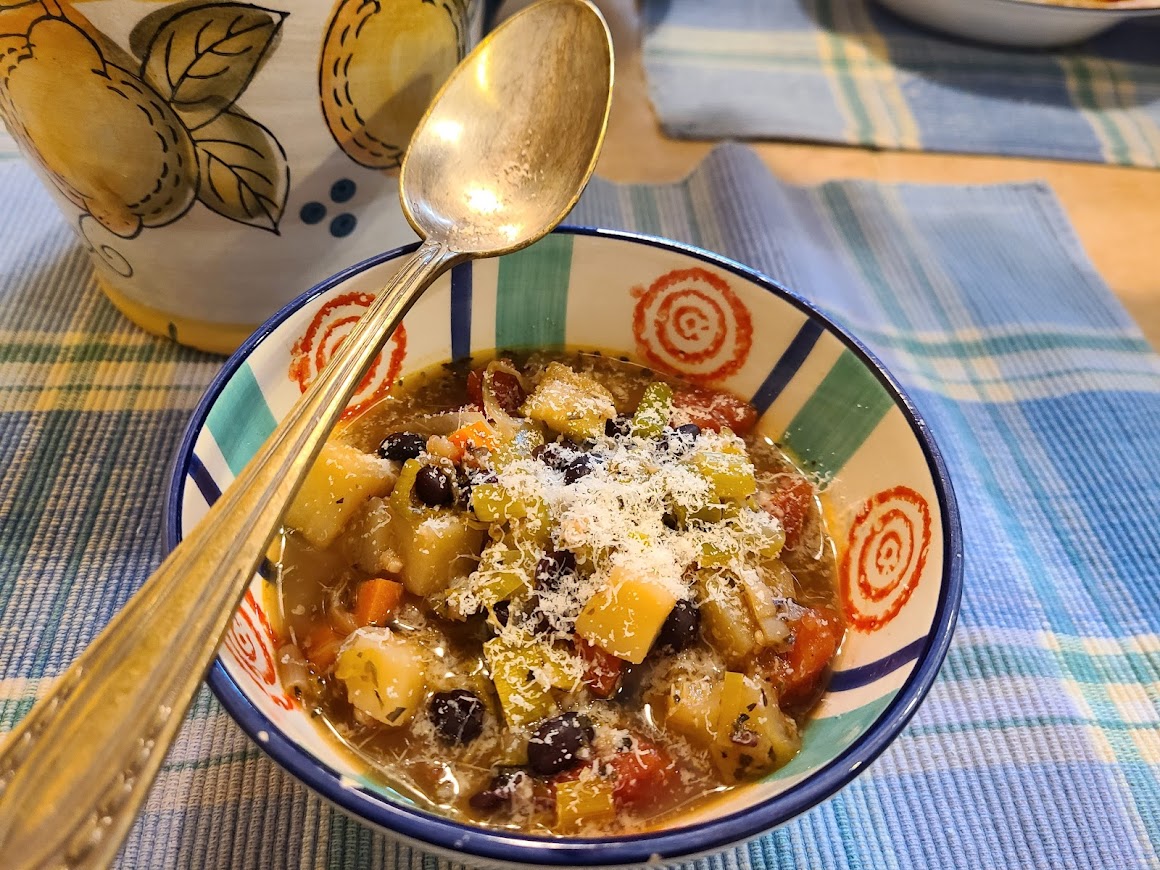 I have been debating what dish or dishes to feature for France for quite some time as I am a big fan of French food. After a bit of a break from the blog, some reflection and savoring the fresh flavors of summer, I decided to go with Pistou (pronounced Pea-stew – but which is NOTHING like pea stew at all!). For those of you who know me well, you are probably surprised that I went with a vegetarian dish, but truth be told, it is tasty, you can make it ahead (it is actually best made ahead), and pretty much everyone can eat it as it is vegetarian, vegan and GF. Plus, for me, it brings back wonderful memories of the first time I ever tried this dish sitting in a cafe in St. Remy, France with Scott on his first ever trip to France. The dish is made from a medly of fresh summer vegetables (leeks, zucchini, tomatoes, potatoes, celery, carrots, string beans and black beans) and served with a side of homemade pesto that you can mix into the dish…thus the name Pistou. I wrote up the way I personally make this dish, and the order I put in the veggies, sauteeing some as I go along. I find it saves time to dice and add them as you go along AND it improves the flavor. But if you prefer, you can dice all the veggies first and just add them all at once, after having sauteed the leeks by themselves. I do not have access to quantities of fresh basil and it bothers me when pesto turns blackish so I went for the easier option of adding the basil and garlic directly to the soup ahead of time. I serve the dish with fresh parmasean on the side so that people can add it as they like – if at all. This way too, it keep the dish vegan and GF for those who prefer not to add it or to use a parmasean substitute that does not have rennet in it. The short and the long is, this is a great dish for any season, but best in the summer when the vegetables are local and fresh and in the winter when days are cold. It is a complete meal in a bowl and very filling! Enjoy!!!
Ingredients
1 very large leek (or 2 small ones – 1 lb / 450g) washed well then cut in half and sliced thin
2-3 large carrots (350-400g) – diced
3 stalks celery – diced
2-3 large potatoes (1 lb / 450g) – peeled & diced slightly larger than the carrots
2 medium zucchini (or you can use yellow squash) – diced
2 large handfuls green string beans (12 oz / 340g) – ends trimmed and cut into ¼-½ in pieces
2 cans (15.5 oz / 439g ea.) black beans – drained
2 cans diced tomatoes (you can chop your own if you prefer)
1-2 bay leaves
2-3 large cloves garlic
2-3 heaping tablespoons (sometimes more)
Dried basil
Lemon juice – taste before adding. (a few tablespoons)
Salt
pepper
Step by Step Directions

1.

Cut leek lengthwise. Wash very well. Slice thin.

2.
Add 2-3T olive oil to a large pot. Add leeks.
Sautee on medium, stiring occassionlly, until translucent.


3.
While leeks are cooking, dice carrots and celery.
Add to pot. Mix. Stir occassionally.

4.
While veggies are cooking, peel and dice potato.
Add to pot.
Add 2 C water.
Stir.

5.
Drain 2 cans of black beans.
Add to pot along with 2 cans of diced tomatoes, 2 bay leaves, 2 cloves pressed garlic.
Stir.

6.
Dice squash / zucchini. Add to pot.
Add 2 more cups of water.


7.
Trim string beans, then dice. Add to pot.
Add 1 heaping T of dried basil, 1 tsp salt & 1/2 tsp ground black pepper.
Add 2 more cups water (water should just cover the top of the vegetables,
this is more like a stew or thick soup rather than a liquid based soup)
Let simmer about 2 hours, mixing occassionally. Add more water if necessary.
8.
Turn off burner. Cover.
Leave it until it cools down.
Optional but recommended: Refrigerate overnight.
9.
Taste the soup. Adjust salt and pepper.
Add 1-2 T lemon juice if you feel soup needs a bit of tang.

10.
Serve with parmasean (optional).
Soup can be served hot or room temperature.