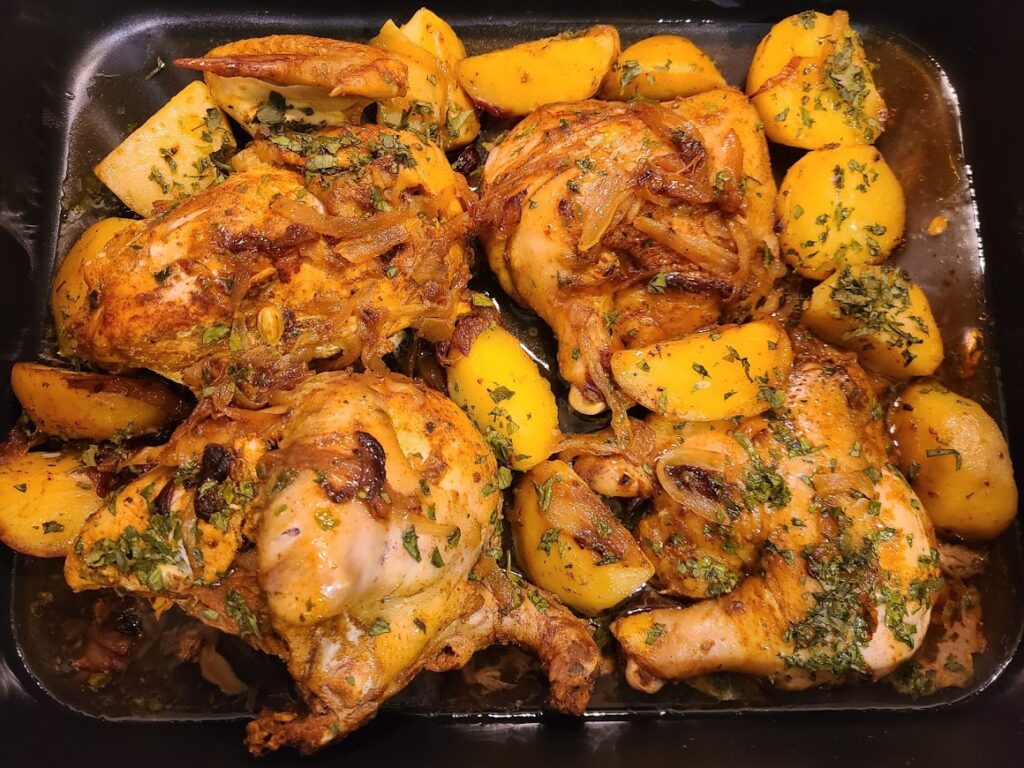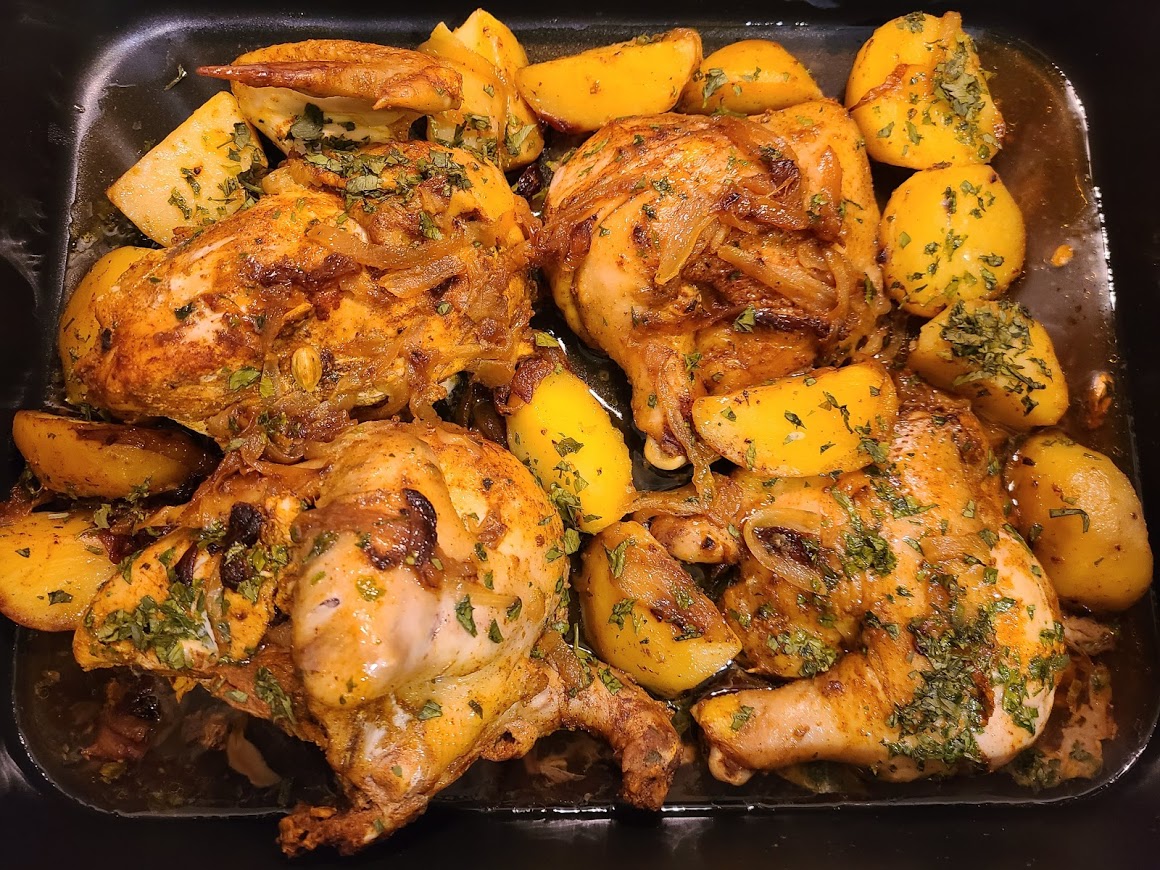 LOVED this Iraqi Assyrian chicken dish! The chicken was juicy and flavorful, super healthy as well. You can also prepare it ahead of time and it tastes great for even a few days after. Equal parts of cumin, tumeric, paprika and cinnamon along with cardamon pods give it its signature flavor. The recipe also had you partially cook the chicken in the onions and garlic before baking it, but I think that is really what helped seal in the flavor. After the chicken rendered their juices you then cooked the par-boiled potatoes in the onion pan so that the potatoes would soak up the scrumptious flavors…which they did. This dish was definitely a winner. Served it to my mom too, who loved it! If I were to make this again I would NOT buy a whole chicken and cut it up, I would get chicken pieces, but I was proud of myself for cutting up my first whole chicken ever! I was a little intimidated. Did it with a knife. When I finished, my husband said…"Oh, did you use the poultry sheers?" It was at that moment that I realized that one of the kitchen tools a friend gave me 30 years ago were poultry sheers!. If you can't have gluten, just skip the 1st step which has you rub the chicken in flour then thoroughly rinse it. Apparently it is an Assyrian tradition. The recipe said it was to make the chicken not smell and be even tastier, but I did not notice a difference. All in all, would totally recommend this dish. Make sure to serve it with the classic Iraqi rice with dill.
Ingredients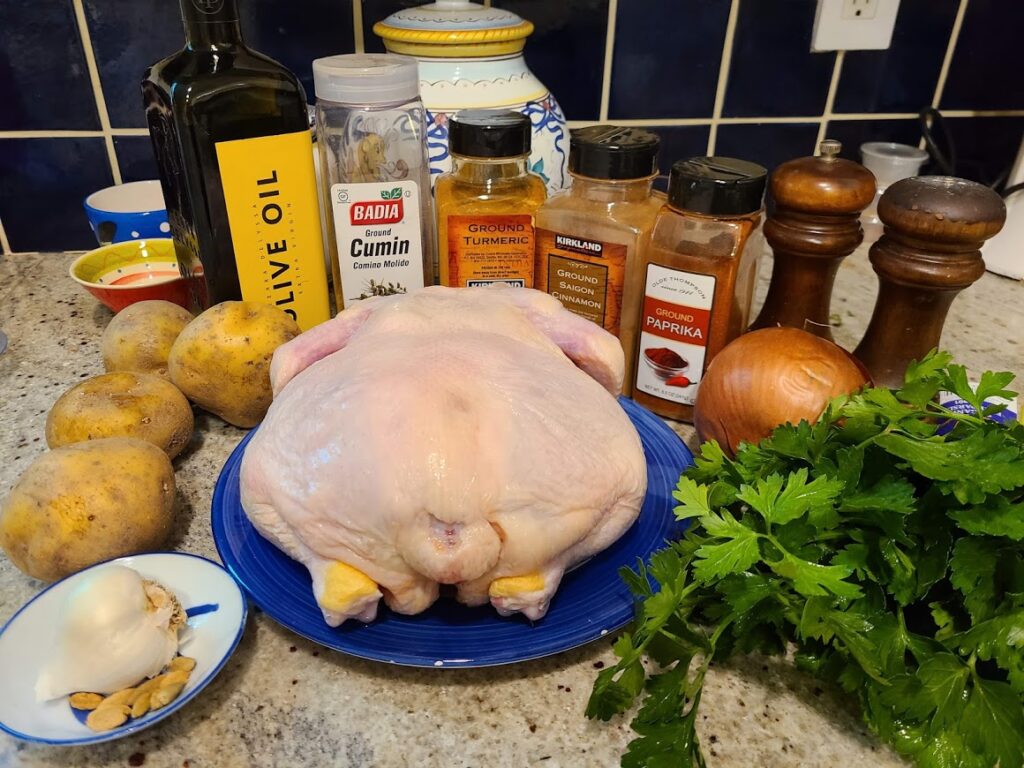 1 whole chicken, quartered
2 heaping T flour (optional)
1 medium onion, sliced
2T (15g) butter
2T olive oil
1 bunch parsley, chopped
1T sea salt
1 tsp tumeric
1 tsp cinnamon
1 tsp ground cumin
1 tsp sweet paprika
10 cardamon pods
4 medium potatoes

1.
OPTIONAL. Rubbing chicken in flour upposedly removes any smells
and makes it taste better.
Put chicken and flour in a bowl. Rub flour into chicken.
Rinse thoroughly.
2.
Peel potatoes, cut in half, place in bowl of salt water.
Slice onions. Chop parsely.


3.
Add oil and butter to a frying pan. Sautee onions over high until golden.
4.
While onions are browning…
Boil potatoes in water for 15 minutes then drain. Set aside

5.
While onions are browning and potatoes are boiling…
In a small bowl, whisk together 1 tsp tumeric, 1 tsp cinnamon,
1 tsp ground cumin, 1 tsp sweet paprika, 1T salt, 10 cardamon pods.
Add spices to chicken. Rub in until chicken is evenly coated.

6.
Add chicken to onions and brown on both sides.
7.
Transfer chicken to a roasting pan.
Preheat oven to 400.

8.
Drain potatoes and add to onions.
Sautee potatoes in onion, butter and oil so that they soak up the juices
and flavors.
9.
Gently place the potatoes around the chicken in the roasting pan
along with onions and juices. Sprinkle with parsley.

10.
Cover tightly with foil and bake at 400 degrees for 40 min.
Uncover and bake at 350 for 20 min until chicken is fully cooked.
11.
Serve with Iraqi basmati dill rice.