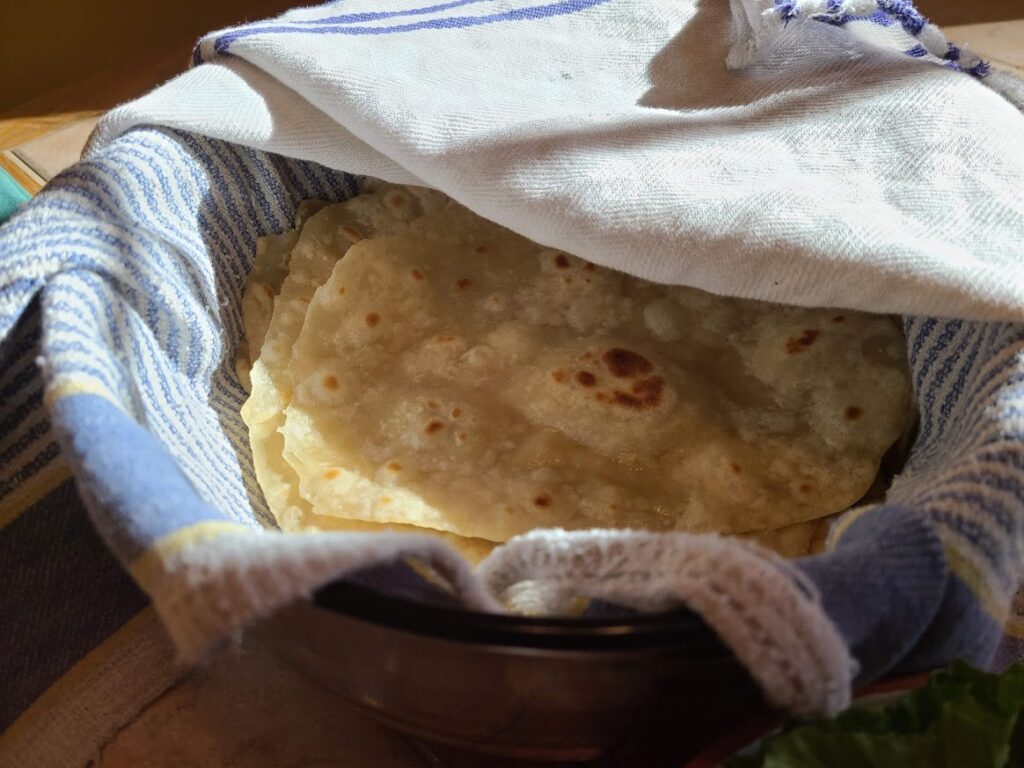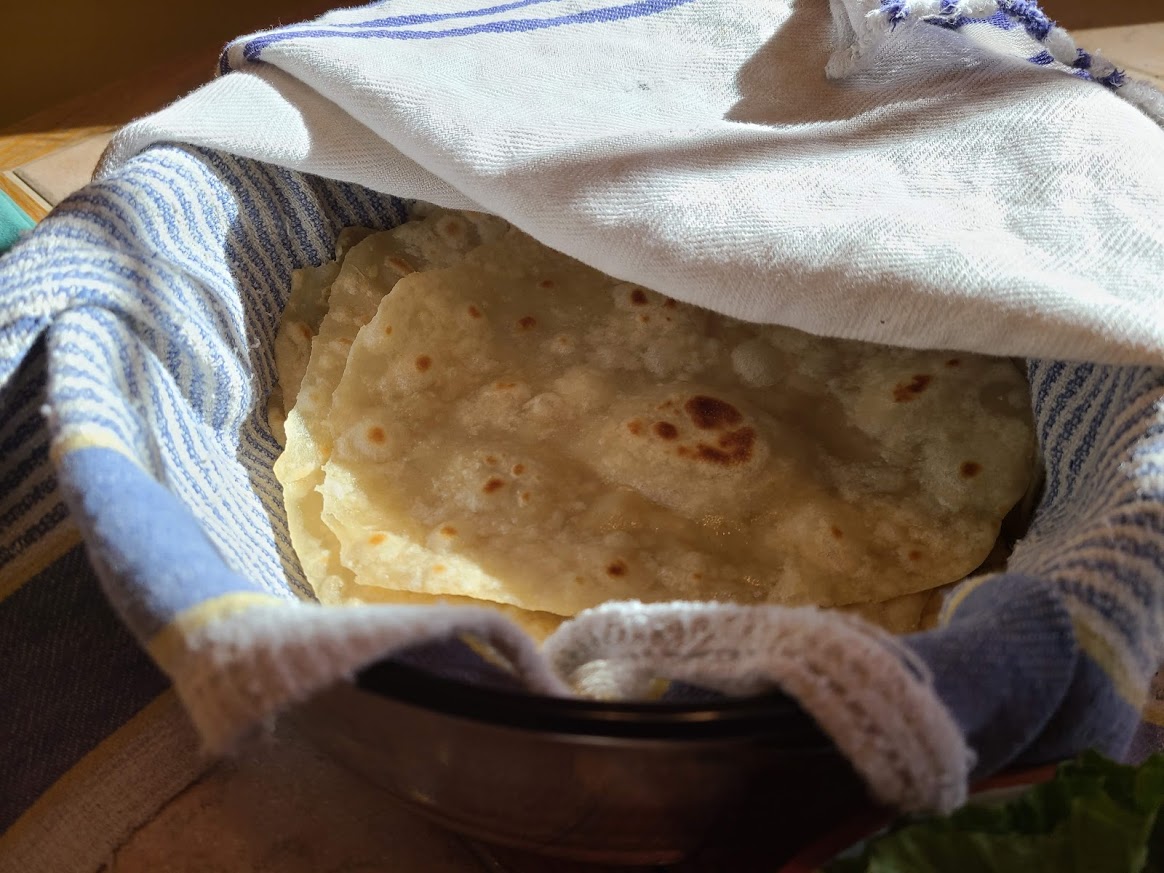 Roti is an extremely easy, quick and fun bread to make. Perfect for doing as a family or with kids. Basically, you are just mixing flour water and oil to make dough then grabbing small fisfulls of dough, rolling them out and frying them in a frying pan on both sides…and the best part…adding butter…because butter makes it better! This bread is great with anything, and particularly dishes with a sauce. Roti seem to be typical not only of India, but of Fiji as well. One of the times we sprinkled some tumeric, cumin, salt, pepper, garlic powder and dried cilantro on it for fun. It was extra tasty and very pretty. This bread is best made fresh, right before eating.
Ingredients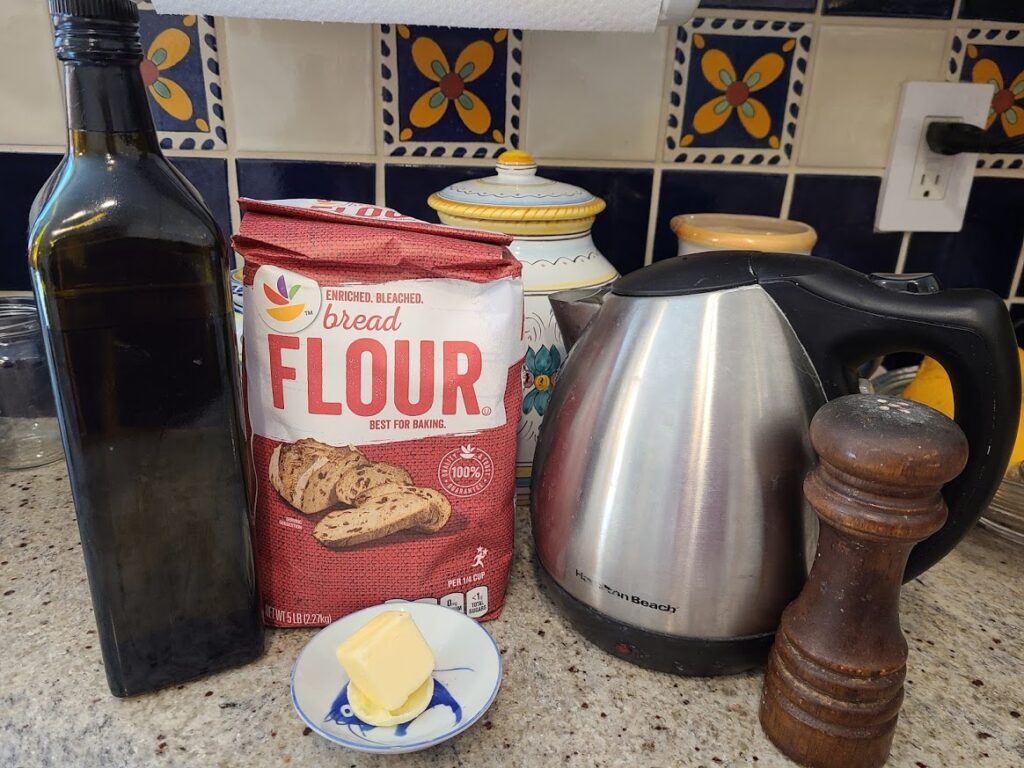 2 C flour
250 ml boiling water, divided
butter
vegetable oil
salt
Step by Step Directions

1.
Sift 2C bread flour into a large bowl.


2.
Add 125 ml boiling water to flour sifted flour.



Mix.



Add another 125 ml boiling water. Mix until it comes together.
3.
Form a ball.

4.
Kneed dough, by turning, folding and pressing
with the palm of your hand.

5.
Add 1 T vegetable oil.


Kneed 2 minutes to incorporate.

6.
Transfer dough to a floured surface.



Roll into a log.

7.
Tear off fist sized chunks and roll into balls.


8.
Flaten each ball with the palm of your hand to make a small disk.



9.
Dust with flour on both sides.
Roll out and drape over a bowl until ready to fry.




10.
Brush pan with oil or ghee (Ghee is better).
When the bottom is brown, flip, then press and turn it
in a circle with with the spatula. Cook about 1-2 min per side.
*To make ghee, melt butter and remove the white milk solids.
What is left (the clear yellow part) is ghee.

11.
Brush the top with butter. Flip. when the bottom is cooked.
Brush the other side and flip one more time.

12.
Transfer bread to a basket lined with dishtowels or napkins.
Cover it too to keep bread hot and moist.
Recipe Source: Fiji Style Roti