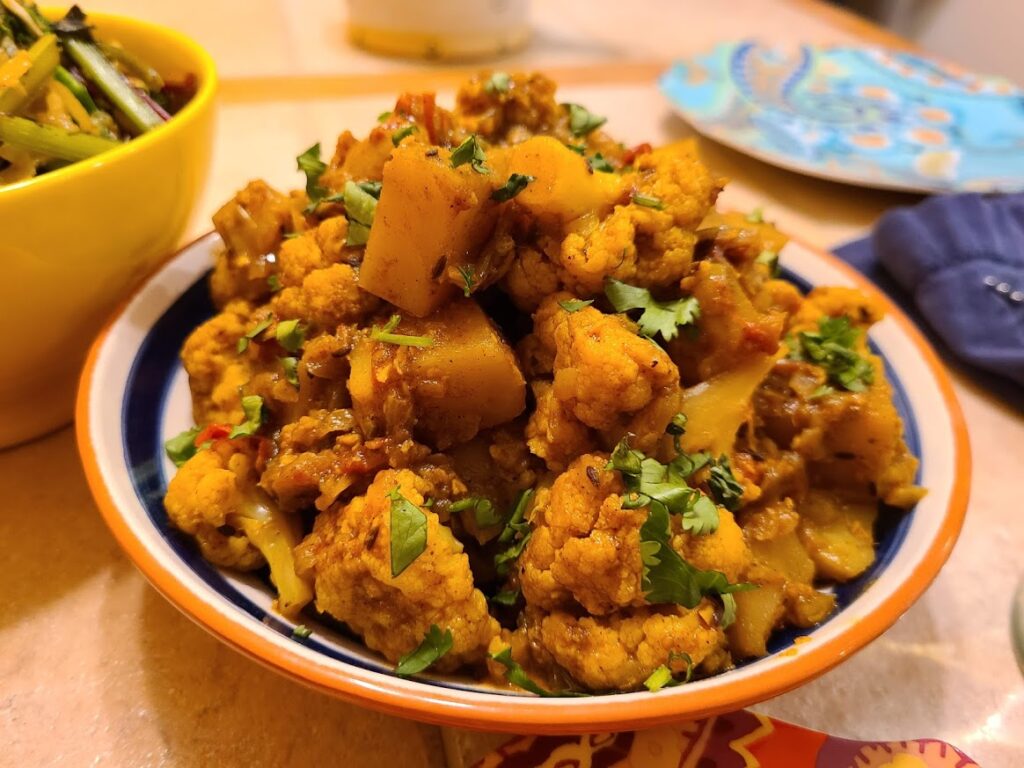 India was not exactly the next step on our culinary expidition, but I was going through the fridge and found some cauliflower and was having a hankering for some Aloo Gobi which is Indian Cauliflower and Potatoes. While they don't seem to have green chilis around this area, I substituted in part of a Jalapeno pepper as I know I can get that in our local supermarket. This dish is savory and satisfying. The ginger and garlic are delightful with the tumeric, cumin, corriander and other Indian spices. I used a pre-made Garam Masala this time, which was a little heavier than I like, so I will probably make my own again next time. I made it last time and it was super easy. This one was heavy on black pepper, cloves and cinnamon. I like mine with a bit more corriander and a pinch of tumeric. Despite that, we all loved it and fought over who got the last spoonful 🙂 Ideally I would have served this with Roti or Nan, which are flat Indian breads, but I was in a rush and my husband does not each much bread so I served it with basmati rice for Eva and I and brown for him. I had also thought about adding chickpeas to give the dish some protein, and peas for color, but ultimately decided not to. This dish is great if you want to make it ahead of time and let it sit. I made it in the morning and left it to just sit for the day.
Ingredients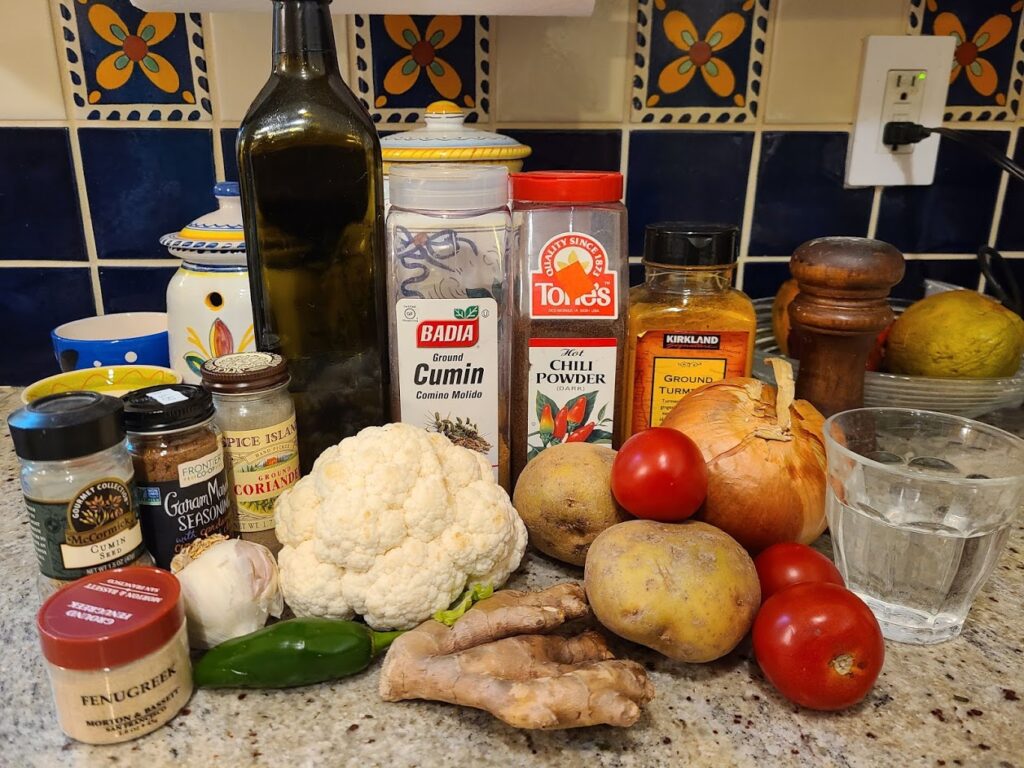 400g (1 lb) cauliflower
2 potatoes
1 medium onion, diced
1 tomato, diced
2 T vegetable oil
1 tsp cumin seeds
green chili pepper, diced
4 cloves garlic, pressed (2 tsp)
2 tsp grated ginger (about 2-3 in)
1 tsp cumin
1 tsp ground tumeric
1 1/2 tsp ground corriander
1 tsp salt
1/2-1 tsp garham masala
1/4 tsp chili powder
1/2 tsp cumin
sprinkle fenugreek (optional – I skipped this)
fresh cilantro, chopped (for garnish)
Step by Step Directions
1.
Peel potatoes & cut into 1″ (2.5 cm) cubes.
Cut cauliflower into similar size chunks.
Dice onion and tomato.
Press 4 cloves of garlic. Grate ginger. Mince chili pepper.
(I could not get a chili pepper so I used part of a Jalapeno pepper)

2.
Heat oil in a frying pan over high. Add cumin seeds.
Cook until seeds make cracking noise (1-2 min).
Add chili and and onions, cook until onions are lightly golden.

3.
Add garlic and ginger.
Sautee until fragrent (about 1 min).

4.
Add diced tomatoes.
Cook down until they look thoroughly roasted, stiring regularly (7-10 min).

5.
Add spices. Cook, stiring, until fragrant (about 1 min)

6.
Add cauliflower and potatoes.
Mix well to coat with spices.


7.
Add 1/2 C water. Mix.
Cover and reduce heat to medium. Cook 10-15 min, stiring occasionally.
Check potatoes and cauliflower for doneness. You may need to cook 5-10 min more
depending on your stove.
Cauliflower will be a bit translucent and soft when poked with fork.
You should be able to easily poke potatoes too.

8.
Garnish with chopped cilantro.
Serve. Great with Indian bread such as roti or nan.