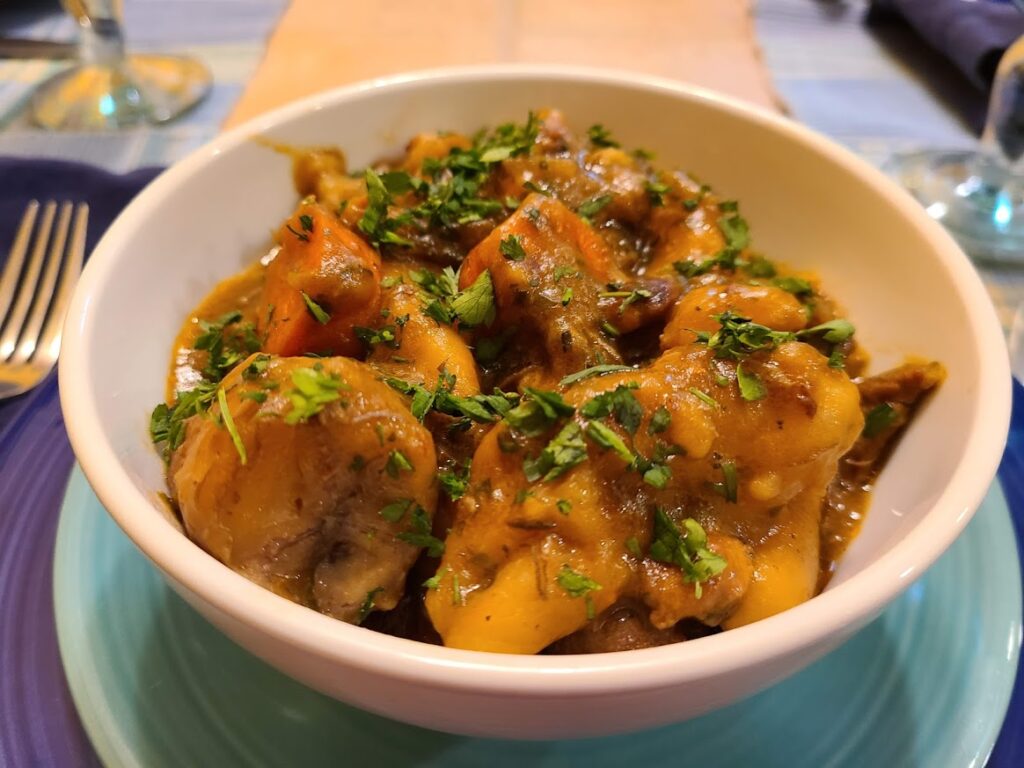 The country of Grenada, located in the Carribean Sea – and not to be confused with the Spanish city of Grenada, was the next stop on our cullinary adventure. Two of the most popular dishes are Oil Down and Brown Down, Given that I am married to Mr. Healthy, there was truly no choice which of the two dishes to make … Brown Down (Grenadian Chicken & Dumplings) it was. Turned out to be a good choice, so good in fact that Scott said he thought it should be a top 10. Eva made fun of him saying he thinks everything should be a top 10, but on night 2 when we finished up the leftovers, Scott reaffirmed his love for this dish… as such I will finally get off my buns to make separate top 10 lists for each of us. So, we all agreed that the dish was delicious. It was sweet, not really savory, but good all the same and fairly easy to make. Brown Down has a classic Carribean flavor, and uses ingredients typical of this tropical island including brown sugar and green bananas. I learned too that green bananas are known as green figs down there, an interesting tid-bit. Apparently our "green figs" are harder to peel than theirs, but I had no trouble. Some people used green bananas and some used potatoes. One person added peppers. I opted for the green bananas as that is a common ingredient there. A few of the videos I watched described this as a one pot meal. When I think of a one pot meal, that means ONE dish to clean…just the bowl. This meal is actually a 2 bowl and 1 pot meal. The only tricky part of preparing this meal was the melting of the sugar. Caramel has always been my evil nemesis. All of the recipes recommend melting the sugar over low heat. I left my sugar on low for quite some time and nothing happened so I jacked up the heat. It started to bubble and caramlize in short order so I threw in my chicken to "brown" it, but then my caramel started to stick to the pot. Took it off the heat until my electric burner cooled a bit so it would not burn and added 2T of oil and some water to disolve the hardened caramel. Seemed to do the trick. One video I watched dissolved the sugar in oil from the get go. I will probably do that next time. The dumplings were fun and easy to make, although I would make them a little smaller next time. I also heard they cook better when the liquid is at a rolling boil rather than a very low boil. Some people marinated their chicken in just herbs and spices for 1-24 hours (I always though you needed liquid for it to be called a marinade, but hey). Some browned the chicken first. I opted to "marinade" it for 1 hour. Were I to do it again, I might try "marinading" it the night before. All in all, great dish!
Ingredients
MARINADE FOR POULTRY
2-3 lbs chicken/turkey
1/2 habanero pepper, diced
1/2 tsp paprika
1 tsp ground black pepper
1/2 onion, diced
3 cloves garlic, pressed
1 scallion sliced very thin
1/2 tsp thyme
3 T parsley
2 T chopped cilantro
1 tsp salt
MAIN DISH INGREDIENTS
1/4 C brown sugar (you can use white sugar if you don't have brown)
2-3 carrots, sliced
3-4 green bananas, peeled and cut in thick chunks (2-3″ chunks)
1/4 c ketchup
1 boullion cube
2-4 C water
DUMPLINGS
3 C flour
1/4 tsp (or to taste)
1/2-1 C water (enough to pull dough together
Step by Step Directions
1.
Chop onion, scallion, parsely & cilantro.
Mince habanero pepper & garlic.


2.
Put chicken in a bowl.
Add spices (salt, pepper, paprika, thyme)
Add chopped herbs (onion, scallion, parsely, cilantro, habanero, garlic)
Mix well with hands, rubbing herbs all over chicken.
3.
Refrigerate 1-24 hours (this step is optional)
4.
While chicken is marinating…
Slice 2-3 carrots.
Peel 3-4 green banans & cut into 2 inch chunks (about 5 chunks per banana)

5.
Add brown sugar to pot. Over low, melt sugar & bring to low boil.
Don't wait too long to add chicken or sugar will harden.
6.
Add the chicken and stir to coat well and brown.
Add 2 T of vegetable oil. Stir well, scraping bottom of pot.


Add 2 C water and stir, scraping any hardened carmel off sides of pot.
Bring to a boil.
Add boullion cube.
Cook until the outside of the chicken looks cooked.



Add sliced carrots, green bananas and ketchup.
Stir to coat thoroughly.
Cover pot.
Simmer, stiring periodically.





While chicken is cooking, make dumplings.
Add 3C flour & 1/4 tsp salt to a large bowl.
Whisk flour and salt together.
Add water & stir/mix with hand to form a ball.



Grab small chunks of dough and roll between hands to form dumplings.
I would recommend making the dumplings a little smaller than I did.
Add dumplings to pot.



Stir well. Add more water if necessary. Remember this is not a soup so you
don't want it swimming in water.
Bring back to a boil. Stir. Cover.
Cook at a low boil, stiring periodically until dumplings are done cooked.
The finished dish will have a little bit of a shine to it.
Serve. Garnish with chopped parsley.