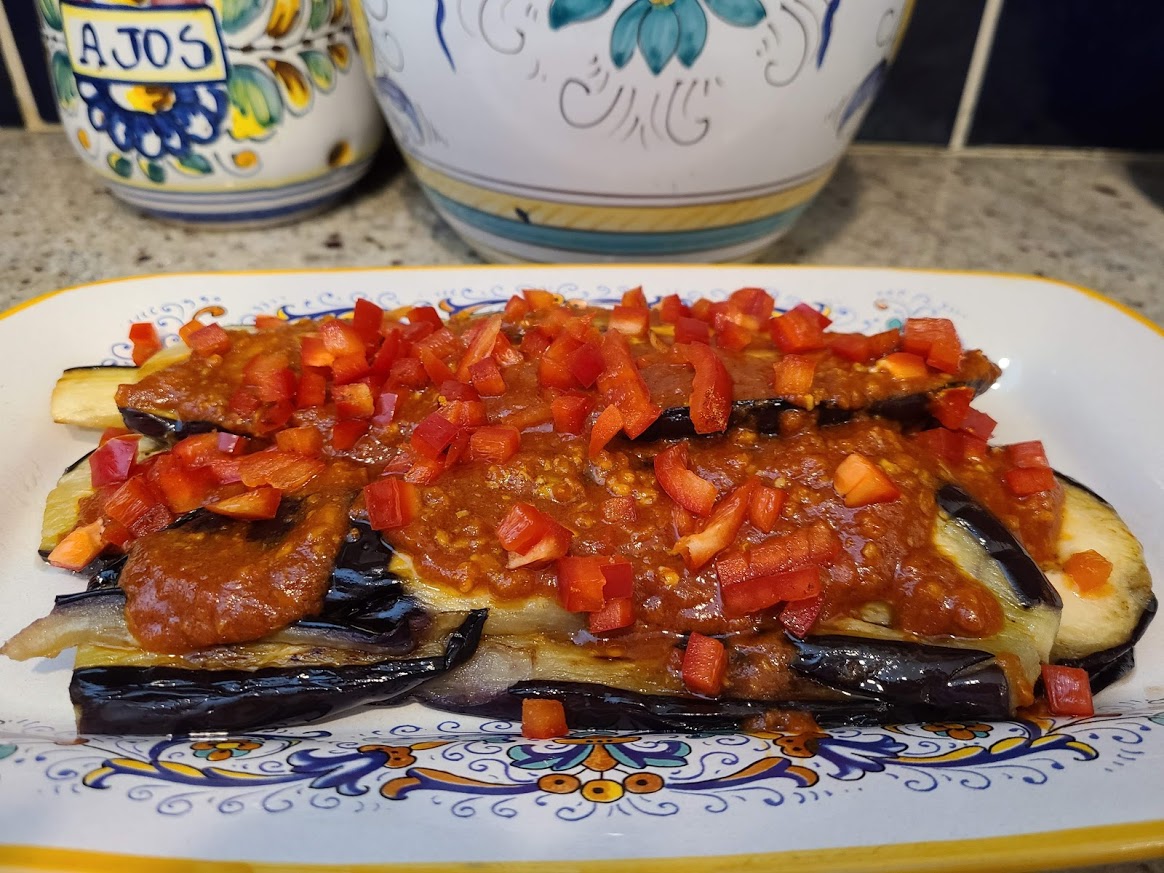 Egypt surprised us with a very tasty, healthy, and easy to make meal which also happens to be vegan and gluten-free. M'Raad (Egyptian Eggplant Salad) is not really a salad – it is steam-fried eggplant slices with a tomato based cumin and tumeric sauce. It is healthier than regular fried eggplant because you only use a tiny bit of oil and then cover it. We loved this dish and debated adding it to the top 10, but the 3 of us were not 100% in agreement. We served it with a luscious Soupe de Lentille (Red Lentil Soup) which we all glommed down and a Salade Egyptienne (Egyptian Salad) which was ok but not our favorite. I would highly recommend the M'Raad. Great as a side dish or you could cut it into smaller pieces and serve it as an appetizer or starter. This is quick and easy. Serve with pita. This recipe along with the other two from Egypt come from one of my favorite cookbooks: Sephardic Cooking by Copeland Marks. Bon appetit!
Ingredients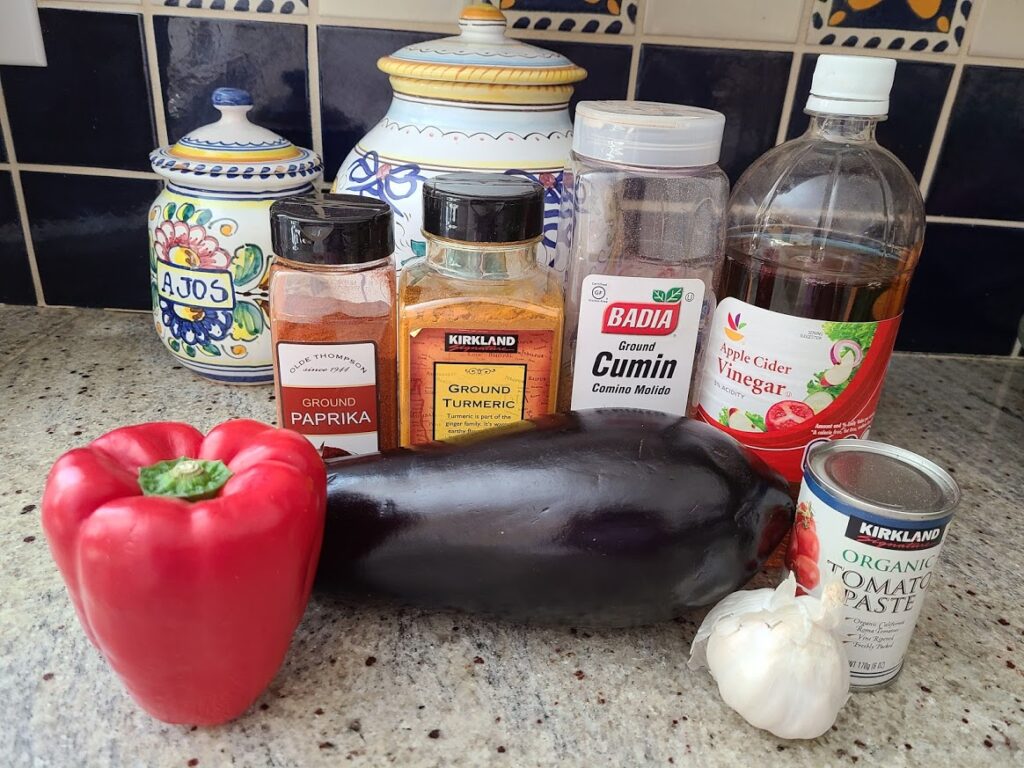 EGGPLANT
2 pounds large eggplant (about 3)
2 T salt
oil for panfrying, about 1/4 C
SAUCE
5 garlic cloves, pressed
1/2 C water
1/8 tsp ground tumeric
1/4 tsp paprika
1/4 tsp ground cumin
1 T tomato paste
1 T white or cider vinegar
1/4 C chopped sweet red pepper for garnish
Step by Step Directions
1.
Trim off both ends of the eggplant. Cut them into slices about 1/2 inch thick.
Sprinkle the slices with salt and let stand for 1/2 hour.
2.
While the eggplant is sitting…
Chop sweet red pepper for garnish. Press the garlic
Set aside.
3.
Drain off the discolored liquid and pat the slices dry, pressing them gently.


4.
Heat the oil in a large skillet and lightly brown the eggplant slices on both sides
over moderate heat for about 4 minutes on each side. Cover the pan as this will
steam-fry them and reduce the amount of oil needed.
5.
Remove the eggplant to a large serving platter and keep warm while you make the sauce.

6.
Stir-fry the garlic in the same skillet for about 10 seconds.


7.
Add the water, tumeric, paprika, cumin and tomato paste.
Simmer the mixture over low heat for 5 minutes.
8.
Stir in the vinegar.
9.
Pour the sauce over the platter of eggplant.

10.
Garnish with the chopped pepper.
Serve at room temperature. Serves 6-8 with other dishes.
Recipe Source: Sephardic Cooking by Copeland Marks, p. 426