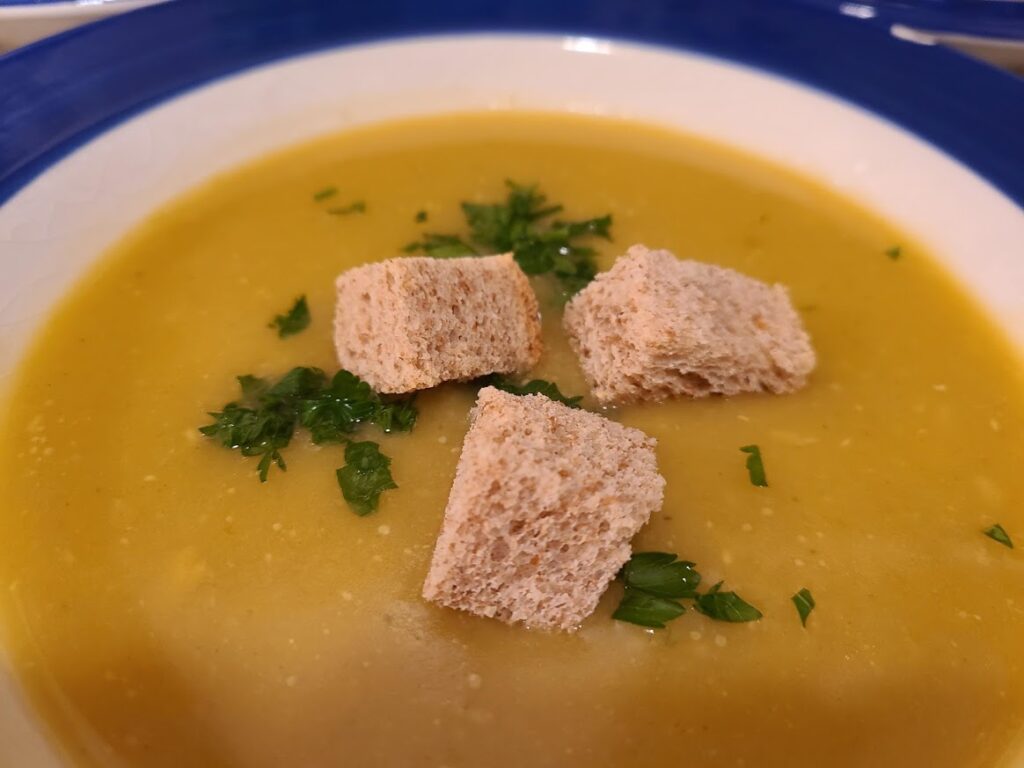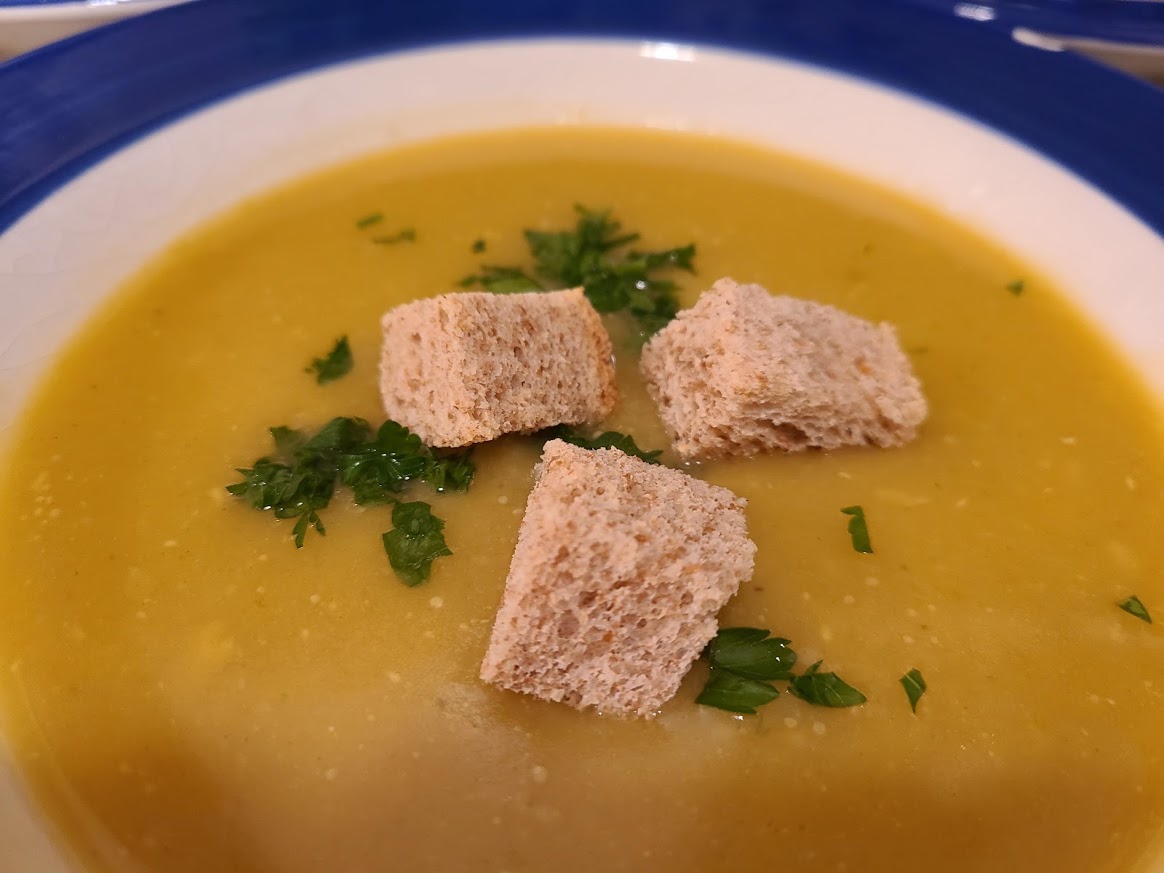 Ethiopia was a hard country to follow as we loved that meal, but Egypt gave it a real run for it's money. I personally liked the Egyptian food better. For Egypt we made a Red Lentil Soup (Soupe de Lentille), featured here, along with M'Raad (Egyptian Eggplant Salad) and Salade Egyptienne, a popular Egyptian salad. We loved the Red Lentil Soup and the M'Raad. YUM!!!! The soup was smooth and luxurious. The Salade Egyptienne was a bit too lemony for Scott who is not a super big lemon fan. Eva and I thought it was ok, but the other two dishes were awesome! I do not cook with lentils very often, so I was a bit intimidated, but it was fairly easy to make. Also, one interesting thing I learned is that Red Lentils are also known as Egyptian Lentils outside of Egypt. I would highly recommend these two dishes. Healthy and easy to make. Serve with pita. These recipes come from one of my favorite cookbooks: Sephardic Cooking by Copeland Marks. It is not a fancy cookbook and has absolutely zero pictures, but the recipies are generally fabulous and I love the cultural tid bits. These dishes were vegan and gluten-free.
Ingredients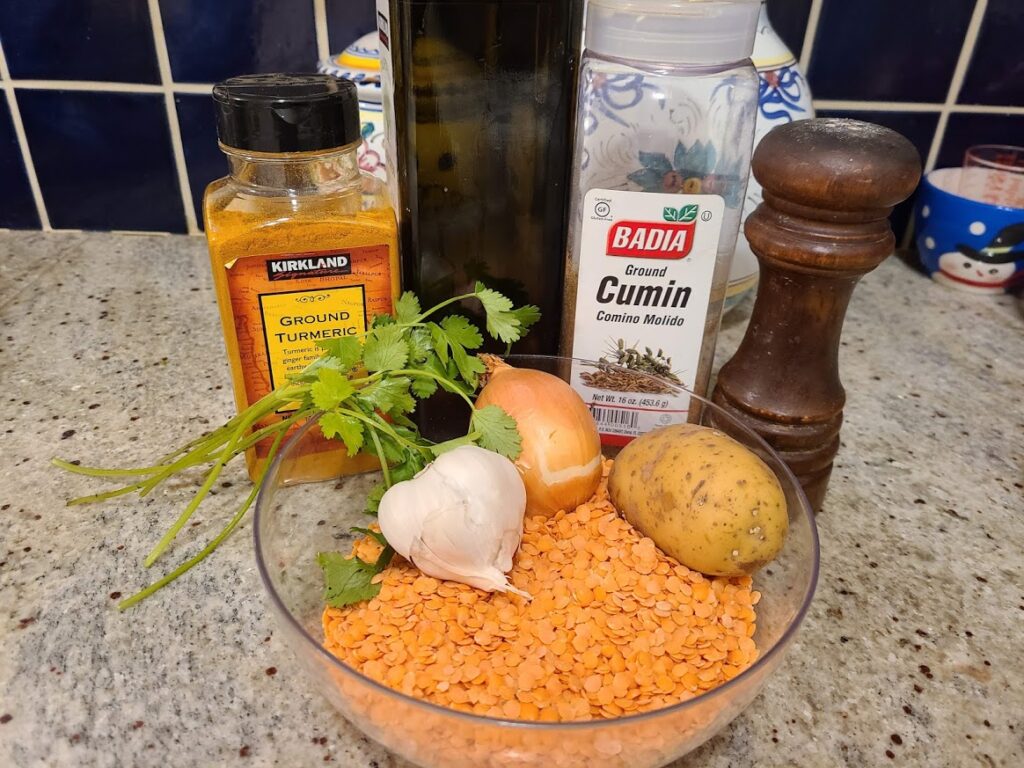 1/2 pound red lentils, well rinsed and soaked in watre for 1 hour, drained
5 cups water
1 small onion, left whole
1 small potato, peeled, halved
6 sprigs of fresh coriander + 2 extra to chop for garnish
1 T corn oil
4 cloves garlic, mashed, using mortar and pestle
1 tsp salt
1/4 tsp ground cuminseed
1/8 tsp ground tumeric
croutons (optional – skip the croutons to make it gluten free)
Step by Step Directions
1.
Rinse 1/2 lb red lentils.
Soak for 1 hr in water. Make sure the water is about 2-3 inches
above the lentils as they will soak up water.
Drain.


2.
Put lentils, water, onion, potato and coriander in a pot.
Bring to a boil, then reduce heat to low and cook, covered for 1/2 hour.
3.
Process the mixture to a smooth consistency. (I do it right in the pot)
Return the mixture to the pot if you prefer to do it in a bowl.

4.
Peel and mash 4 cloves of garlic.
If you don't have a mortar & pestle you can smash it with the
side of a large knife.
5.
Heat the oil in a skillet.

6.
Add the salt, ground cuminseed, tumeric and garlic.
(Best to add garlic last so it will not burn while you are adding other ingredients)
Stir-fry over moderate heat for 3 minutes.


7.
Add garlic mixture to the soup.
Bring to a boil and simmer over low heat for 15 minutes.
8.
Serve hot with toasted bread croutons or dry toasted pita.
Garnish with chopped cilantro.

Recipe Source: Sephardic Cooking by Copeland Marks p. 417.