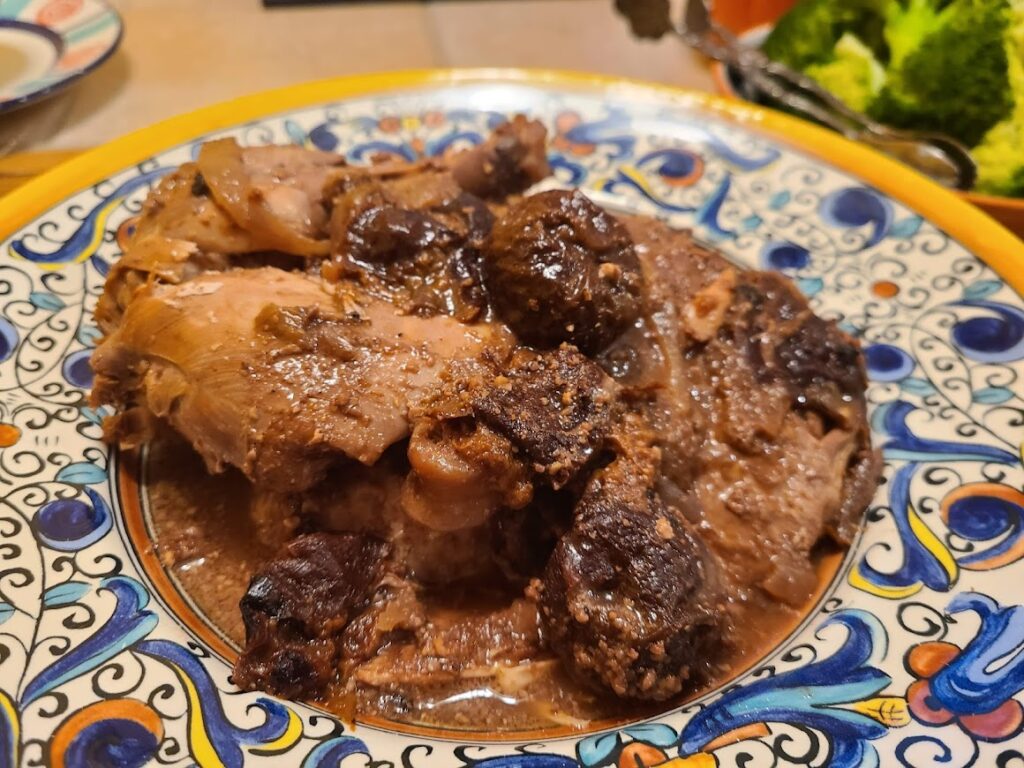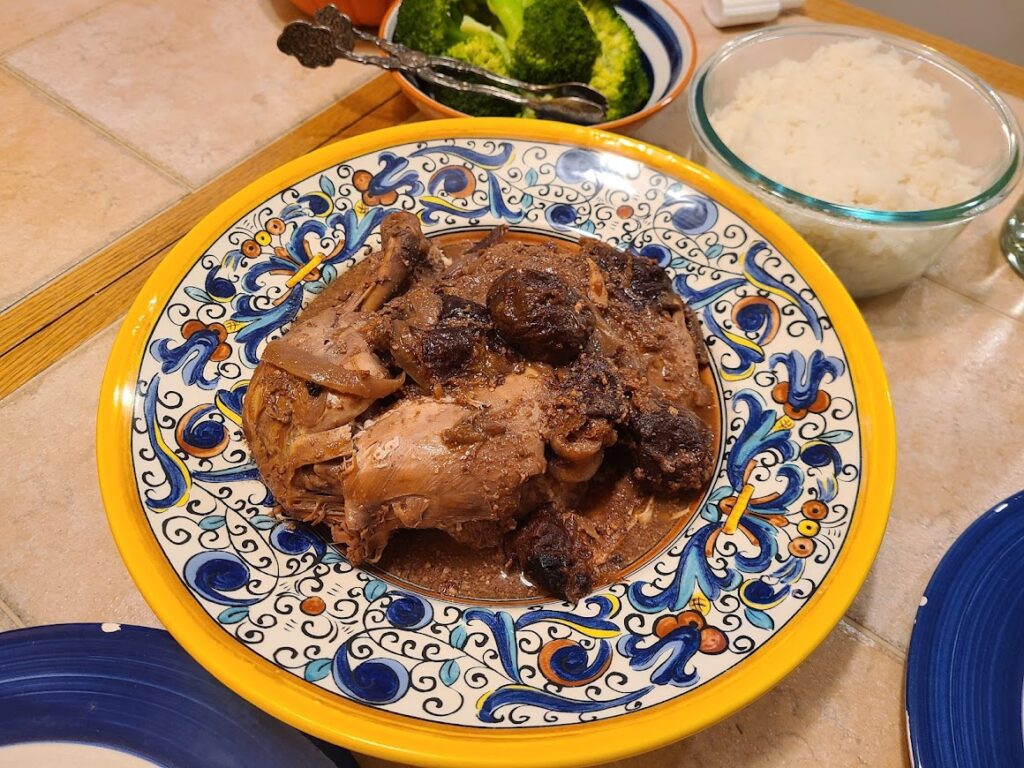 Am I obsessed with Persian food? YES! Did I realize that Fesenjan is probably one of the most popular Persian dishes that exists or that it is SUPER EASY to make? NO. I stumbled upon it one day in my favorite cookbook Copeland Marks' Sephardic Cooking when looking for a dish to make for Rosh Hashanah, the Jewish New Year. I had a chicken in the house and wanted to make something with pomegranate and found this incredibly easy, healthy and delcious one-pot dish which is perfect for the early fall…or any time for that matter! This version of Fesenjan is made with chicken, onions, ground walnuts and pomegranate juice or concentrate and prunes. The pomegranate juice and prunes give the sauce and chicken a lucious deep reddish purple color. The ground walnuts give the sauce a somewhat thiker feel. Make sure to grind your walnuts very fine. If you don't, your sauce may feel a tad gritty – but we don't mind that. The dish also calls for pomegranate concentrate or pomegranate molasses which made me say oy vey! Don't be deterred. You can order pomegranate concetrate off Amazon, but I had wanted to make it that very day so I needed something I could use right away…so I settled for PomWonderful which is pomegranate juice in a cute bottle that looks like a 2 ball snowman. You can find PomWonderful or other pomegranate juice in any supermarket these days…and even in Costco (probably because it is loaded with anti-oxidents and is very popular these days)! I made have made this dish twice now and used a whole chicken twice as that was what I had at home and did not feel like cutting it up. It works just fine, but I have no doubt that it is easier to stir and serve if you use chicken parts instead as the recipe calls for. Make sure to stir it regularly so it does not stick to the bottom of the pot and burn. When choosing your pot to use, find one that is not much larger than your chicken (parts) so that the chicken will be immersed in the juice. Scott can not get enough of this dish. Both times I made it, he literally mopped every last drop of sauce out of the pot with bread! He put this on his top 10. We all loved it and I am considering adding it to my top 10 too, but have to figure out what to kick off my list. Enjoy!!!!! (Sorry some of the images are missing, but I will DEFINITELY be making this again soon, so I will update the post)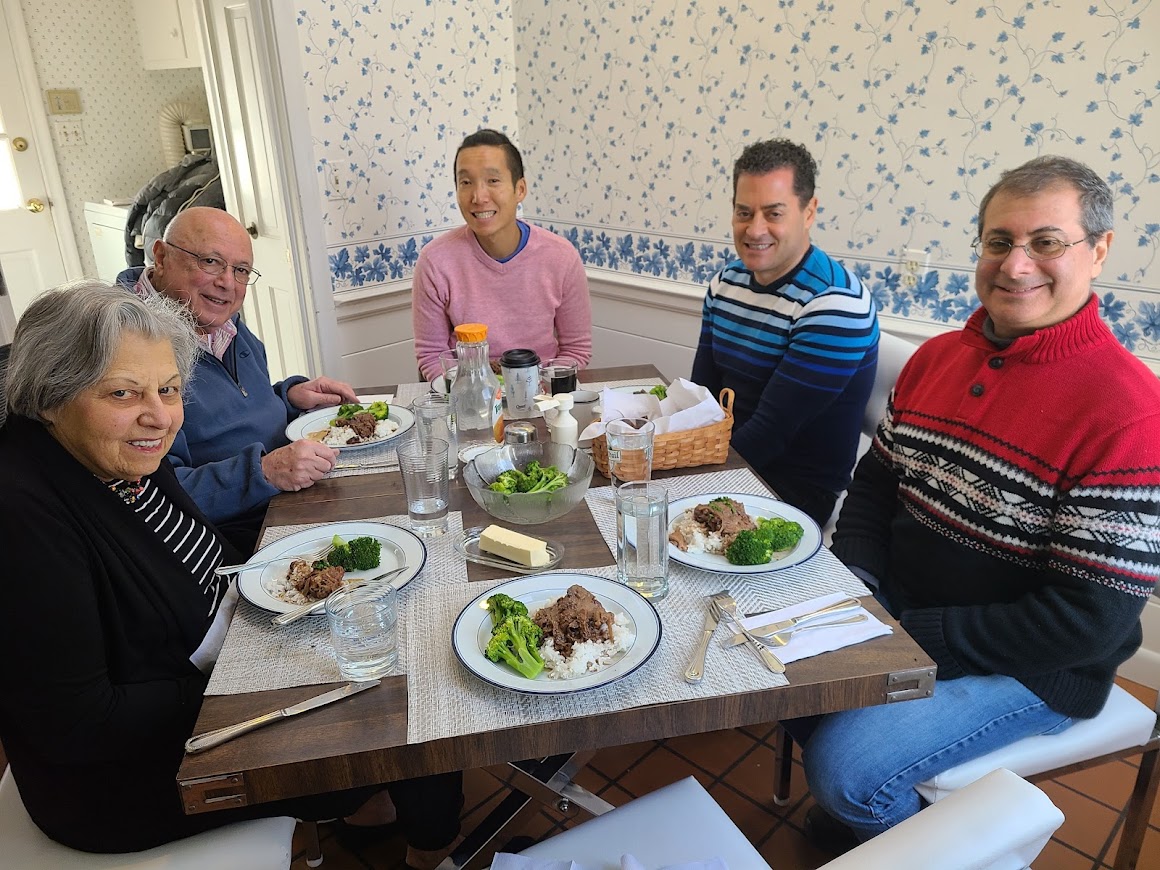 Ingredients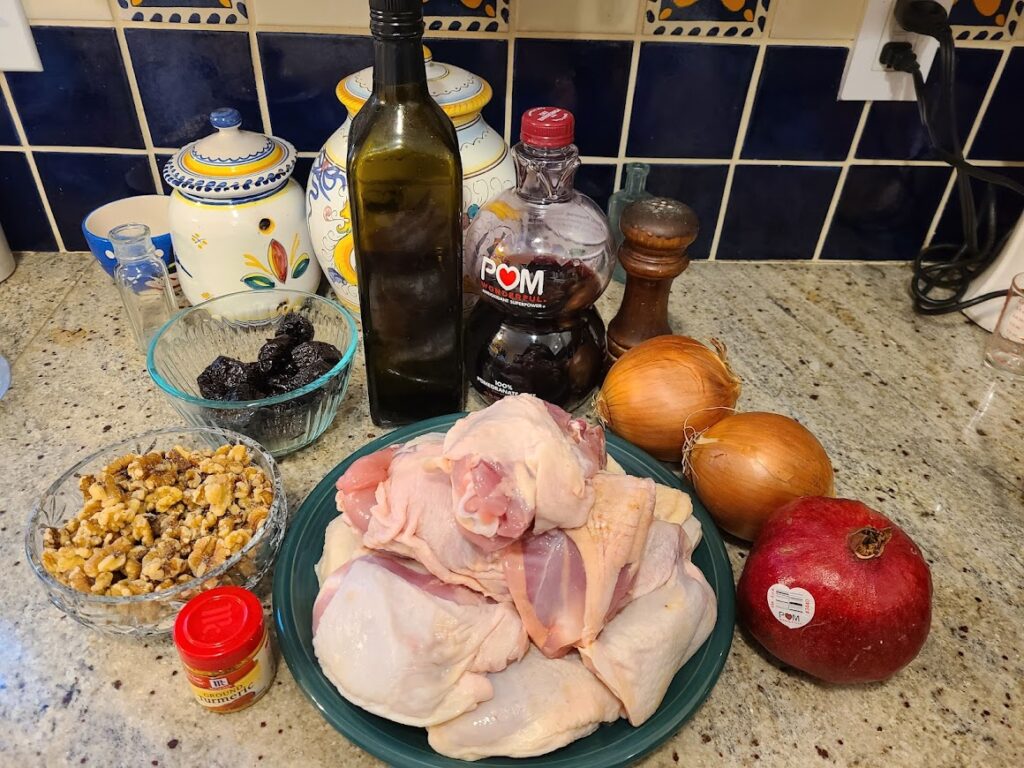 2 T corn oil
2 medium onions, sliced
3 pounds chicken parts (legs, breast, thigh — 8 pieces, loose skin and fat discarded)
2 cups shelled walnuts, ground fine
2 cups water
1 1/2 C medium prunes, (covered with water for 2 hours, or soaked in boiling water for 30 min)
1 tsp salt, or to taste
1/4 tsp ground tumeric
1/3 C pomegranate concentrate OR 2 cups pomegranate juice
Step-By-Step Directions

1.
Cover 1 1/2 cups dried prunes with boiling water. Let sit 30+ minutes.
(Or let sit 2 hours if using cold water)
2.
While prunes are soaking…
Slice two medium onions.

3.
Grind 2 C of shelled walnuts finely.

4.
Heat 2T oil in a large heavy pot.
Add the onions and stir-fry over moderate heat for 2 minutes.
(You need enough room to be able to stir chicken easily)


5.
Add the chicken, brown for 5 minutes, turing the pieces now and then.
You can cover the pot in between stirings.



6.
Add the ground walnuts, mix well, cover the pan.
Cook over low heat for 5 minutes. Stir several times to prevent sticking.


7.
Add 2C water, cover and continue cooking for 1/2 hour.

8.
Add the prunes and liquid, 1 tsp salt and 1/4 tsp tumeric.
Stir. Cover. Simmer for 15 min.


9.
Add 2 C pomegranate juice (or 1/3 C pomegranate concentrate)
and simmer for 10 min. Skim chicken fat from top.
10.

Serve warm with white rice.
Recipe Source: Marks, Copeland, Sephardic Cooking, Donald I Fine Inc., NY, c. 1992 p. 133