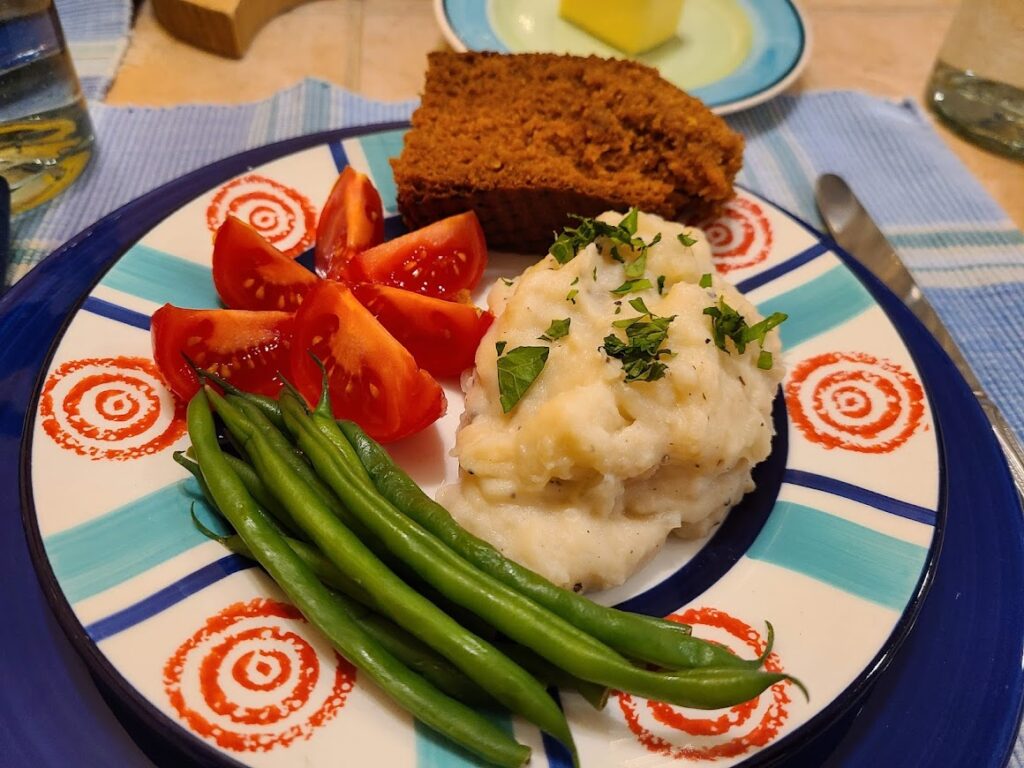 Plokkfiskur, also known as Icelandic Fish Hash or Fish Stew, is the quintissential Icelandic comfort food and was the absolute perfect meal to fill the belly and warm the soul on this fridged winter's eve. Plokkfiskur, considred by some to be a stew and others to be a hash, is simple and familiar. It basically tastes like yummy mashed potatoes with a very slight hint of fish. Equal parts (more or less) of white fish (pollak, cod, haddock…) and potatoes are combined with lightly sauteed onions, a very simple beschamel sauce, salt and pepper. Don't be intimidated by the fact that it is a beschamel. Basically you are just sauteeing onions in butter, stiring in some flour for a minute then stiring in milk and voila! you now have sauteed onions in a beschamel! Originally, this dish was a way to use up leftover fish and boiled potatoes and like moussaka or shepard's pie were a poor man's way to use up and dress up leftovers. Whereas the mousakka and shepard's pie layer the meat, vegetables and beschamel, Plokkfiskur is much simpler… everything just gets mixed together in one pot and no baking is necessary. Recently, in an effort to class up the dish some have taken to topping it with cheese or beschemel and then broiling it for a tiny bit. Other new variations have also cropped up where people add curry or other spices and condiments. But as the saying goes, a pig in lipstick is still a pig. And quite frankly, this dish holds it's own just fine and needs no dressing up. When you are making this dish from scratch, it does indeed have a few more pots than I would like. Given that you can't really overcook the potatoes or the fish, to save on a pot, I would either cook them both together were I to do it again or cook the potatoes first, remove them with a slotted spoon then cook the fish in the same pot. That being said, if you happen to have leftover fish and potatoes (as we do on occassion), this is an excellent dish to make. Eva is away, but Scott and I both really enjoyed this meal and would consider making it again. Quite satisfying. If you like tasty mashed potatoes, this is a great dish for you. It reminded me a bit of the belgian Stomp which we loved, but was a bit creamier and tastier than the stomp. Plokkfiskur is almost always served with buttered Icelandic Rye Bread known as Rúgbrauð, which I did make so we could get the whole effect. Very tasty as well.
Ingredients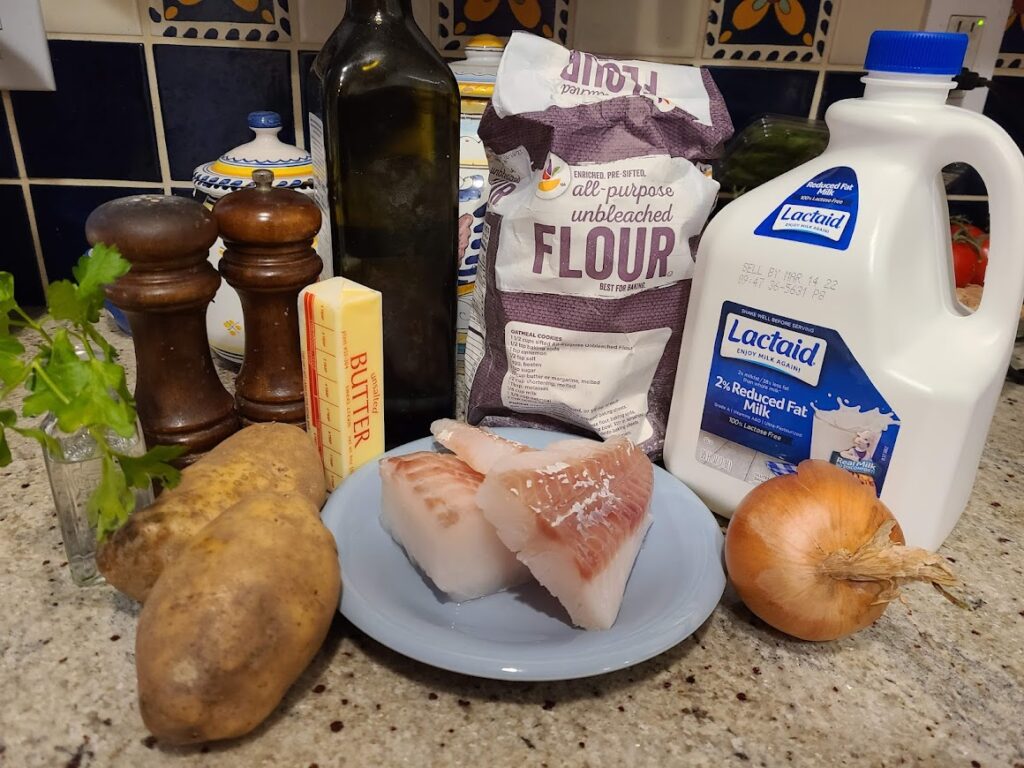 500gr pollock, haddock, cod or any other white fish
500gr potatoes
1 large yellow onion (or 2 small, or 3 even smaller)
50gr butter (3 T)
3 tbs all-purpose flour
300ml milk (or more if you prefer it thinner)
1/2 tsp salt
1 tsp white pepper (if you don't have white, black will do).
Step-by-Step Directions
1.
Dice the onion.
Peel and cut potato into chunks.
Chop a few sprigs of parsley (for garnish)


2.
Bring 2 pots of salted water to a boil.
Poach fish in one and boil potatoes in the other.
Drain and set aside.

3.
Melt 3 T butter in a heavy pot. Add the onion.
Cook the onion over medium heat, stiring frequently until translucent.

4.
Add flour and stir, scrapping the bottom of the pot, until it becomes a paste.
Stir for at least 1 minute.



5.
Stir in a ladel or 2 of milk until mixture thickens.
Then pour in the rest of the milk.
Continue stirring until sauce thickens enough to see bottom of pot
as you move the spoon through the sauce.

6.
Add fish to the onion bechamel sauce.
Use spoon to break up the fish. Mix into the sauce.

7.
Add potatoes. Mash the potatoes into the mixture.
You can leave the potatoes in larger chunks or crush them based on your preference.

8.
Add 1/2 tsp salt and 1 tsp pepper.
Stir well. If you find the mixture is a bit too think, add a bit more milk.
9.
Serve warm.
Garnish with chopped parsley (optional).