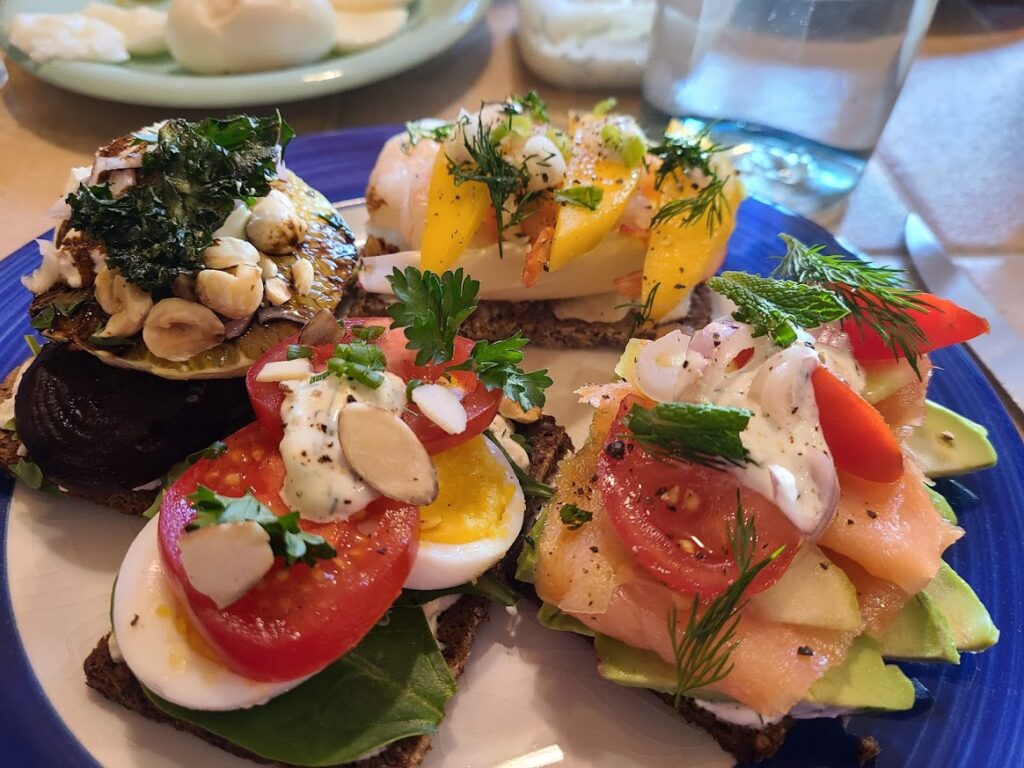 D is for Denmark, home of the Smørrebrød. I have to say, these open-face sandwiches are GORGEOUS to look at! We were all marveling at their beauty and didn't really want to eat them as they were so pretty…but ultimately, we did. They were tasty too. I made 4 different kinds at once because I saw tons of picture with all of these beautiful sandwiches laid out like you would see pastries in a French bakery. While it is doable to do 3-4 at once, I would reccomend making one or two types of sandwiches for the whole family rather than 4 different kinds as a time. We liked the beet one the best followed by the egg one, then the salmon and finally the shrimp – although they were all good. If you are vegetarian, just make the egg and beet ones. Apprently, the Smørrebrød has become one of their national dishes. Smørrebrød means buttered bread. Way back, people would take old stale bread and butter. Later on they started added leftovers that were in the house on top of them, pickled herring, pickled cucumber etc… As time went on, it morphed into an art form with some general rules of how to make them. It should be noted that they eat Smorrebord with a knife and fork. Layer one is always a super hearty dense bread. Our supermarket carries it, but they were out so I ordred it on line from Amazon. It came in a 3 pack.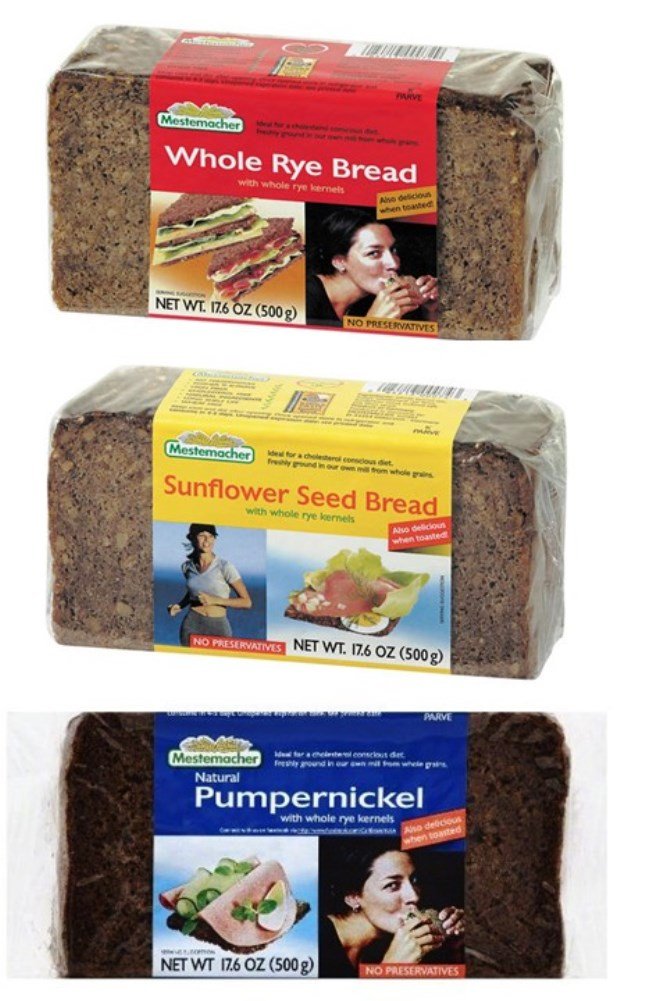 Layer 2 is a smear of something creamy or cheezy – like butter, ricotta, or some type of sour cream, sour cream/mayonnaise, yogurt mixture, creme fraiche, etc. followed by the main item, generally the protein. Each Smørrebrød must also have something sweet and savory, some crunch and fresh hearbs. They often used things like pickled cucumber or pickled fruites or other veggies they they probably have sitting in the fridge. We often have these in our fridge. I make cucumber salad a lot, and we often eat that with smoked salmon on toast with a schmear of yogurt, tomato, dill, lemon, salt, pepper and scallions – yum! Who knew Jewish food was so similar to Danish food! Out of the 4 sandwiches we made, we liked the egg one the best followed by the beet one, next the salmon and finally the shrimp. That being said, had we put a little less salmon, that would have been fixed it and if we had used the one of the sauces instead of butter on the bottom, the shrimp would have been falublous. Added a huge dolop when it was on my plate, and that did the trick. Were I to do the salmon one again, I would make sure I had some cucumber salad to put on it too, instead of regular cucumbers. To make up for not having marinated veggies, I added a drizzle to each sandwich of some type of acid (lemon juice, balsamic…)
Ingredients
Quantities are for 1 sandwich. Feel free to vary and mix and match the ingredients listed. If you don't have the exact ingredients, feel free to swap in something else. You can even try making a Smorrebord using leftovers, which is as the origin of Smorrebords.
Beet, ricotta & arugula smorrebord
1 slice dense rye
3 T ricotta
1 handfull of arugula
3 small beets, sliced
1 orange cut in round slices
1 1/2 tsp chopped red onion
1/4 cup roasted hazelnuts
drizzle balsamic concentrate
chopped parsely
salt, pepper
crispy baked kale (recipe below)

Smoked salmon, avocado smorrebord
1 slice dense pumpernickle
3 T yogurt garlic, dill & mint spread (recipe below)
1 avocado, sliced
3 slices smoked salmon
1/4 cucumber, sliced
drizzle lemon juice
1/4 cucumber, sliced very thin
1 small tomato sliced
salt, pepper
1 T chopped dill
dill sprigs
mint leaves

Egg & tomato smorrebord
1 slice dense pumpernickle
3 T sour cream scallion spread
1 small hanful spinach
5 boiled eggs (recipe below)
1 tomato, sliced in rounds
salt, pepper
1/2 tsp chopped chives
1/4 C toasted slivered almonds
1 scallion chopped
a few whole leaves parsley
salt, pepper
Shrimp & mango smorrebord
1 slice dense rye
3 T sour cream scallion spread
1-2 leaves lettuce or handful mache or watercress
9 medium shrimp, peeled & deveined
drizzle of lemon juice
1/2 mango sliced
1 scallion chopped
dill sprigs
salt, pepper

Step by Step Directions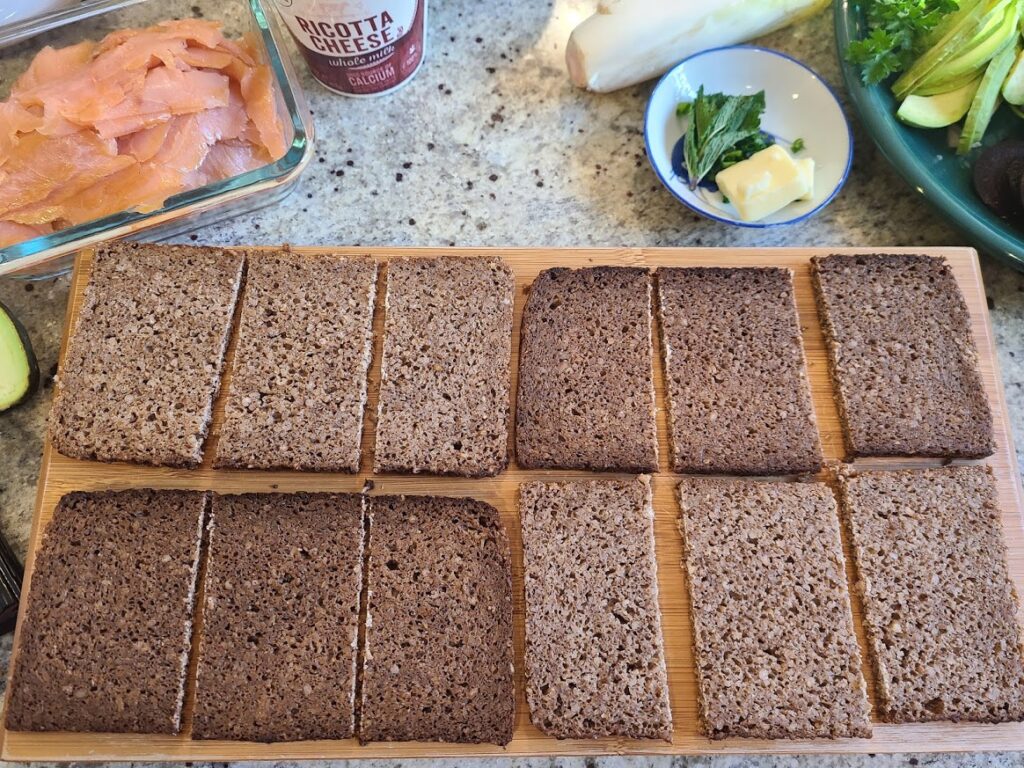 Choose your bread. Cut it in half or thirds. We used pumpernickle and rye as those seemed to be classic Danish breads.
---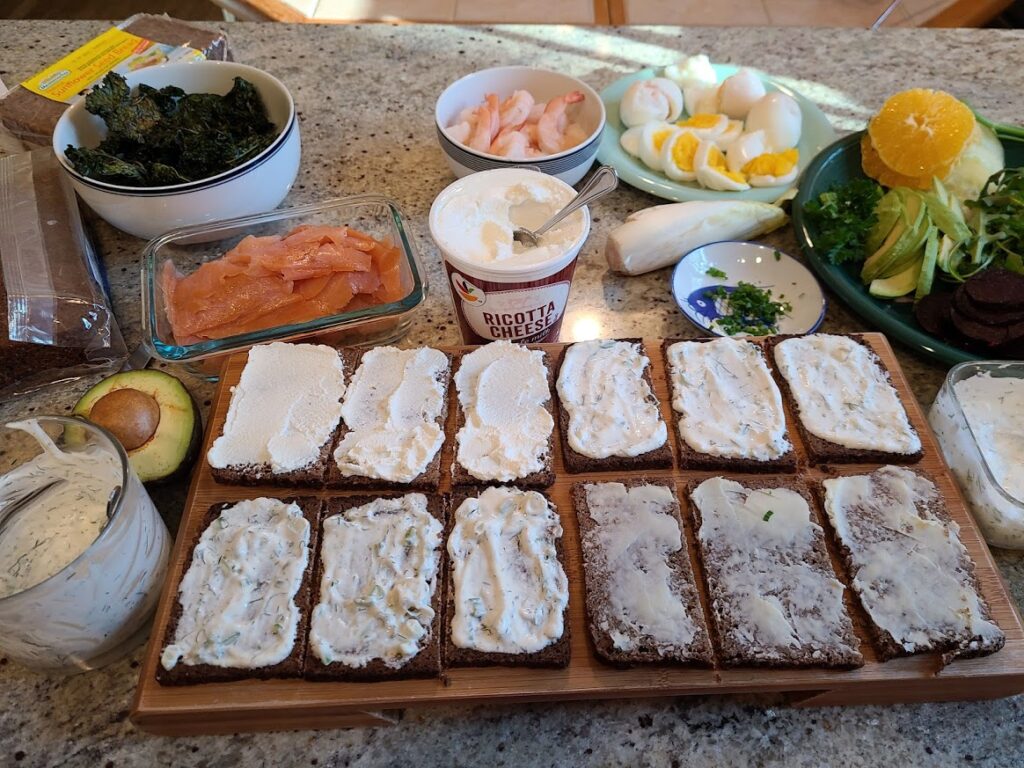 2. Add a schmear of something creamy and rich. Starting top left and going clockwise. 1. Ricotta, 2. yogurt garlic dill spread (see below for recipe), 3. butter (I would use the garlic dill yogurt mixture or the sourcream scallion spreadnext time) 4. sour cream scallion spread (recipe below).
---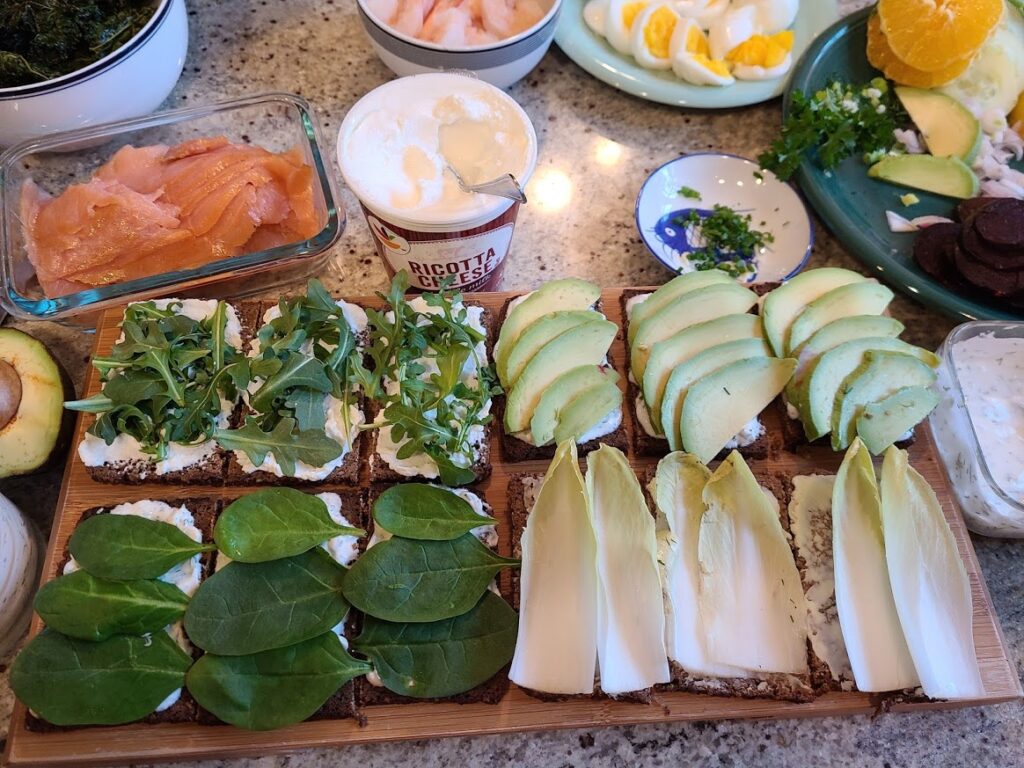 3. Add greens: 1. arugula 2. avocado 3. endive (would use lettuce, watercress or mache next time) 4. spinach
---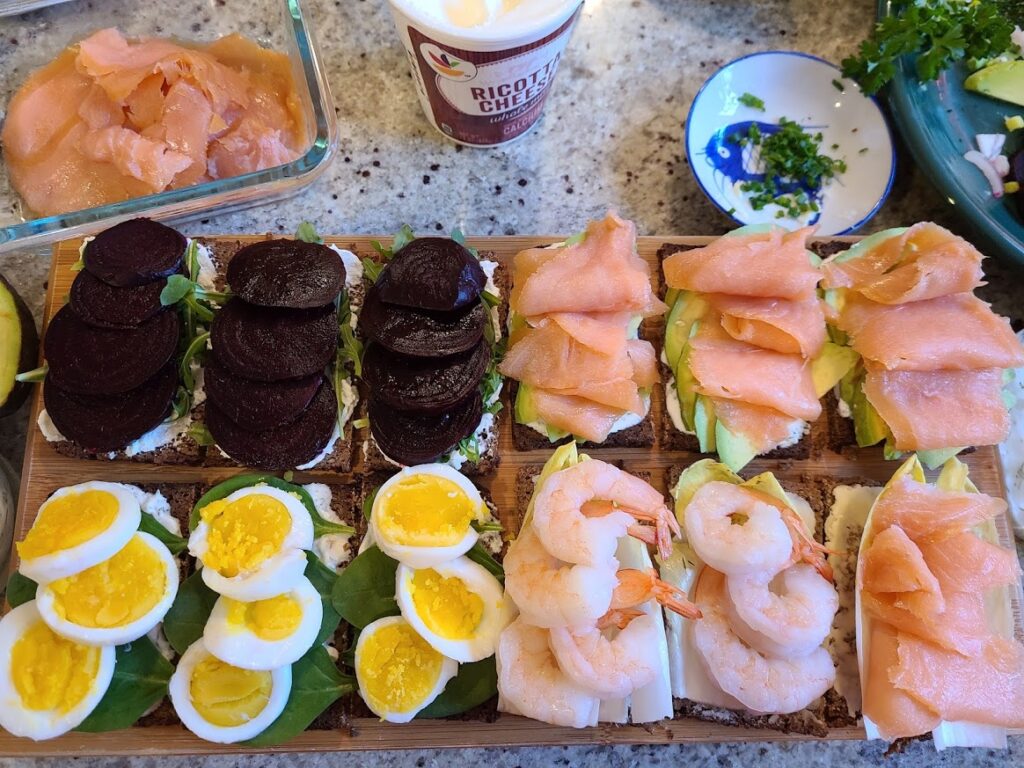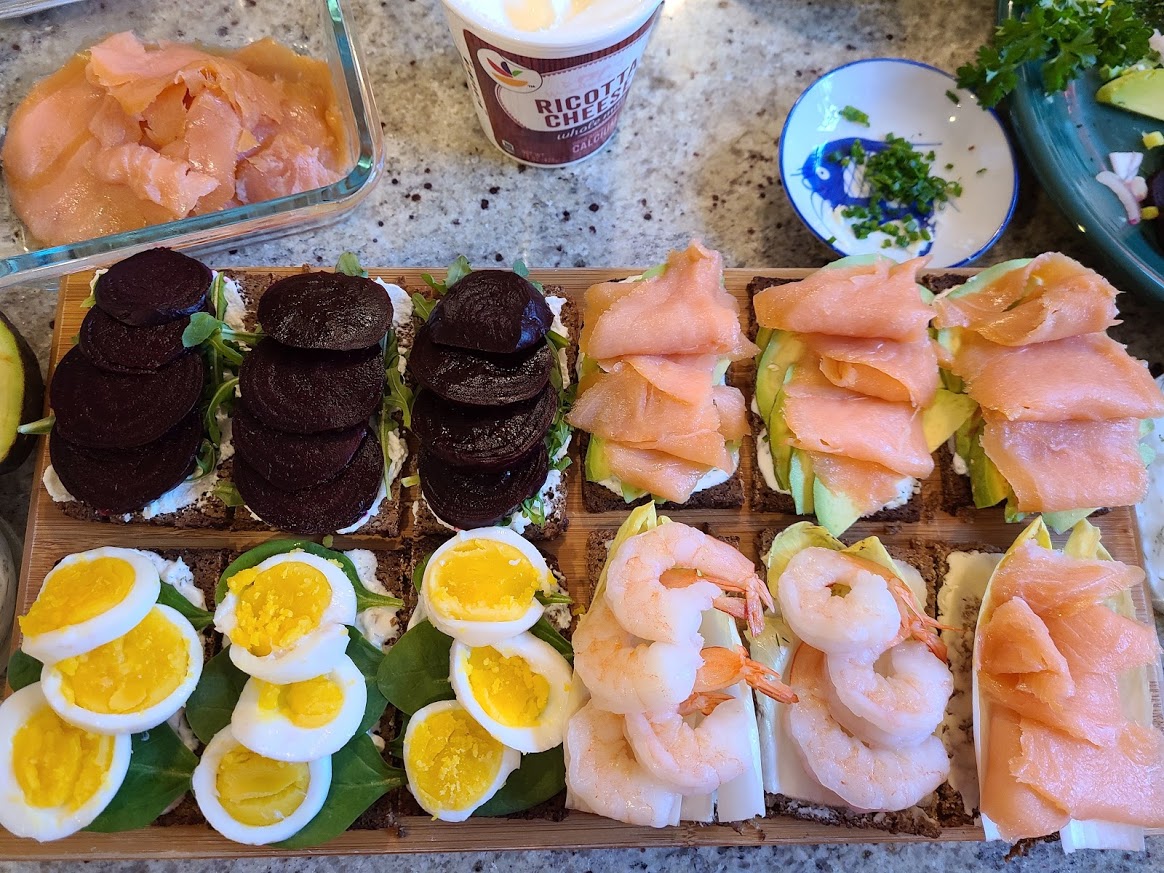 4. Add the main item, generally a protien: 1. Sliced beets (fresh beets is best), 2. salmon (do not fold it over like I did, just put one flat piece or it overpowers the sandwich), cucumber, lemon juice 3. shrimp (shelled and deveined), lemon juice (Eva does not like shrimp so I used smoked salmon for her) 4. soft boiled eggs (put eggs in pot, bring water to a boil. Remove pot from heat. Cover. Let sit for 15 min. Drain. Pour cold water over them.
---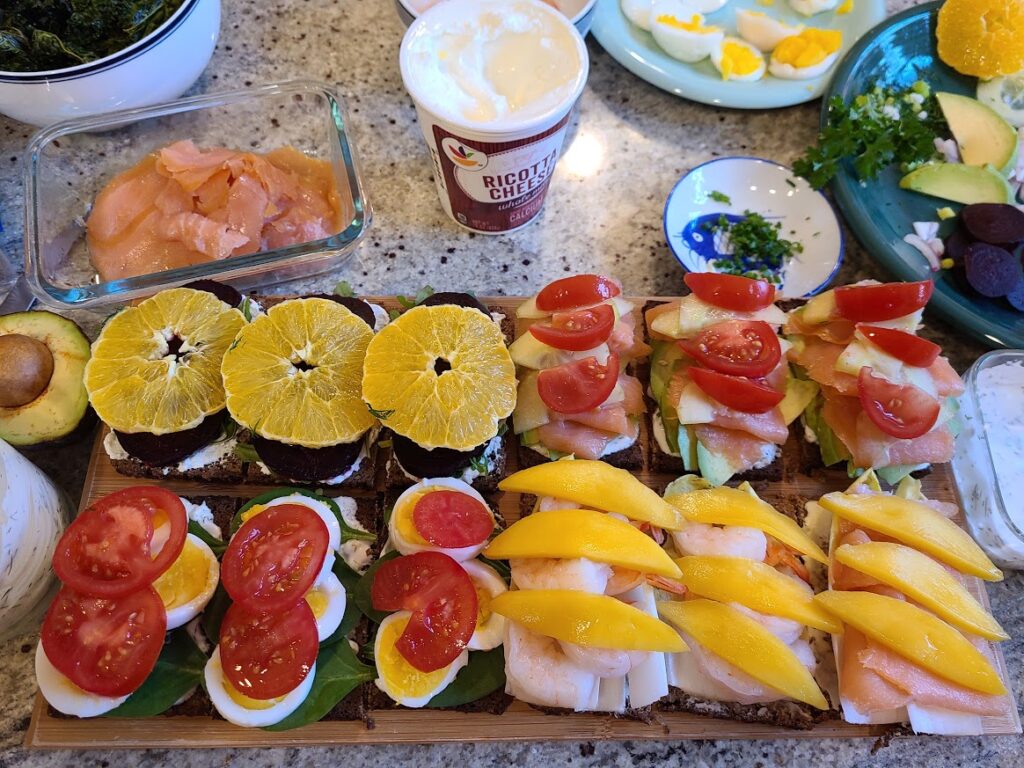 5. Add some type of fruit: 1. orange 2. tomatoes 3. mango 4. tomatoes.
---
6. Add the toppings/garnish: Add some type of sauce, fresh herbs and something cruncy & something acidic if you have not yet added it. 1. ricotta, chopped shallot, chopped toasted nuts (I used hazelnuts here), chopped parsley, drizzle of balsamic. salt, pepper, baked kale (not shown here) 2. scoop of the yogurt mixture, chopped shallots, fresh mint, fresh dill, salt, pepper, 3. lemon juice, sourcream scallion mixture (use more than pictured here), chopped scallions, fresh dill, salt, pepper 4. (red wine vinegar – optional), dolop of the sourcream scallion mixutre, chopped shallots, toasted almond slices, fresh parsly, salt, pepper.
---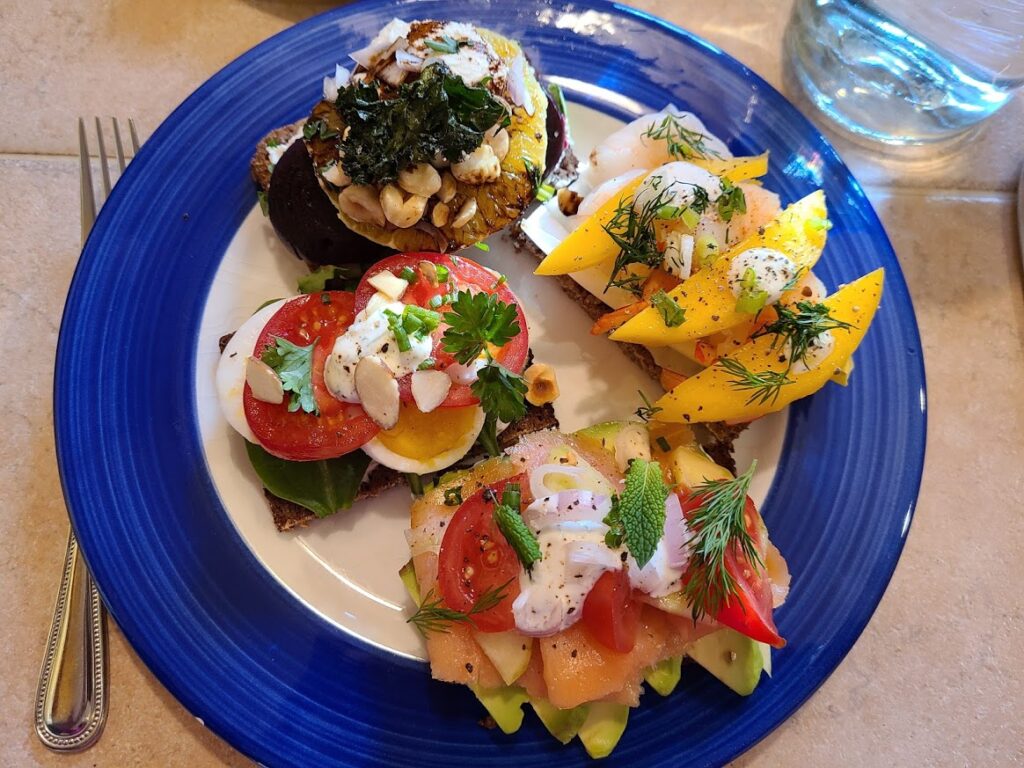 7. Serve. I would recommend only having 2 sandwiches. They are very filling. We gorged ourselves, because they were there, but 2 per person would have been sufficient. They are more filling than they look.
---
Garlic Dill & Yogurt Spread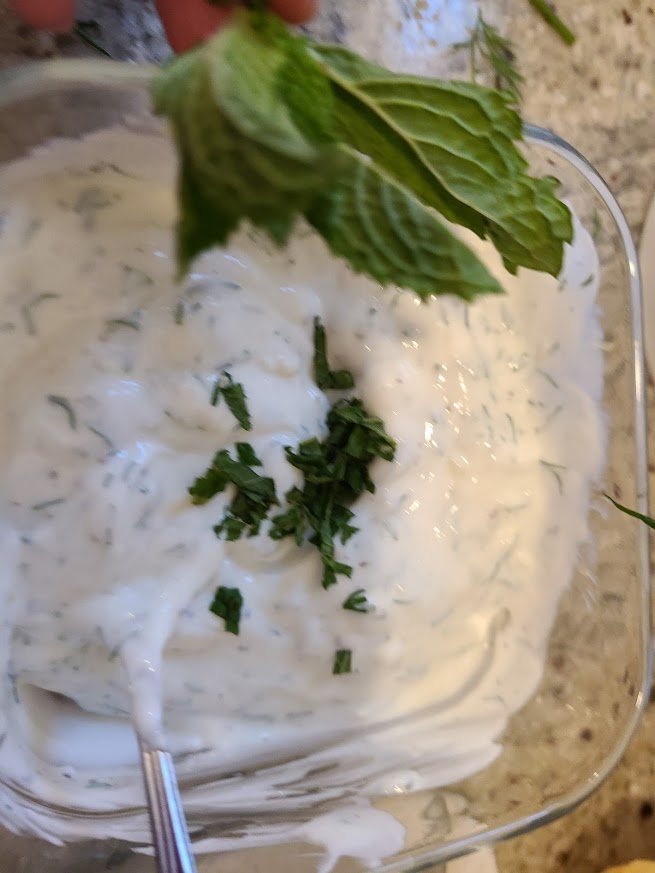 INGREDIENTS
1/2 cup plain yogurt (whole milk is the tastiest)
1/4 tsp lemon juice
1 T chopped dill
1 tsp chopped mint (optional)
salt & pepper to taste
1.
Press garlic.
Chop dill & mint.
Juice lemon if using fresh lemon.
2.
Add yogurt, garlic, lemon juice, dill, mint,
salt & pepper to a small bowl.
3.
Mix.
Serve. (Great as a veggie dip. on fish,
or on toast with lox)
Sour Cream & Scallion Spread
This spread is milder than the yogurt garlic spread.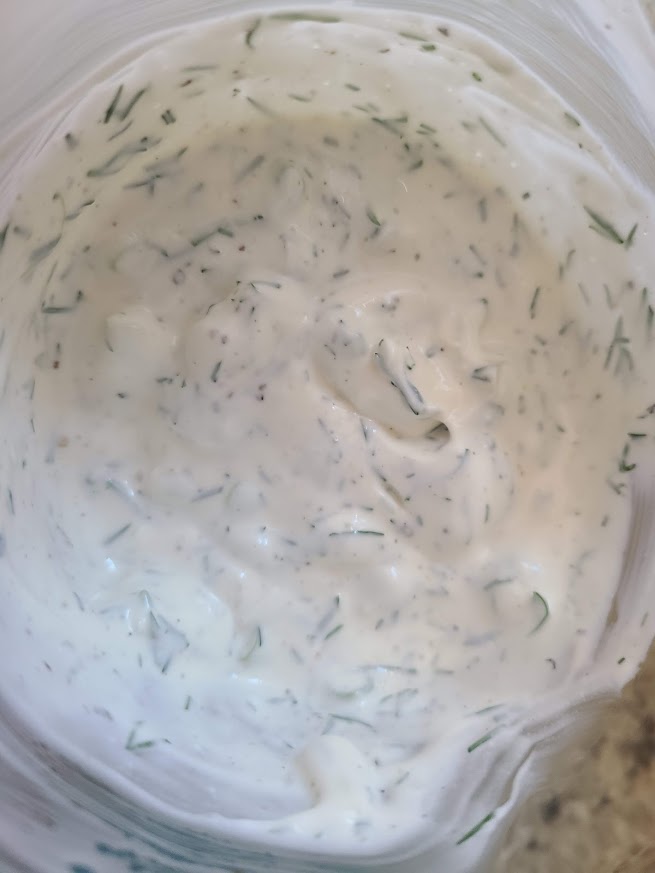 INGREDIENTS
1/2 C sour cream
1/2 C mayonnaise
4 scallions (green onions) chopped
1-2 T chopped dill
1/2 tsp lemon juice
salt & pepper
| | |
| --- | --- |
| 1. | Chop scallions & dill. |
| 2. | Add all ingredients to a bowl. |
| 3. | Mix and serve. |
Crispy Baked Kale
Delicious as a snack or to top a Smorrebord.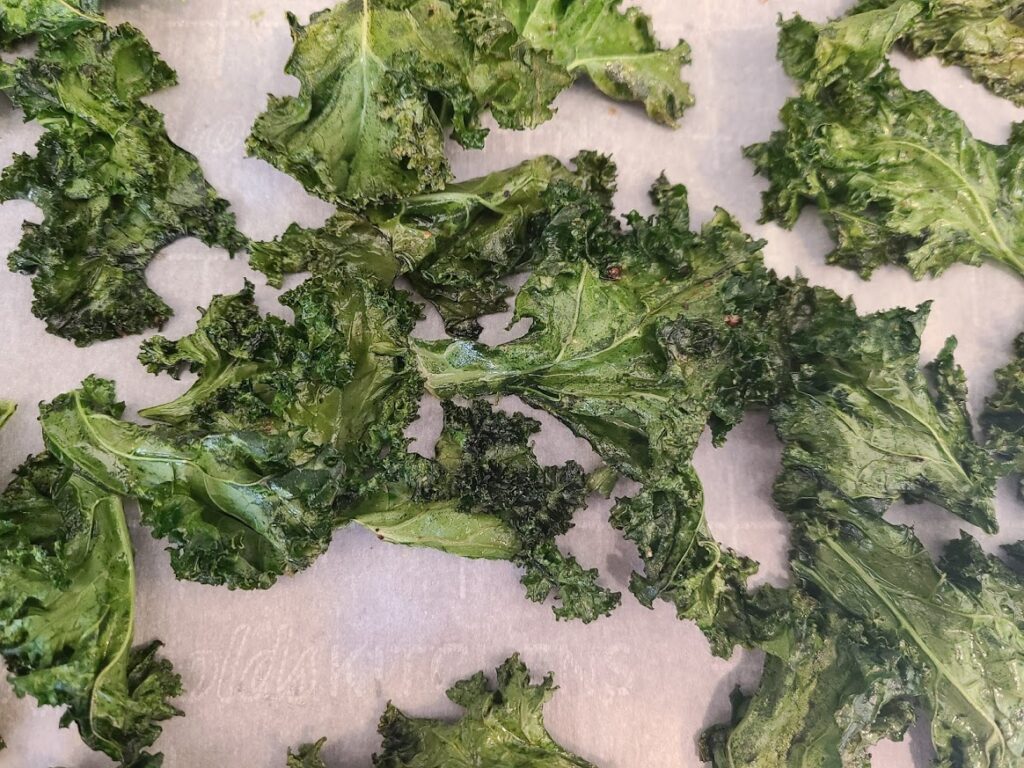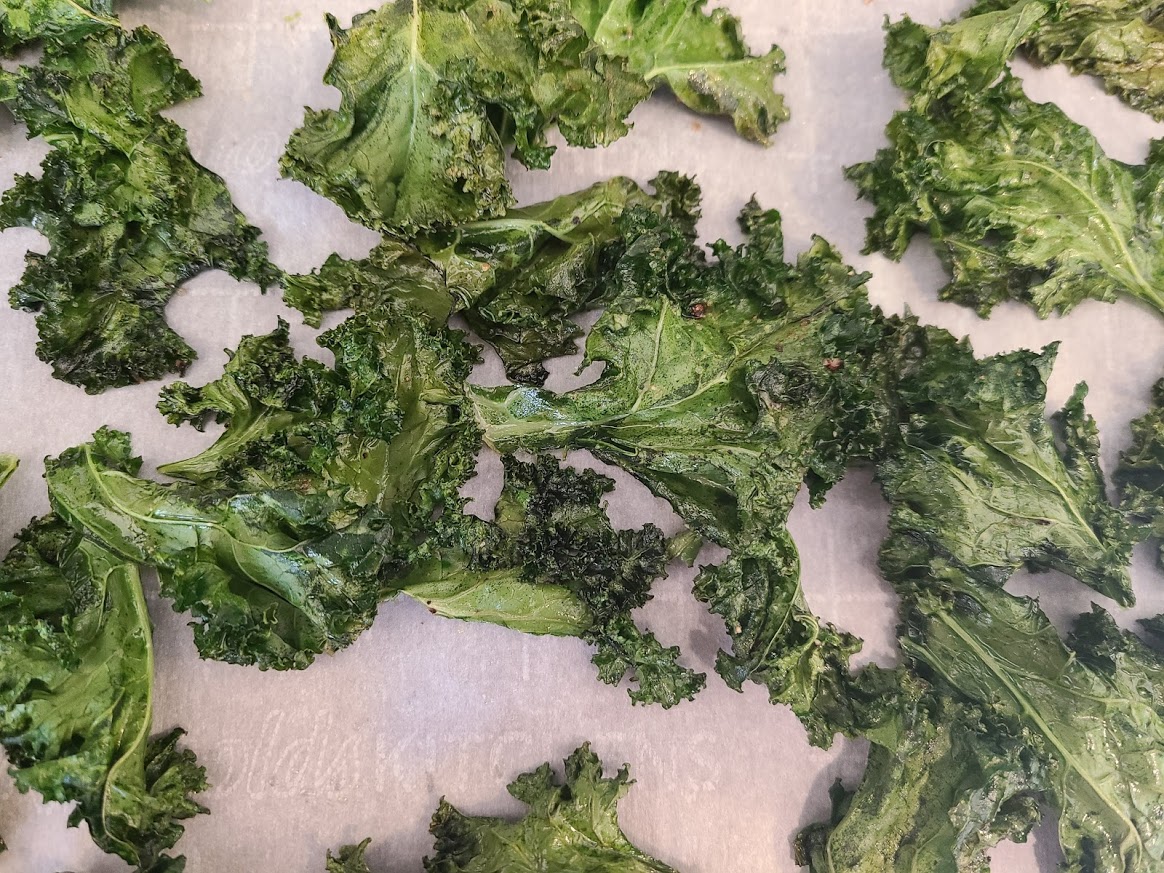 INGREDIENTS
5-8 leaves of kale
1 T olive oil or vegetable oil
1/4 tsp salt or to taste
1/4 tsp pepper or to taste
a dash of garlic powder
a dash of cayenne pepper
1.
Preheat oven to 350 degrees F.
Wash kale. Remove stems.
Rip kale into 1 to 3 inch pieces.
Put in bowl.
2.
Add oil, salt, pepper, garlic powder &
cayenne pepper to kale. Mix. with hands.
3.
Put a piece of parchement on a cookie sheet.
Lay kale out on the parchment.
4.
Bake for 10 minutes(check after 5) Remove from oven.
Turn over leaves. Put back in oven.
Bake for 5-10 minutes more. Take out any
pieces that are crispy. Keep checking
every 2-5 minutes, removing pieces as they
are done.
5.
Serve.
Danish style boiled eggs
These eggs are somewhere between soft and hard boiled. They are fragile, but have a vibrant yellow color when sliced. They are hard to peel – thus the extra eggs.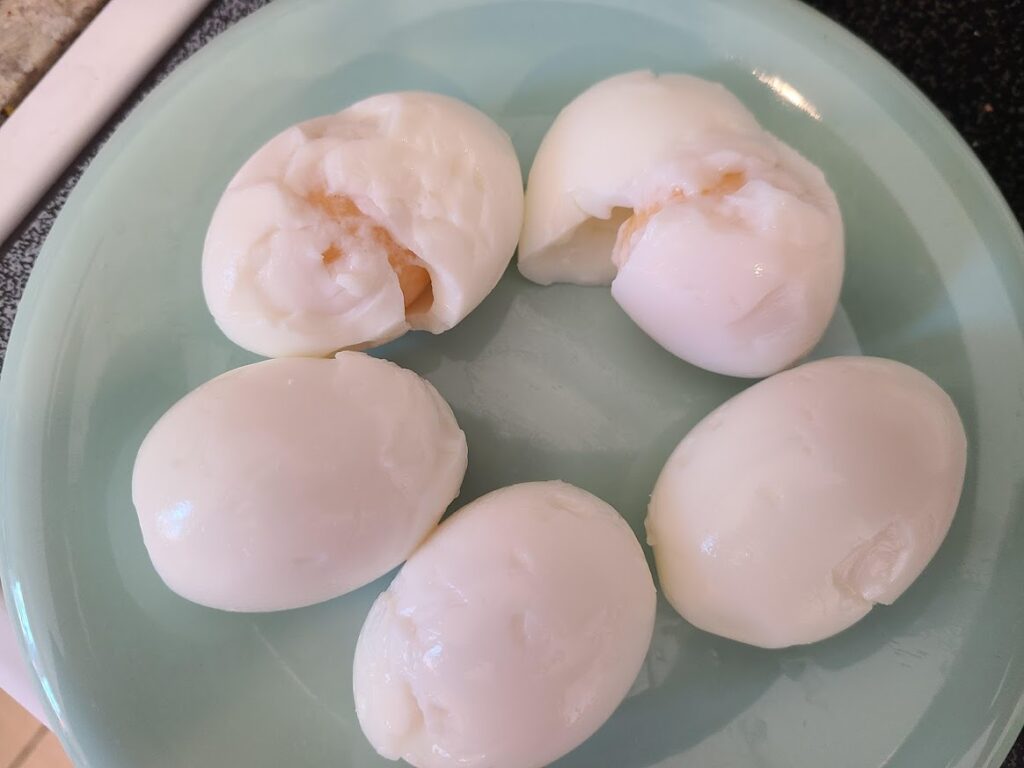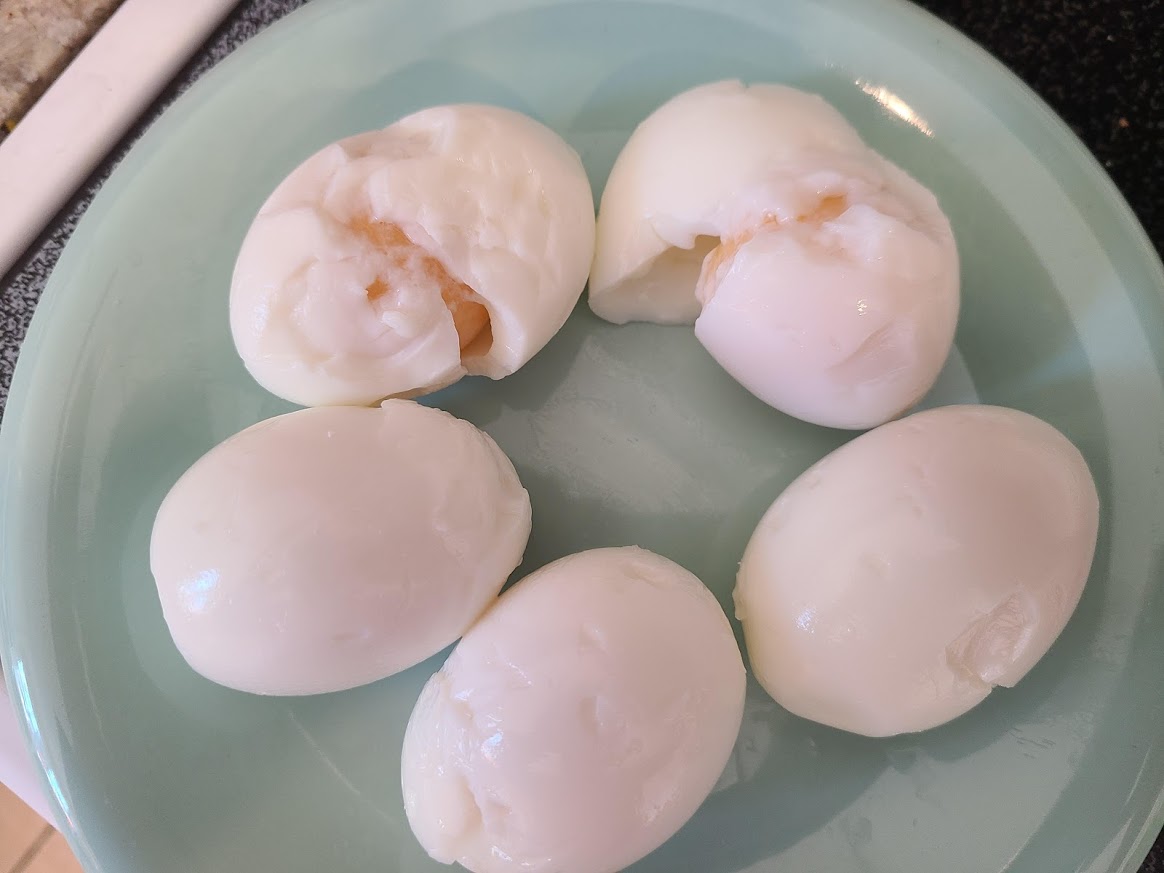 Step by step directions
1.
Place eggs in a pot of water.
Bring to a boil.
2.
Once it starts to boil, remove from heat.
Cover. Let sit 16 minutes.
3.
Immegiately, run eggs under cold water.
Peel carefully, they are fragile.
4.
Slice eggs.
Recipe Source inspiration: Smorrebord – Scandikitchen, Smorrebord – Saveur, Smorrebord – Seriouseats,