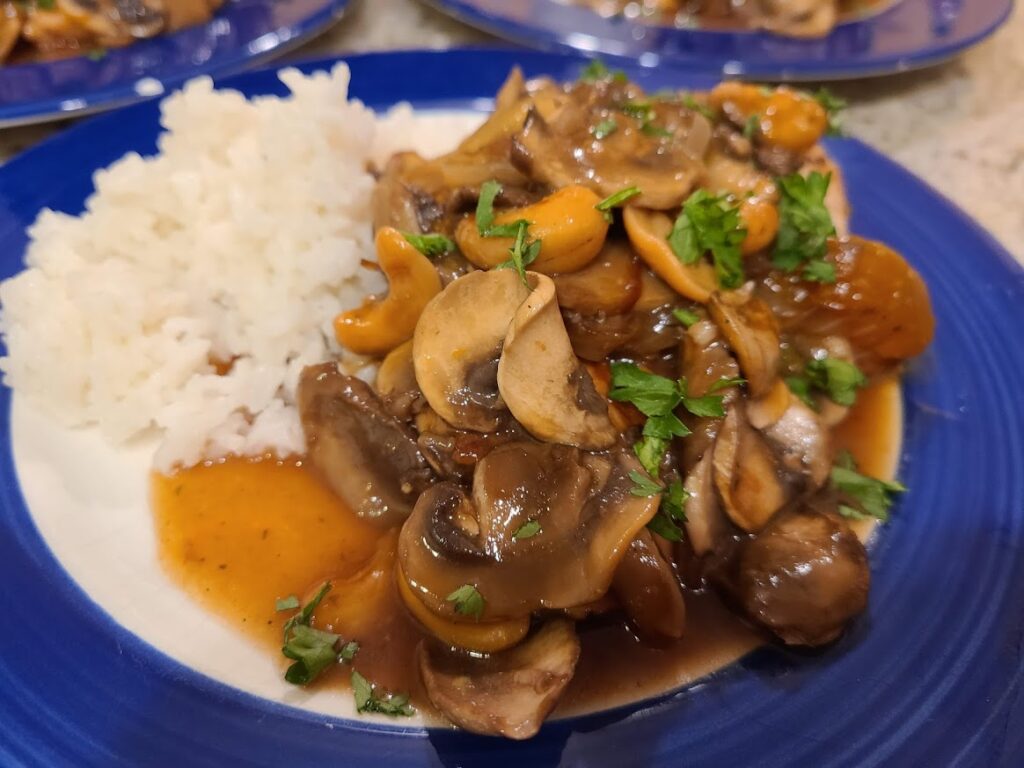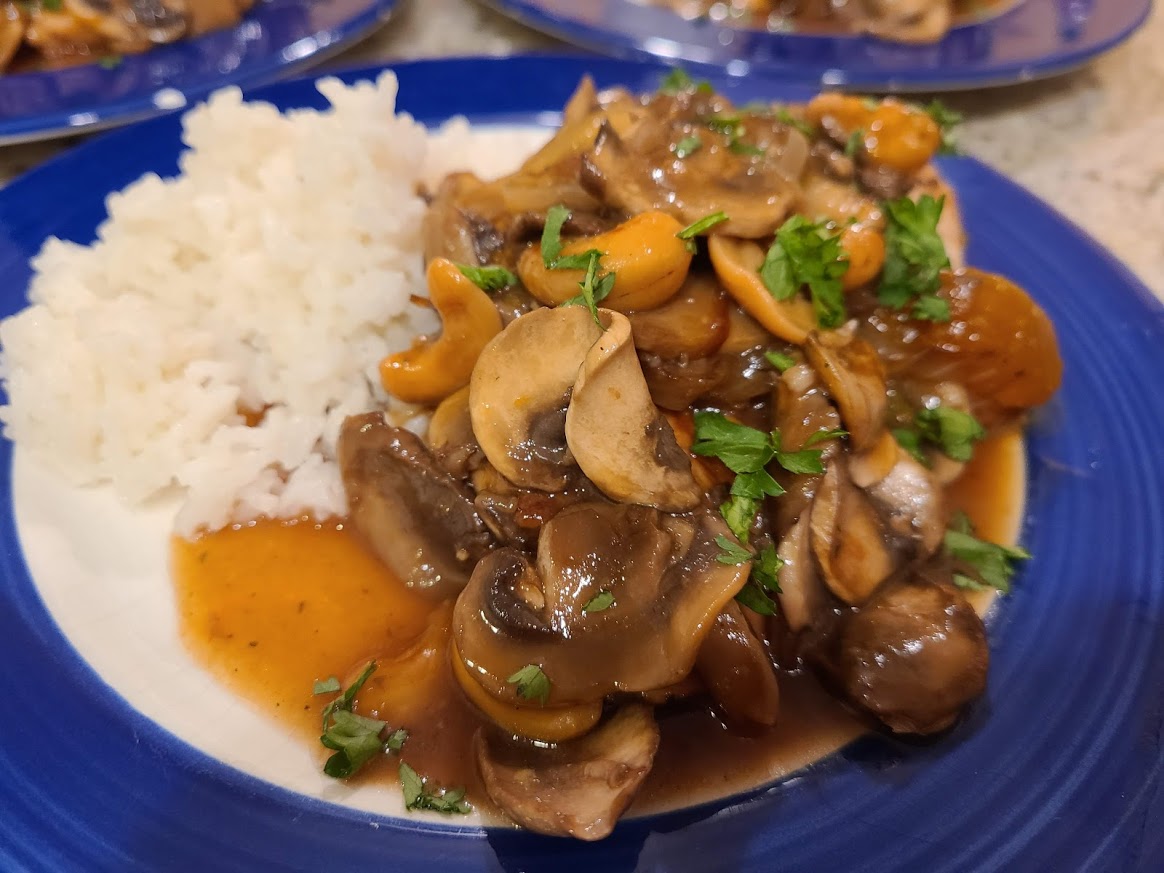 Dominica! Who even knew it was a country? Dominican Republic, sure, but Dominica? Live and learn. Dominica is located in the Carribean. When trying to find a good dish, I kept seeing a mango chicken dish and Calypso chicken. The pictures did not look particularly appetizing as they tended to look fairly grayish but I decided it was better than the other dishes, so I would make it. Looked for a good recipe, they seemed ok. Then I decided to search just a bit more and found this fabulous video of a Dominican man cooking Calypso chicken on the beach. His version had slighly different ingredients (he added a hint of nutmeg and allspice, but did not have scallions). It was super enticing so I decided to go for it. Soooo glad I did. This is probably our number 1 or 2 dish on our top 10 and we are making it again, less than a week later for my folks. We both hard-core quarantine so it should be ok. Anyway, this dish is reminiscent of chicken marsala, minus the butter, but a tad sweeter. We would ALL highly recommend it. The guy in the video served it with this bread made from cassava flour. Our last experience with cassava was not a positive one so we opted for rice as all the other recipes recommended. Cooking the sauce and the chicken at the same time saves some time and helps moderate the chicken cooking time, but I personally found it a little a bit crazy trying to manage 3 pots at once (chicken, onions and rice) and a child asking non-stop to do things something with her, but it was do-able. I just needed to remember to stir the mushrooms. You can also prepare the mushroom mix ahead of time so you can just focus on the meat and dump the mushrooms in at the appointed time. That is what I am doing for the 2nd time making it. I do hope you try this dish, it is delicious!
Ingredients
2 chicken breasts, scored
3-4 oz (about 3/4 cup) raw cashews, toasted
2 cloves garlic, chopped
2 T red wine vinegar
1 heaping T brown sugar
1/4 tsp salt
1/4 tsp pepper
pinch of ground nutmeg
pinch of ground allspice
½ tsp thyme
1 onion, sliced
8-10 oz mushrooms, sliced
3 green onions (scallions)
1 T grated ginger (1 1/2 in piece of ginger)
2 T vegetable oil
3 heaping T guava jelly (or apricot jam)
1/2 cup red wine
2 C chicken broth
1 tsp cornstarch
2 T chopped parsley (5-6 stems fresh parsley, chopped)
Step by Step Directions
1.
Chop garlic.

2.

Add vinegar, brown sugar, chopped garlic,
nutmeg, allspice, thyme, salt & pepper to a
bowl or baking dish.

Stir until the sugar is dissolved.
3.

Score the chicken with a sharp knife.
Place in the marinade. Turn over several
times so it is thoroughly coated.

Cover. Refrigerate 2-3 hours.
4.
Toast the cashews.
Set aside.
5.
Slice mushrooms and onions.
Chop green onions.
Grate ginger.
6.
Mix 1 heaping tsp corn starch with
1/4 C water. Set aside.
7.
Add 1 T oil to a large pan.
Add chicken to pan and sear on both sides.

8.
Add 3 heaping T of guava jelly.
You can use apricot or mango jam if
you don't have guava jelly.

Bring jam to a boil. Coat chicken in the jam
by moving it around the pan and turning it
over until it has a nice shiny glaze
(about 3-5 min).
9.
Remove the chicken and set aside.
10.
Add wine to deglaze.
Using a spoon, stir until it is combined.
11.
Stir in the chicken stock and the rest
of the marinade.
Bring to a boil. Lower heat to medium.
Reduced by 1/2.

12.
While the sauce is reducing…
in a separate frying pan, add 1 T oil & onions.
Sautee over medium high until
soft & light brown.
13.
Add scallions & ginger.
Sautee until fragrant – about 1-2 minutes.

14.
Add mushrooms.


Brown, stiring regularly.

15.
Add cashews.


Stir and let cook about 5-10 minutes,
stiring occasionally.

16.
Stir or whisk in cornstarch mixture into
ssimmering auce.


Stir until it thickens a little bit.
17.
Add chicken back to the sauce pan.
Turn chicken so it gets coated on both sides.


18.
Pour the mushroom mixture over the chicken.
Bring to a boil.


Cover. Reduce heat.


Simmer about 10-15 minutes until chicken is
fully cooked.

19.
Remove chicken from the pan.
Cut in 1/2 inch slices.


Lay a few pieces of chicken on a plate.
20.
Spoon sauce over chicken.
Garnish with chopped parsley.
Serve.

Recipe source: Calypso Chicken