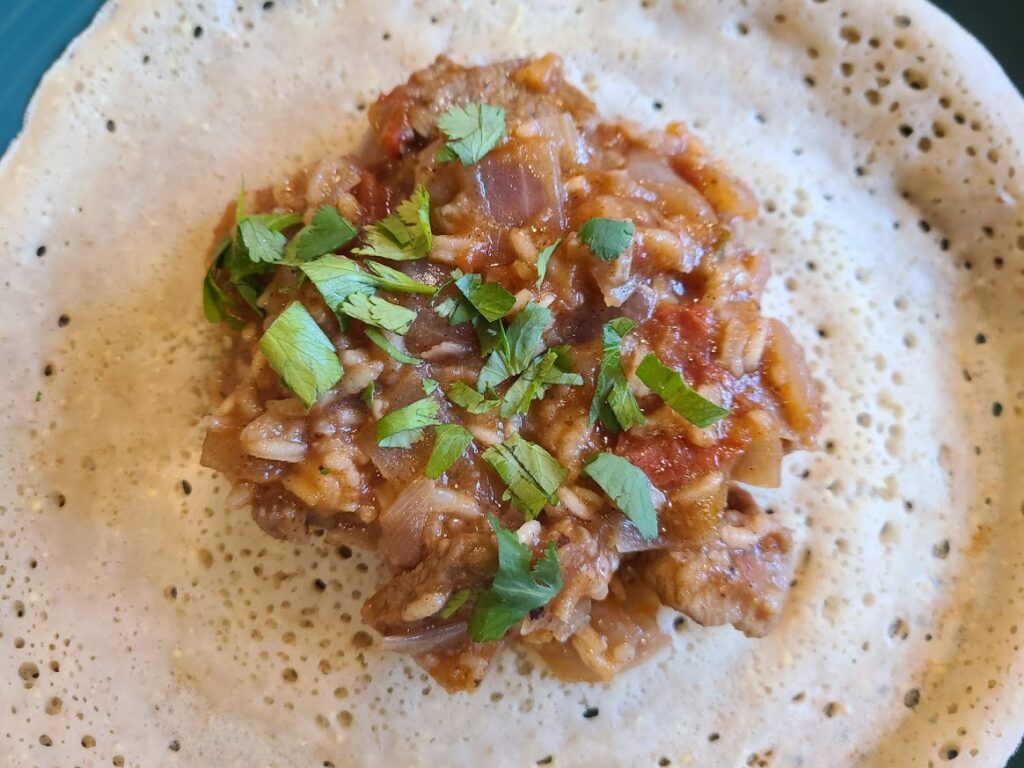 Skoudehkaris is the national dish of Djbouti which is located in East Africa and was, at one point, a French colony. We all loved this . Even my generally non-red meat eating husband gave it an 8/10! Eva gave it a 9/10. I really liked it too. It was flavorful and fun to eat because it is served with these spongy bread/pancakes similar to what they serve in Ethiopia, but not quite as spongy. When you serve it, put a scoop of the Skoudehkaris on top of the pancake (called a Laxoox) then pull apart the pancake and eat it with your fingers. You can also use a fork, if you prefer. One important note, is that you MUST make the batter for the Laxoox THE NIGHT BEFORE as it needs time to ferment.
Even though Djbouti is located in the Horn of Africa along the Gulf of Aden, I read that Djbutians primarily eat goat, camel and lamb rather than fish. Where we live, they only seem to sell lamb shoulder in chops with the bone. Between the bones and my knives, which are not super sharp, I would probably use boneless leg of lamb…probably should just buy a rod to sharpen my knives (that would be the smartest). Last time I sharpened a knife thought I sliced my finger pretty badly. Don't be afraid by the fact that this recipe has ghee in it. Ghee is just clarified butter. If you can turn on a microwave or a stove, then you can making clarified butter. Put the butter in a glass. Melt it in the microwave (only takes a few seconds). Let it sit for a minute. The clear stuff on the top is the ghee, or clarified butter. The white stuff on the bottom are the fat solids.
Ingredients
2 T ghee (clarified butter) or oil
1 pound lamb shoulder, cut into 1 inch cubes
1 large red onion, diced
5 tomatoes, seeded and diced (or 2 cans drained diced tomatoes)
2 cloves garlic, chopped or pressed
1 tsp cumin
1 tsp corriander
1/4 tsp whole cloves
1/2 tsp cayenne pepper
1/2 tsp cinnamon
1T tomato paste
1 cup water (add more if needed)
salt & pepper (to taste)
1/2 cup long grain rice
1T fresh cilantro to garnish (or parsley)
Difficulty: Easy Servings: 4
Total Time: 1hr 1/2 Prep Time: 15 min Cooking Time: 75 min
Rating: 8.5/10
Step By Step Directions


1.
Cut tomatoes in half. Remove seeds. Dice.
Chop red onion, garlic and cilantro.



2.
Cut lamb into 1 inch cubes.


3.
Put 2T ghee or oil in a large pot.
Add lamb. Cook over medicum high,
stiring until meat is browned (or greyish).

4.
Remove lamb from pot.
Put aside in a bowl.
5.
Add onions to the pot.
6.
Cook until they are translucent.

7.
Add lamb back to pot.
Mix.

8.
Add tomatoes, garlic, cumin, corriander,
cloves cayenne pepper, salt, cinnamon,
tomato paste and water.




9.



Mix and bring to a boil.
10.
Lower temperature.
Cover and simmer for 45 minutes.
11.
Rinse the rice. Add rice to pot & stir.
Bring back to a boil.


12.
Lower temperature.
Cover and simmer for 20-25 mintues.
Test the rice, if it is not done, cover and cook a
bit longer. Add more water if necessary.
Taste. Adjust seasoning with salt & pepper
as needed.

13.
Serve on a Laxoox or with green veggies.
Place a Laxoox on each plate. In the center
of the Laxoox, place a scoop of Skoudehkaris.
Garnish with chopped cilantro or parsley.
Recipe source: Skoudehkaris, Laxoox