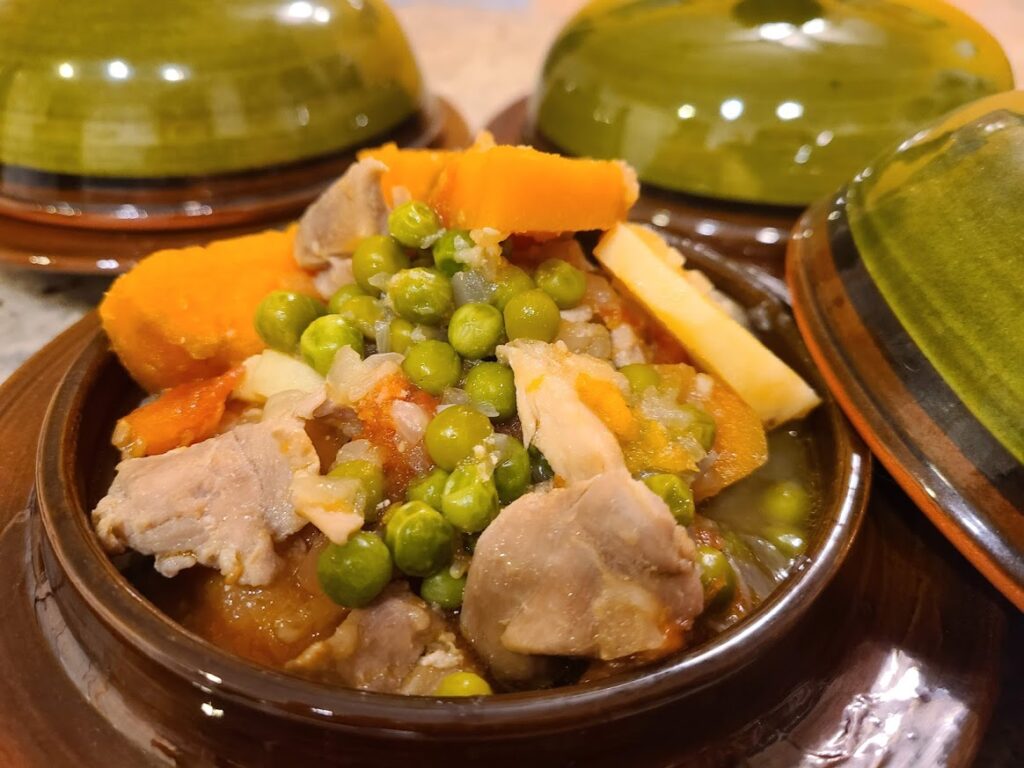 Chad (officially known as République du Tchad) is a landlocked country located in the heart of north-central Africa. It's geography is quite varied with the Saharah and mountains in the north, arid plains in the Sahel which covers the middle section of the country and finally the fertile Sudanese savanah in the south. Finding something to make from Chad was a bit of a challenge, but after much searching, I found quite a few options, some of which I will be making in coming days. Tonight I made Bangaou, a stew that is primarily made up of sweet potatoes and meat and flavored with ginger, onion and garlic, with a smidge of tomato. I picked it because my husband loves sweet potatoes which are known as a super food. We also happened to have both white and yellow sweet potatoes at home, so I used both. As my husband does not really eat lamb, I substituted in chicken. The dish was delicious and easy to make. We were wishing we had more. I also made Karkanji, a refreshing hibiscus beverage, to accompany our meal. I had wanted to make Kissar, which are like spongy sourdough crepes and are served with many Chadian dishes to sop up the sauce and to grab the food – as you would do in Ethiopia. Unfortunately, you have to let the batter sit at least 12 hours, and I didn't figure that out until it was too late to make them. I do, however plan to make them soon.
Difficulty: Easy Servings: 4
Total Time: 55 min Prep Time: 15 min Cooking Time: 40 min
Rating: 8/10
Ingredients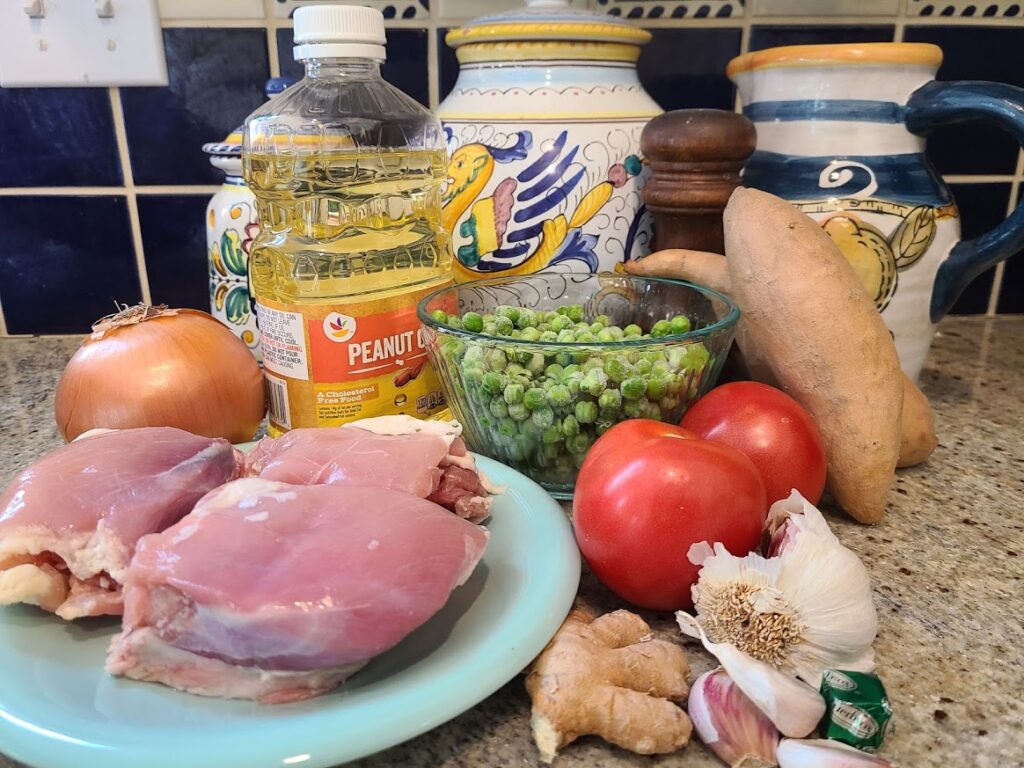 peanut oil
500g (1 pound) lamb or chicken thighs cut into pieces
1 large onion chopped
4 cloves garlic minced
2-3 sweet potatoes sliced in 1 cm thick round slices
2 tomatoes
280 g peas (10 ounces)
2 cups water
1 inch of ginger peeled
1 chicken boullion cube (to make recipe GF, just leave out the boullion cube or leave out the cube and replace water with broth)
salt
Step by Step Directions
1.
Dice onions and tomatoes.
Peel and slice sweet potatoes into 1cm slices.
Cut meat into cubes.
Peel ginger and mince garlic.

2.
Add oil, onions, garlic meat & salt to a pot.
Mix.

3.
Sautee over medium high heat until onions
are translucent and meat is cooked on outside.
4.
Add 2 cups water, peeled and diced
tomatoes, boullion cube and salt.
5.
When the tomatoes are cooked, add the
sweet potatoes (cut into 1cm slices)
and 1 inch of ginger.
6.
Mix. Bring to a boil.
Cover.
Simmer for 1/2 hour.
7.
Add peas.
8.
Mix. Cover.
Simmer for at least 10-15 minutes
(until peas look a bit soft, sweet potatoes
are cooked but still a little firm)
9.
Serve.
If you like it a bit spicier, serve
with cayenne pepper or harissa.
Recipe source: Marmiton