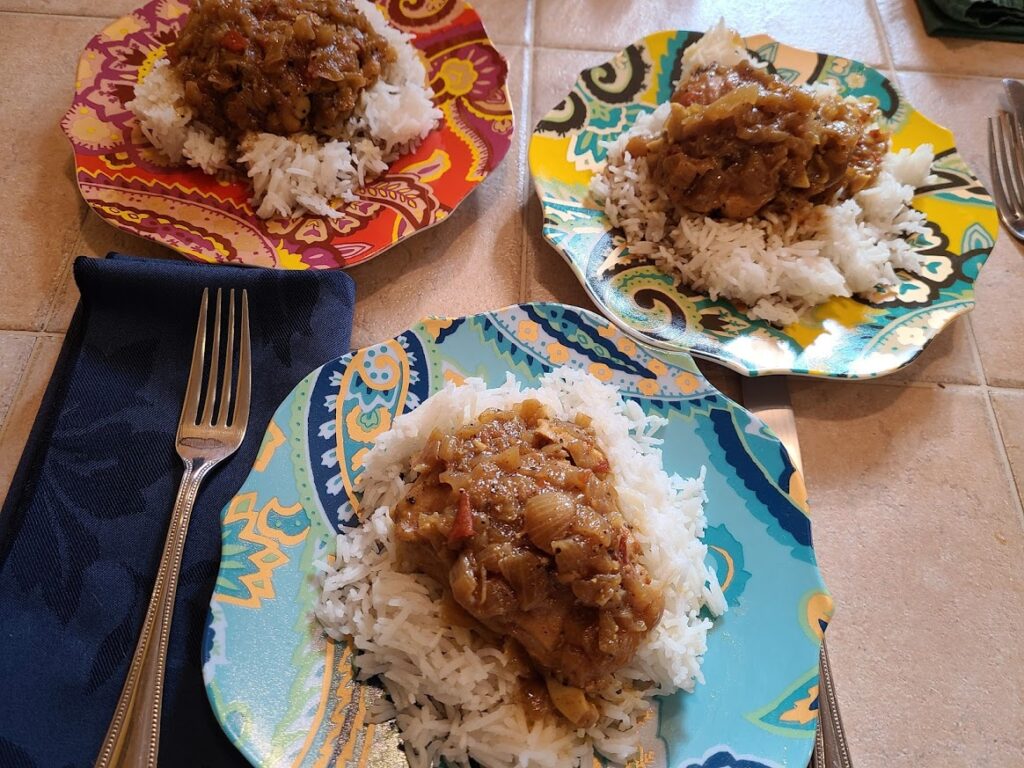 In honor of Kamala Harris becoming America's first female Vice President, first black Vice President and first Vice President of Jamacian and Southeast Asian descent, I made an Indian dish from Chennai, the capital city of Tamil Nadu, where Hariss' mother harkens from. Chennai is located in the south of India. There were a lot of good looking recipes, but as we are in the midst of Covid and I decided last minute to make it, I had to make something for which I had the ingredients at home already. I landed on Chettinad Pepper Chicken. For this dish I had to make my own peppery Masala spice mix. Actually, it seemed like all of the Chettinad Pepper Chicken recipes required making one's own spice mix. Normally, making your own spice mix is not too hard because many people tend to have an automatic coffee grinder or spice grinder at home. Even my parents have one. We, unfortunately, do not. As you may remember, last time when I made Chicken Machaboos (which was delicious) which required I broke my manuel spice grinder trying to grind pepper. I ended up using a mortar and pestal. Bad idea. This time, I thought about going to buy an automatic coffee grinder from our local hardware store and then thought… nah…rather not miss any of the Inauguration. So this time, I got smart and realized – hey, my pepper grinder is solid enough to grind…PEPPER. So I emptied it out and put my spices in there. Worked like a charm! Scott and Eva liked it. I found it a bit pungent but liked it, although I tend to prefer sweeter buttery dishes. So here is to diversity and multiculturalism which form the backbone of this great nation.
Ingredients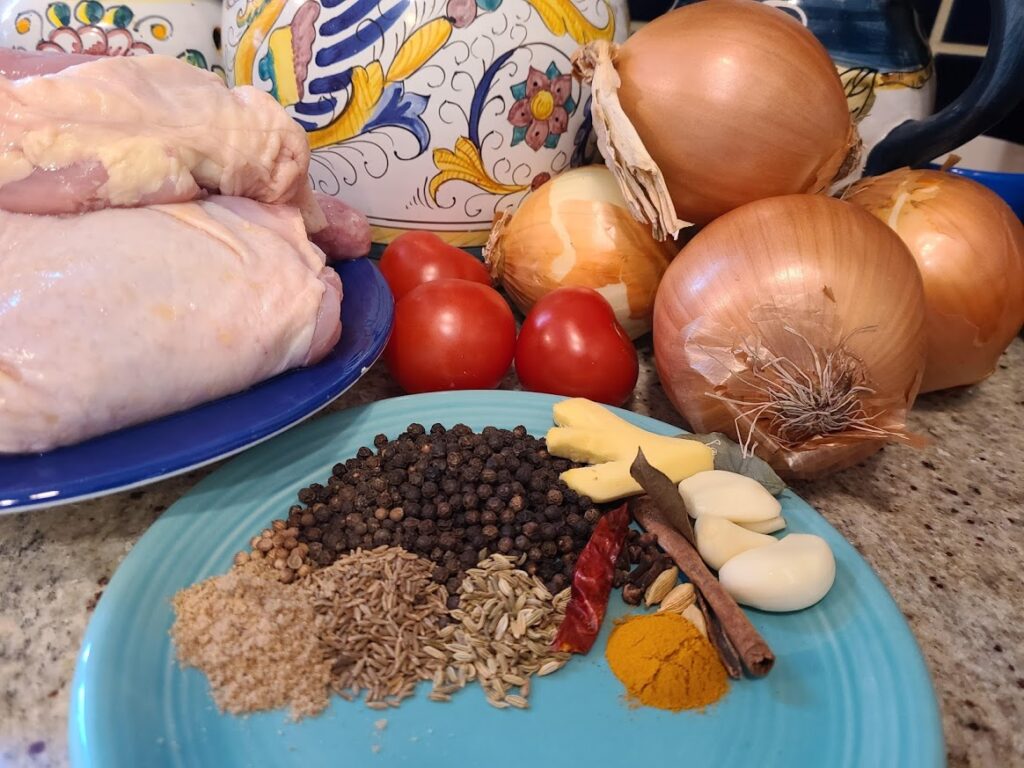 Step by Step Directions


Chop onions and tomatoes.


Chop ginger and garlic.
Remove seeds from chili pepper.
Add peppercorns, fennel seeds, cumin seeds,
corriander seeds and chili pepper to pan.
Toast spices until fragrant.
Grind toasted spices.
Add oil, cinnamon stick, cloves & cardamon pods
to a pan. Sautee until fragrant.



Add onions.



Mix and sautee until brown, stiring
occassionally.
Add tomatoes.

Mix and cook until tomatoes are soft and
ingredients are melded.
Add tumeric and salt.
Add chicken.
Add bay leaves. Mix and cook for 10-15 minutes.
Add water.
Cover and cook for 15 minutes or until chicken
is cooked.
Add 3-5 tsp of pepper mix (I added 3).
Mix.
Cover and cook for 5-10 minutes.
Serve with Basmati rice.
Recipe sources: Chettinad pepper chicken Chettinad pepper chicken