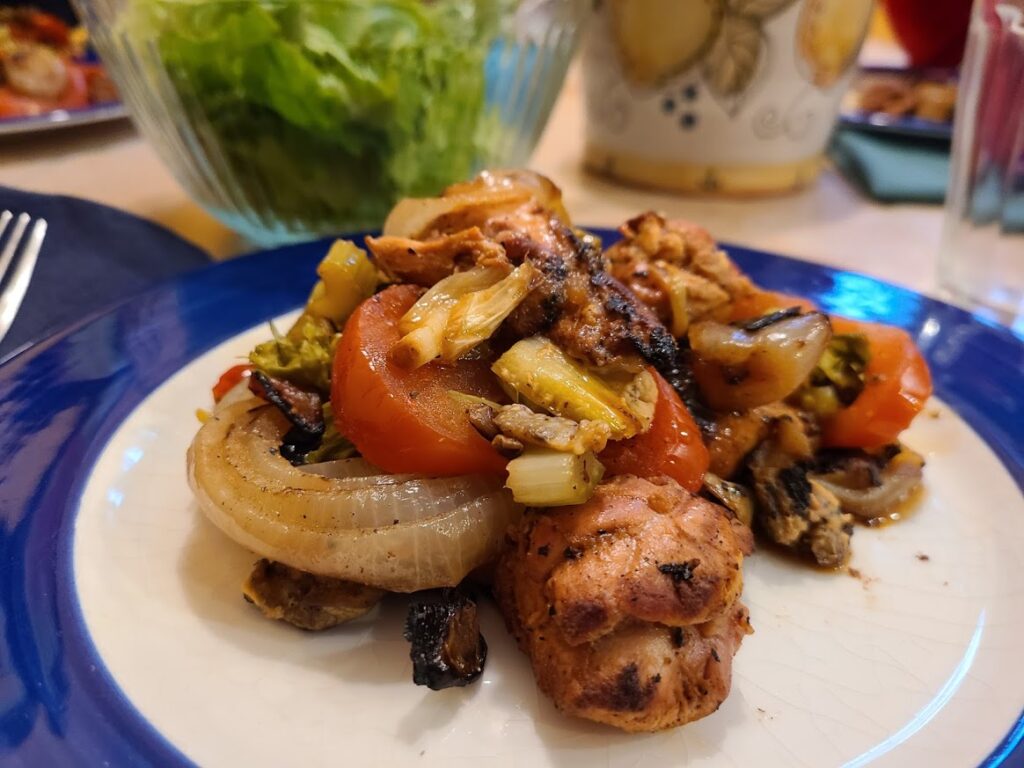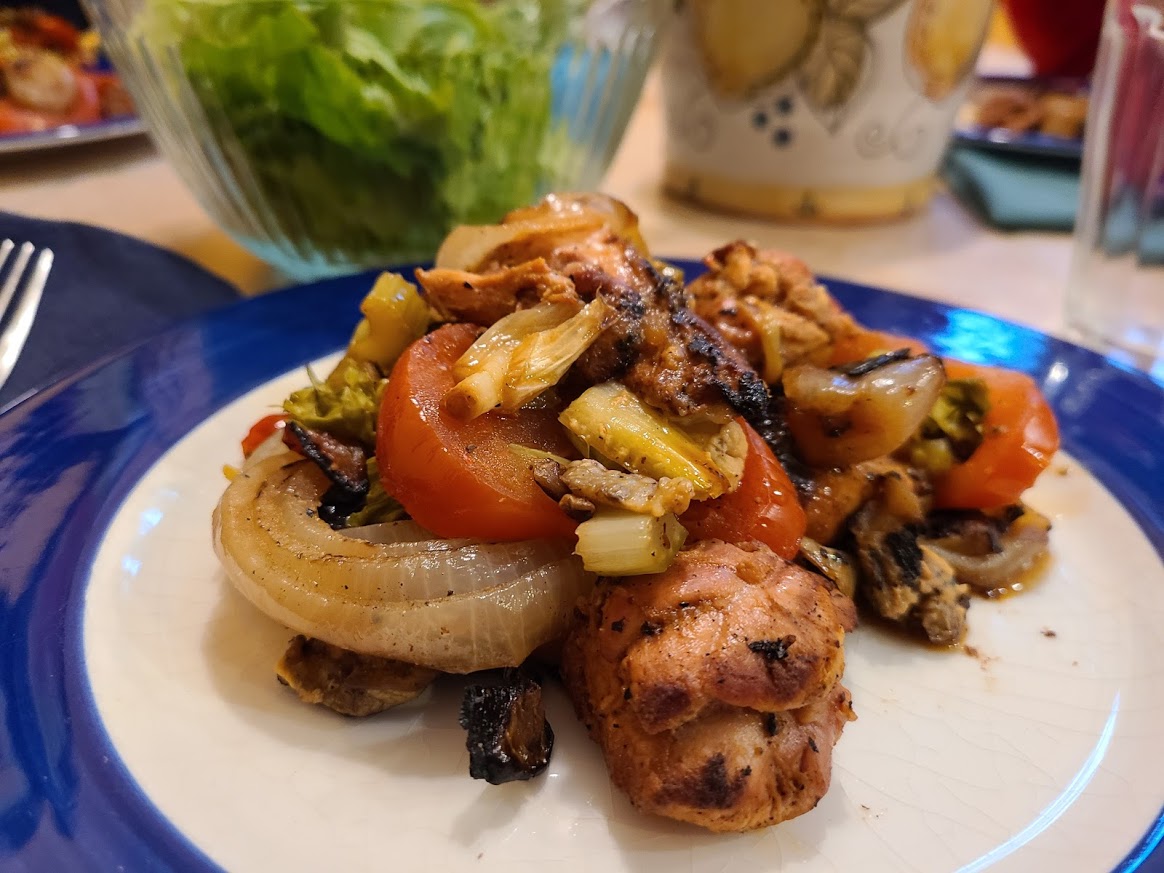 If you are a BBQ fan, you will love this healthy recipe which can easily be prepared in a GF version. It is essentially grilled veggies and meat with a nice marinade and a nice twist. Finding a Congalese recipe that would work for the entire family was NOT an easy task. Chicken Moambe, the national dish of chicken in a peanut butter sauce (with the exact same proportions as another African chicken and peanut butter dish we already made) kept coming up again and again. Fortunately, not only did I find something that looked like a crowd pleaser BUT I found a HEALTHY recipe that my husband and daughter were excited about and both LOVED. The dish is called Ngulu yako Tumba, which I think just means grilled pork, but given that my husband does not eat pork, I made it with chicken. Generally, it is made with pork, but as my husband does not eat pork, I made it with chicken. I used thights to make sure it would be as juicy as possible. I watched a bunch of different videos and pulled the best from each. In one of the videos, a French girl was interviewing a street vendor in the Democratic Republic of Congo in some other language. They have about 300 languages there, so I have no idea which one it is. This was the main recipe I found. In a few other videos, I noticed that some people marinated the chicken first, so I went with that option. The dish was delicious. We nibbled on some of the chicken when it came off the grill – very flavorful! If you need it to be gluten free, just leave out the chicken cube and make sure to double check the mustard you use. This dish was very tasty and was voted into our top 10. If you are short on time, you could skip the fridge step – I saw a number of videos where people did not marinate the meat.
Difficulty: Medium Servings: 4
Total Time: 1hr40 Prep Time: 10 Cook Time: 90 minutes
Rating: 9.5/10
Ingredients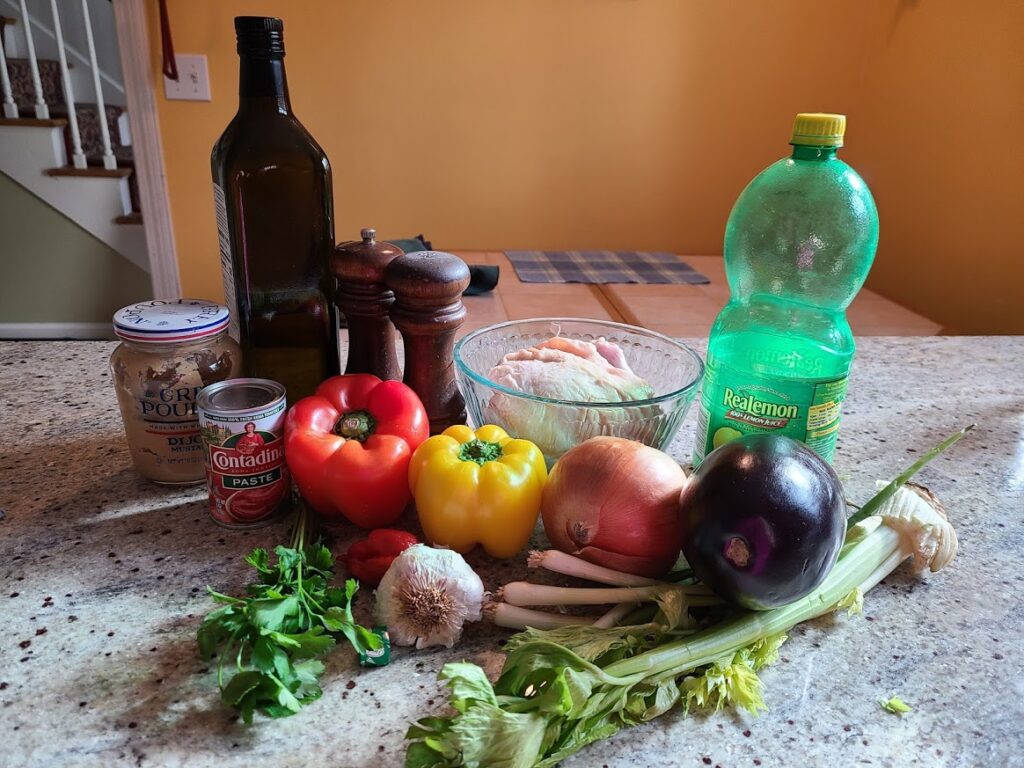 1 pound chicken thighs (you can use breasts too, but it will be drier) or pork
4 cloves garlic, minced
1 T dijon mustard + 1/2 tsp mustard
1 T lemon juice + 2 tsp lemon juice
1 boullion cube (optional)
1 T vegetable oil
1 tsp tomato concentrate
1 large onion, sliced in rounds
1 small eggplant, sliced in rounds
1 stalk celery, chopped
4 scallions, chopped
1 tomato, sliced
garlic powder (optional)
1 habanero pepper (optional)
Step by Step Directions
1.
Cut the chicken into 4 cm (1.5″) cubes.
Put in a bowl, just large enough to hold it.
Press the garlic

2.
Add garlic, lemon juice*, boullion*, oil,
mustard, tomato concentrate, salt & pepper
to the chicken.
*If the boullion cube is rock hard and will
not crumble, heat the 1T of lemon juice in
a small cup and dissolve the boullion cube in it.
Pour boullion & lemon mixture over the chicken.
3.
Mix thoroughly.
4.
Cover and refrigerate 1 hour.
(This step is optional but worth it)
5.
Cut the onions into 1 cm (1/4″) rounds.
Peel the eggplant. Slice into 1cm (1/4″) rounds.
Slice pepper & tomato. Chop celery and
scallions.

6.
Grill the onions, eggplant and pepper on a
grilling tray/basket over medium heat until
tender (about 10 minutes).

Remove and set aside.

7.
Grill chicken for 15-20 min on the grilling tray/
basket over medium heat. Stir the chicken
every 3 min or so.


8.
Fold 2 pieces of aluminum foil together to
form an extra wide sheet. Do this by rolling
2 sheets together tightly and crimping.

Place chicken on the foil.

9.
Spread the grilled onions, peppers and
eggplant over the chicken.

10.
Spread the tomato, scallions & celery
on the grilled veggies.
Mix 2 tsp lemon juice with 1/2 tsp dijon.
Pour over meat & vegetable layers.
Sprinkle with salt, pepper & garlic powder.
Place habanero on top.

11.
Seal up the aluminum foil, crimping the
top and rolling the edges tight.
Place on grill tray/basket.
Cook over low heat for 45 minutes.

12.

Serve.
13.
Enjoy!