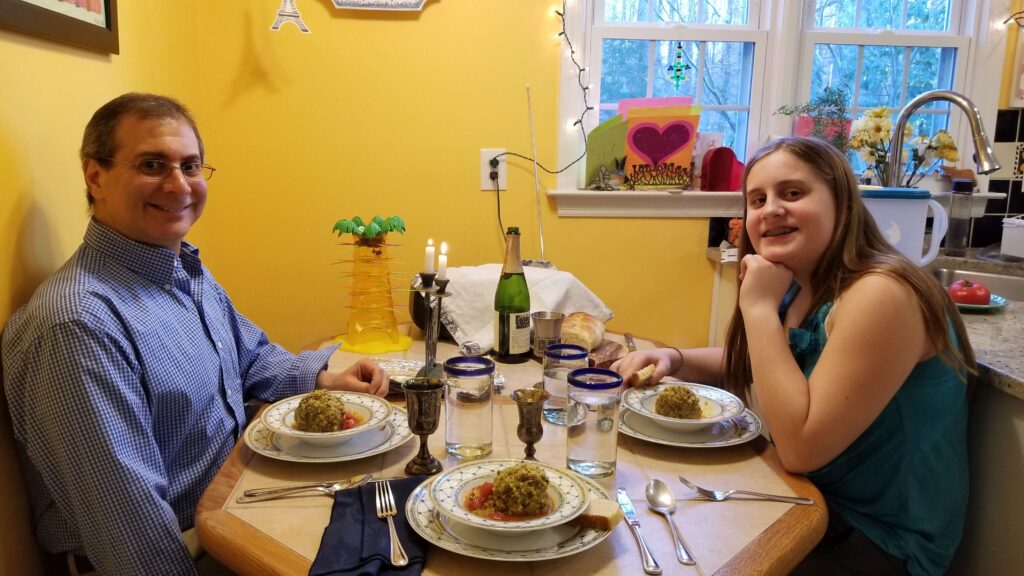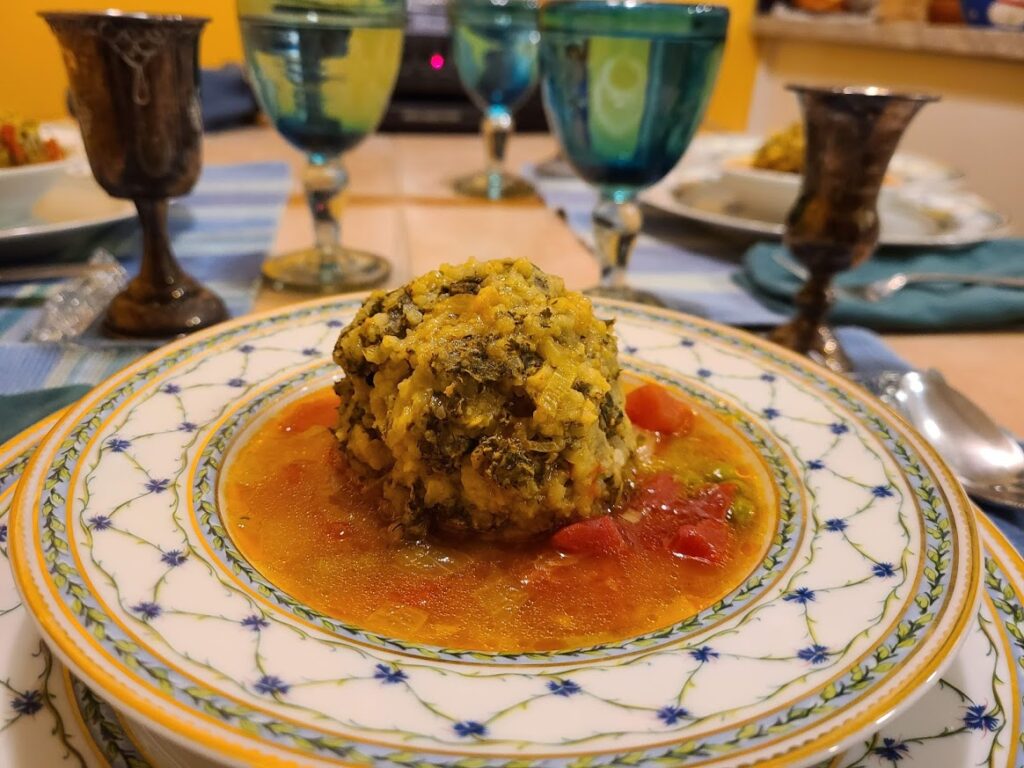 Koofteh Tabrizi (herbed meatballs) is one of my family's all time favorite dishes and is the number one dish on our top 10 list. This dish is from Iran/Persia. The original recipe comes from a fabulous Sephardic Jewish cookbook, Sephardic Cooking, by Copeland Marks. The cookbook has some fabulous history in it and apparently (based on feedback from friends from some of these countries) the recipes are truly authentic. I have modified this recipe a bit based on our tastes. When Eva was little, we decided to call them Dinosaur Eggs because they are giant meatballs, and the name has stuck. We make this with ground turkey as my husband avoids red meat. Even though turkey tends to be leaner, fear not, this dish is SCRUMPTIOUS! We tend to eat it by itself, serve it in bowls with a lot of broth. I serve it whole (looks nicer) then cut it up and add more broth as I eat. I love mine drowning in broth and often go back and add more broth 2-3 times as I am eating. I recommend eating it with a spoon. It is quite filling, so you really don't need to serve anything else with it. This makes 8-9 balls. You can make this a day ahead. ENJOY!!!!!
Ingredients
HERBED BALLS
1 lb ground beef or veal or turkey or a combination
1 1/2 cups raw rice, well rinsed
1 teaspoon salt (or to taste)
1/4 teaspoon tumeric
1/4 teaspoon ground black pepper
2 tablespoons dried tarragon
6 heaping tablespoons of dried parsley
1 cup finely chopped fresh leeks (both green and white parts)
1/2 cup chopped dill weed (I used dried)
1 medium onion, chopped fine (1/2 cup)
BROTH
3 tablespoons vegetable oil
2 large onions, chopped (2-3 cups)
1/2 teaspoon ground tumeric
2 cans diced tomatoes (or 2 cups of fresh diced tomatoes)
1 teaspoon salt
8-10 cups water
2 cups green peas, fresh or frozen
Step by Step Directions
1.
Rinse the rice well.


2.
Clean leeks (cut down middle and rinse
each 1/2 thoroughly.



Cut leeks finely.



Chop onions.

3.
Add all herbed ball ingredients to a large
bowl.

4.
Using your hands, mix all the herbed ball
ingredients together in a large bowl until
fully combined.

5.
Form meatballs that are about 2 1/2 inches
in diameter. You don't want to squeeze
them to firmly nor not at all.
6.
Cover meatballs and refrigerate for 1 hour.
7.
While meatballs are chilling, make the broth.
Add oil, chopped onion and tumeric to a
large pot.

8.
Sautee over medium heat, mixing frequently,
until light brown.
9.
Add tomatoes and salt.
10.
Stir fry for 2 minutes.

11.
Add water and bring to a boil.
12.
Add refrigerated meatballs to the pot.
Make sure they are covered with water.
13.
Bring back to a boil. Cover. Lower
temperature to medium low (you definitely
want the liquid at a strong simmer while
cooking).
Cook for 1 hour. Check periodically to make
sure there is enough water. You may want to
gently turn the balls over. If rice does not
look fully cooked, cook them a bit more.
14.
Add peas. Cover. Cook for 10-30 minutes.
The peas get sweeter the longer you cook
them.
15.
Serve warm in a bowl with the broth.