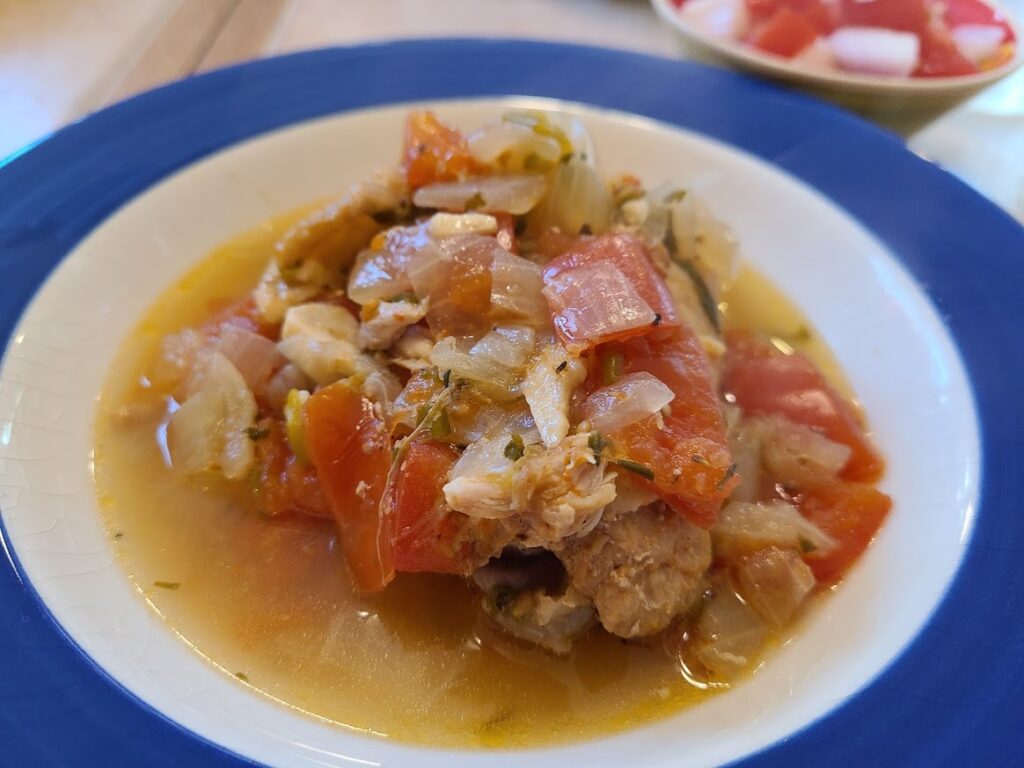 I had been waiting to make the Kedjenou, the traditional chicken stew of the Ivory Coast, until I got my box of Attiéké, a type of gluten free couscous made of Manioc aka Cassava aka yuca that is eaten in the Ivory Coast and often accompanies Kedjenou. The Attiéké, was a little splurge which I was able to get on Amazon. The verdict: Kedjenou was increadibly easy to make, tasty and easy to clean up from (as you just dump everthing in the pot, nothing sticks to the bottom, making for easy clean up). We rated it an 8.5/10. The Attiéké, on the other hand…that got a giant BLECH!!! with a rating of 1/10 possibly 2/10. It had an extremly pungent smell (the second you opened the box) and the taste was the same. I can eat almost anything, but was not able to even choke this down – even by trying to cover up the taste with sauce, tomatoes, onion and lemon juice. So if you do make the Kedjenou – which I highly recommend – I would serve it with white rice or regular couscous. It would be delicious…and there are people who do serve it that way in Cote d'Ivoire too.
Kedjenou is usually made in a special clay pot, but if you don't have one you can use a heavy cast iron pot or something where the lid stays on tight to keep in the juices. I found a bunch of recipes in English, but since I speak French, I figured why not check out videos of Ivorians making Kedjenou. Must have watched about 10 to 12 videos. There were a bunch of commonalities, and a few variations. Everyone put whole chicken pieces in a pot, topped with chopped tomato, onion, garlic, ginger, a boullion cube, bay leaf, habanero peppers and thyme. Green onions (scallions) were found in several variations as was parsely. I did not see any authentic videos which had eggplant in it. I mention this because one English video did have eggplant. The non-authentic video was also the only video that cubed the chicken. 1 person added about 1 T of vinegar and another added 1 T of lemon. Thought about it and may do that later. Most chopped the ginger which is easier than grating it, but I like how the ginger spreads nicely when you grate it. Nut oil was recommended to use, but if you have allergies, vegetable oil is fine. I would have used a habanero pepper, but they were out of them in the store, so I settled for part of a jalapeno. The degree of heat varied from 2 habanero peppers to 5. I saw 2 recipes where the women blended (in a blender) all of the ingredients except the chicken and the habaneros and cooked the chicken in the blended sauce. We ate ours the way the vast majority of Ivorians at it, not blended, but Eva didn't want to eat the chunks, so last minute, I took some of the sauce and blended it with an immersion blender. Not as aesthetically pleasing to look at by very tasty that way too. The Kedjenou was really very tasty and a very easy one pot dish. Basically you dump everything in, stir once, cover, cook and serve. We will most certainly be making it again.
Ingredients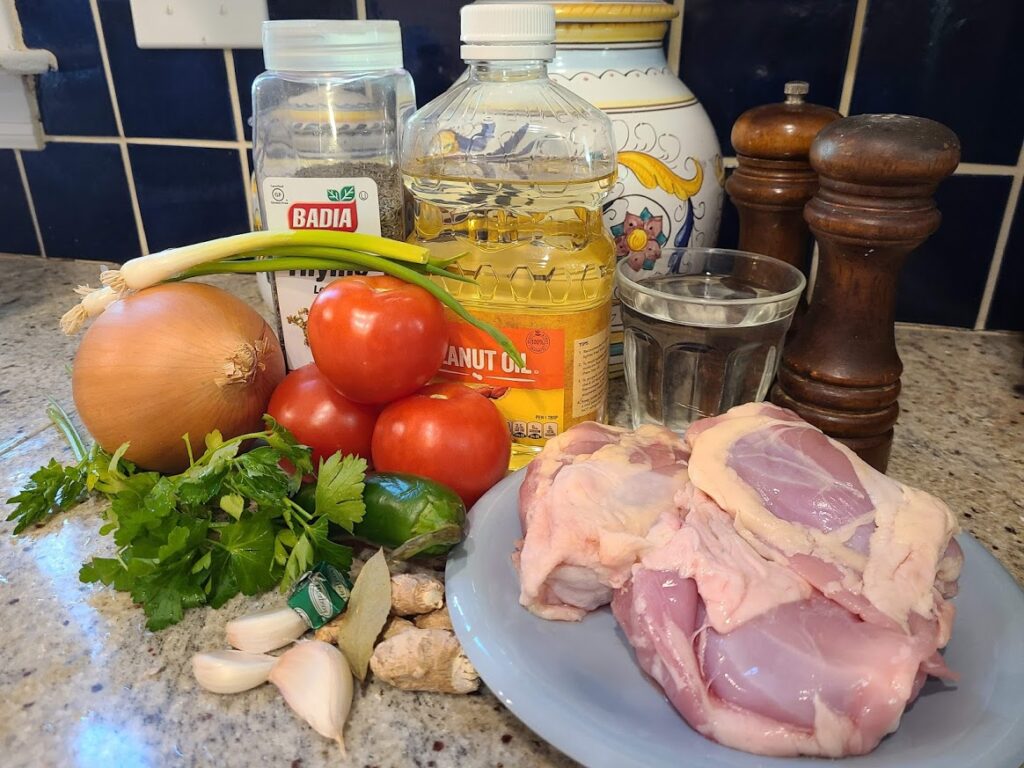 1 chicken cut in parts or 2 pounds of chicken parts (dark meat is best)
3 tomatoes, chopped
1 large onion (2-3 medium onions), chopped
3-4 scallions, chopped
parsley (about 10 stems), chopped
3 cloves of garlic, sliced
1-2 inches (5 cm) ginger, grated or chopped
1 sprig fresh thyme or 1/4 tsp dried thyme
1/2 tsp salt (or to taste)
1/2 tsp ground pepper (or to taste)
1 chicken cube (optional)
1 bay leaf
1/2-1 C water
1 habanero pepper (whole) or 1/4 of a jalapeno (seeded & minced)
1 T peanut oil (or vegetable oil)
Step by Step Directions
1.
Chop tomatoes, onions, green onions, \
parsley & garlic.
Grate or chop ginger.
Remove seeds and the white pith then
mince if using jalapeno.
Add oil & chicken to a heavy pot.
Add onions, tomatoes, green onions,
parsley, garlic & ginger.
Add salt, hot pepper, thyme, bay leave
and chicken boullion cube.
Mix.
Add water.
Mix.
Bring to a boil.


Cover. Turn down heat. Simmer 1 1/2 to 2
hours.
Serve.