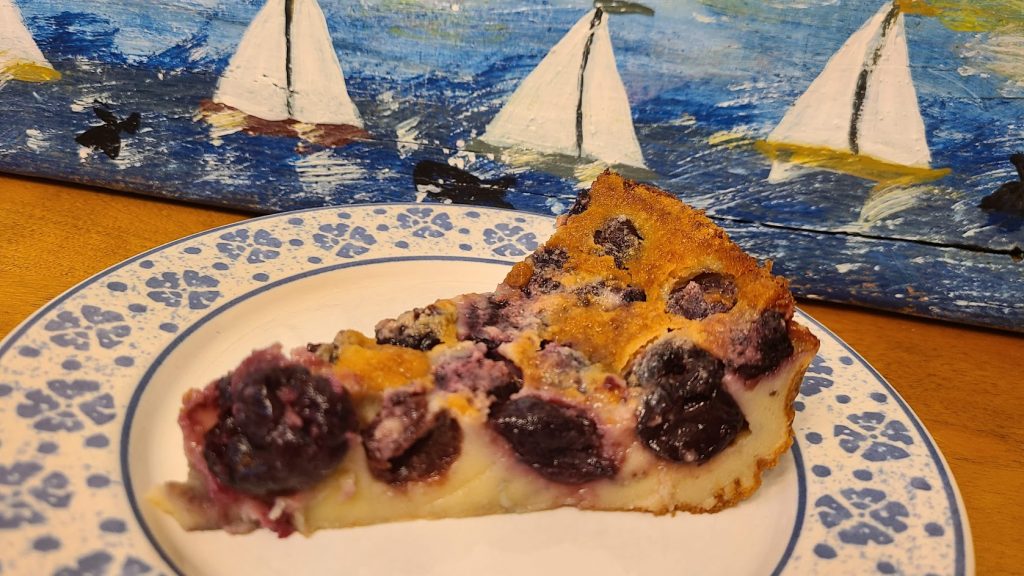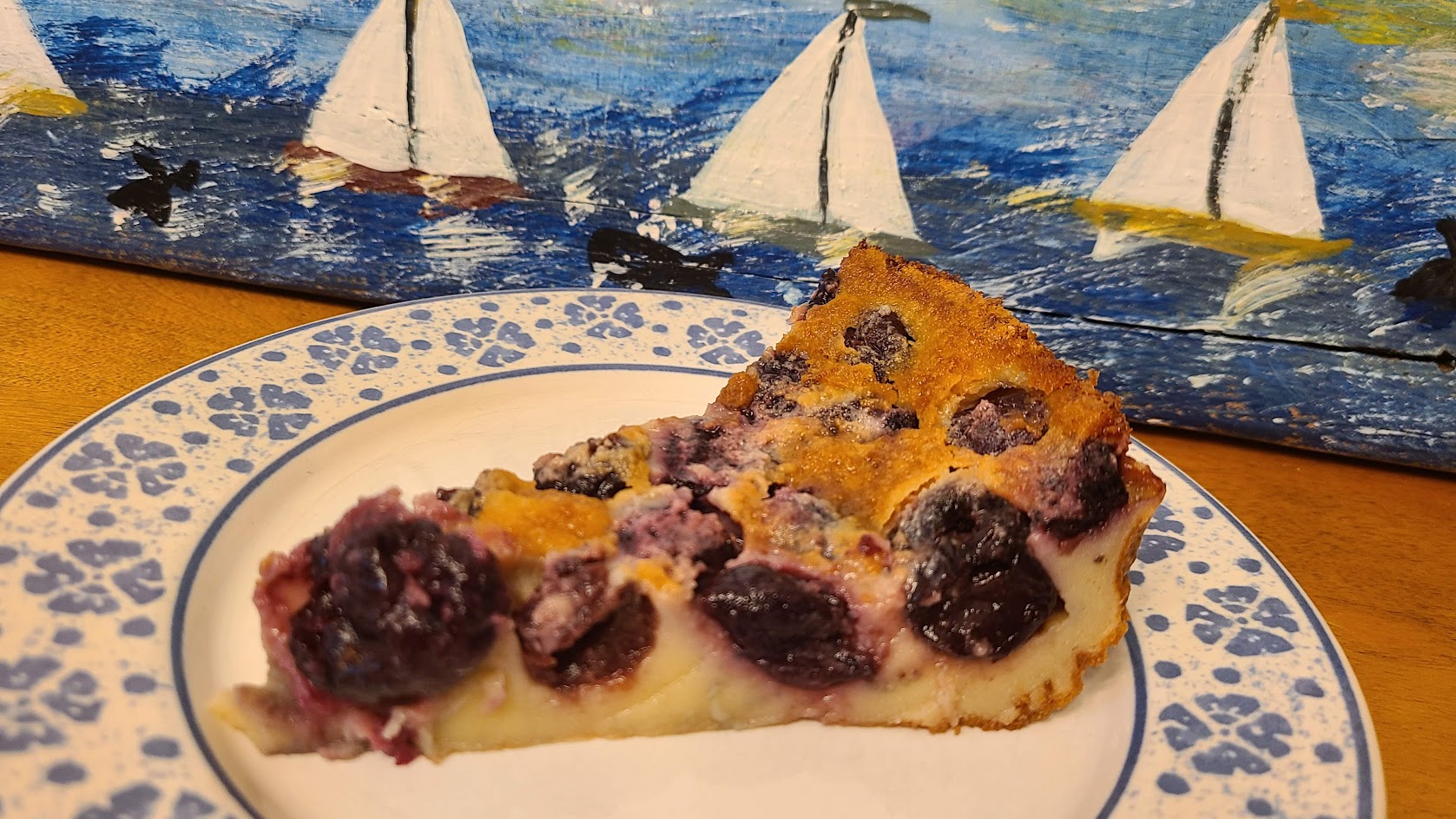 Summertime means fresh fruit and where there is fresh fruit there are fresh fruit desserts! You may be familiar with cobbler and pies, but are you familiar with Cherry Clafoutis? Clafoutis is a traditional French dish dating back at least 2000 years to medieval times! Basically it is a cross between a flan and a thick pancake with cherries and you can pick it up with your hands to eat for dessert or breakfast. A French flan was actually one of the first desserts I ever tried when I was 15 and went to France for the very first time. The memory of it still stays with me. This dessert is very simple and easy to make. It is quite tasty and not too sweet. In fact, it was so tasty and easy to make that I actually made 3 within a week!!! There is a big debate in France as to whether you should pit the cherries or not. The original version uses fresh cherries that have the pits – a dentist's dream for drumming up business. Most recipes seem to use pitted cherries. You can do that with a cherry pitter or just push the pit out with a straw. Proponents of leaving the pits in say that it gives a hint of almond to the clafoutis as cherries are in the almond family. Proponents of pitted cherries obviously like the fact that they do not need to eat so attentively, BUT one of the down sides is that the cherries give off a lot of juice that can change the consistency of the clafoutis. Costco sells pitted frozen cherries. I went with this option as I did not wish to break a tooth nor did I have the patience to pit all of the cherries. I can say, it tasted great! If you go with the frozen cherries, make sure to let them fully thaw and then drain them well before using them. Some of the recipes I read have you just dump all of the flan ingredients into a bowl and mix, but they specified you must get all of the lumps out. Some recipes had you put the ingredients into a blender…but I am certain they did not have a blender in medieval times AND I hate washing blenders… not to mention I burnt out our blender motor last year trying to make hummus. I found that sifting the flour in, then adding milk gave good results. Then you pour it over your fruit and bake. You can, by the way, use any fruit that does not have too much juice. Apricots, Raspberries, blackberries and blueberries seem to be good options. But cherry clafoutis is the classic. Scott rated this dessert as a 10/10. Enjoy! I know we did… again and again and again!
Ingredients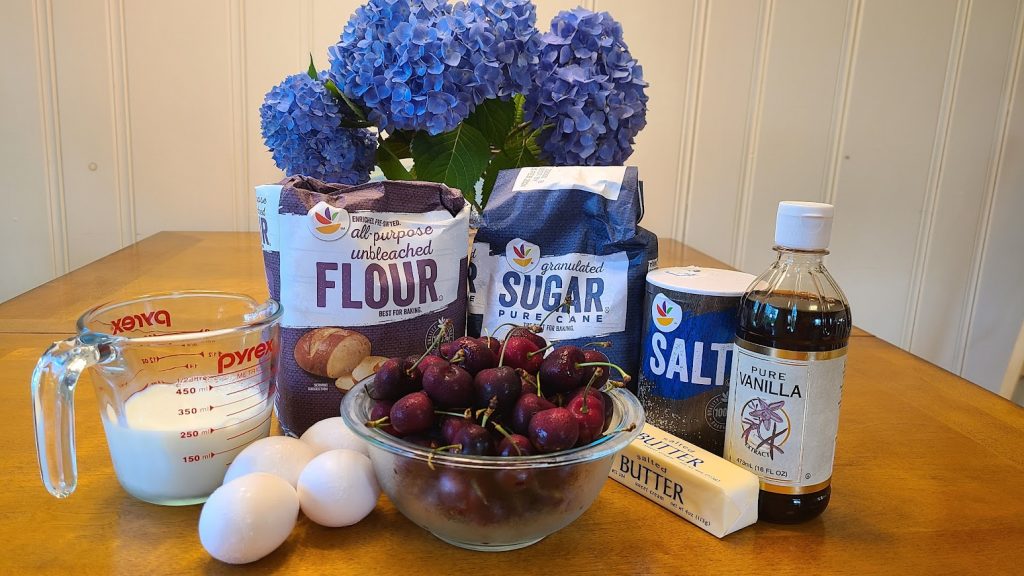 4 eggs
100 gr sugar + 1-2 T (30g) (divided)
100 g flour
250 ml milk
1 tsp vanilla extract
1 pinch of salt
550-600 g cherries (destemmed and pitted) You can use frozen but must drain the juice once thawed (Costco sells them).
softened butter for preparing the baking dish
Step by Step Directions

1.
Preheat oven to 375 F.
Butter and flour a 9″ baking dish.


2.
Wash cherries. Remove stems and pits.
(If using pitted frozen cherries let the thaw then drain the juice –
I HIGHLY recommend this option )
3.
Cover the bottom of the baking dish with the cherries.
4.
In a large mixing bowl, crack 4 eggs.

5.
Add 100g of sugar, a pinch of salt, and a tsp of vanilla.
Whisk until smooth.



6.
Sift in 100g flour. Whisk vigorously so that it is silky smooth.

7.
Add 250 ml milk.
Whisk until frothy.
8.
Gently pour the batter over the cherries.
9.
Sprinkle the top with 1-2 T of sugar.
(Easier to do using your fingers)

10.
Bake at 375 F for 45 minutes until the center is set. It will have puffed up.

11.
Remove from oven. Let cool for 30 min.
Optional: Dust with confectioner's sugar.
Serve warm or cold (straight out of the fridge).