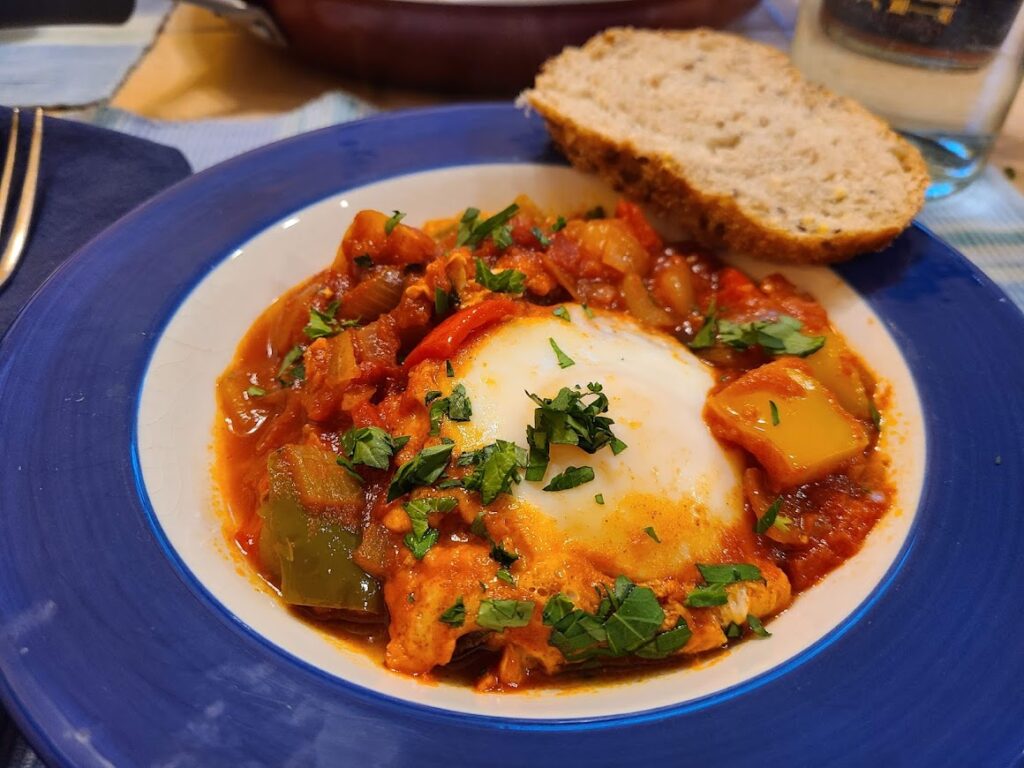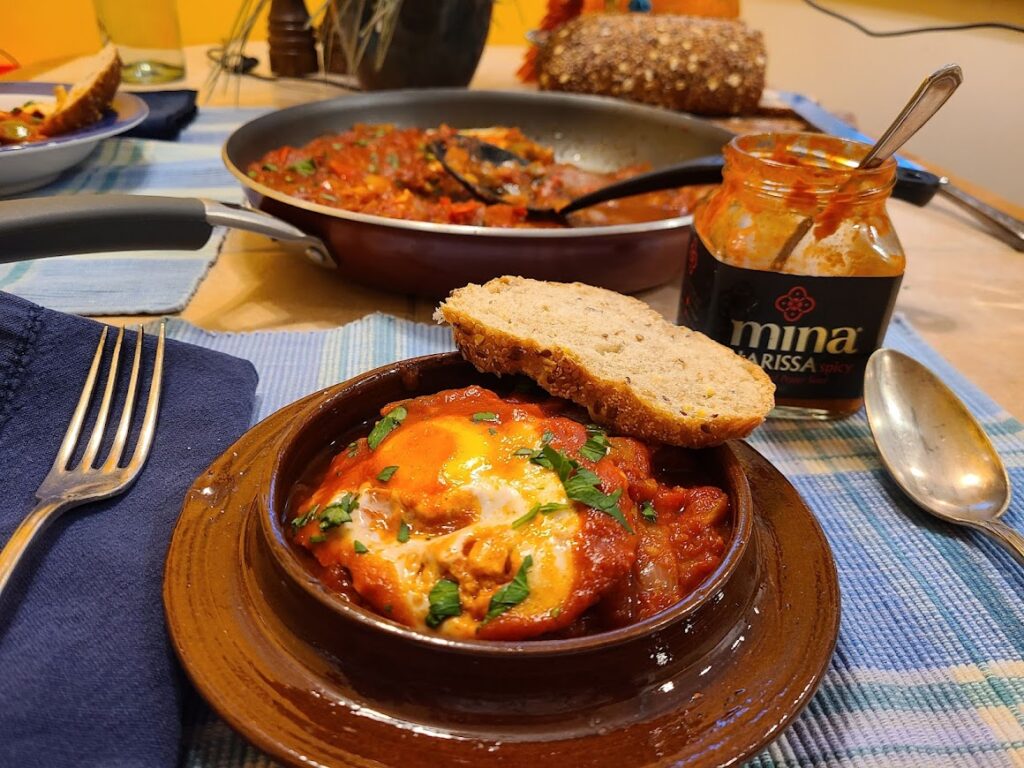 I first had Chakshuka (also spelled Shakshucka) in an cafe in the heart of the Jewish quarter in Paris years ago for lunch. The line was out the door, the place was packed and despite the extensive menu, the majority of the people were eating some type of eggs that looked like they were poached in savory bath of sauteed tomatoes and peppers served sizzling hot in a mini cast iron skillet. This simple dish was filling, flavorful, fortifying and fabulous! In addition, and most importantly it was easy to make, economical, vegetarian and gluten free (the side of bread is optional – or you can serve with gf bread). While I made what seems to be an Israeli version, Chackshuka is clearly popular across the Middle East and many countries have their own slight variation, although many of the recipes look fairly similar. Some recipes use slightly more chopped tomatoes, some use tomato paste in addition, and others don't. Some add a bit of spice with harissa or cayenne pepper (or a combo of both). Most of these recipes can be made fairly quickly, although I personally prefer my peppers cooked a bit more. The traditional Israeli recipe seems to use only 1 pepper. I did add 2 to make it a bit more filling and because I like peppers. You can use fresh or canned tomatoes. If you have leftover tomato and pepper sauce, you can save it for the next day and poach more eggs in the next day or so. It is helpful, but not necessary, to precrack the eggs into little glasses so you can just pour them into the tomato mixture quickly and at once so they all finish cooking around the same time. Normally, you want the eggs to be cooked yet still have runny yolks (unless you are cooking for my husband who likes his yolks fully cooked). The flavor of Chackshuka made me think of Caldo de Ovo, a dish from Cape Verde we had made earlier in our cooking adventure. While the two dishes are similar in flavor Caldo de Ovo is more like a soup with all of the eggs poached to the point of being fully cooked. Chakshuka, on the other hand, is a richer more supmtuous dish with eggs lightly poached in a rich thick tomato and pepper sauce. Both are delicious and have their merits and I would encourage you to try both. Chakshuka is great for breakfast, lunch or dinner. My family loved this very versatile dish and have made it multiple times already.
Ingredients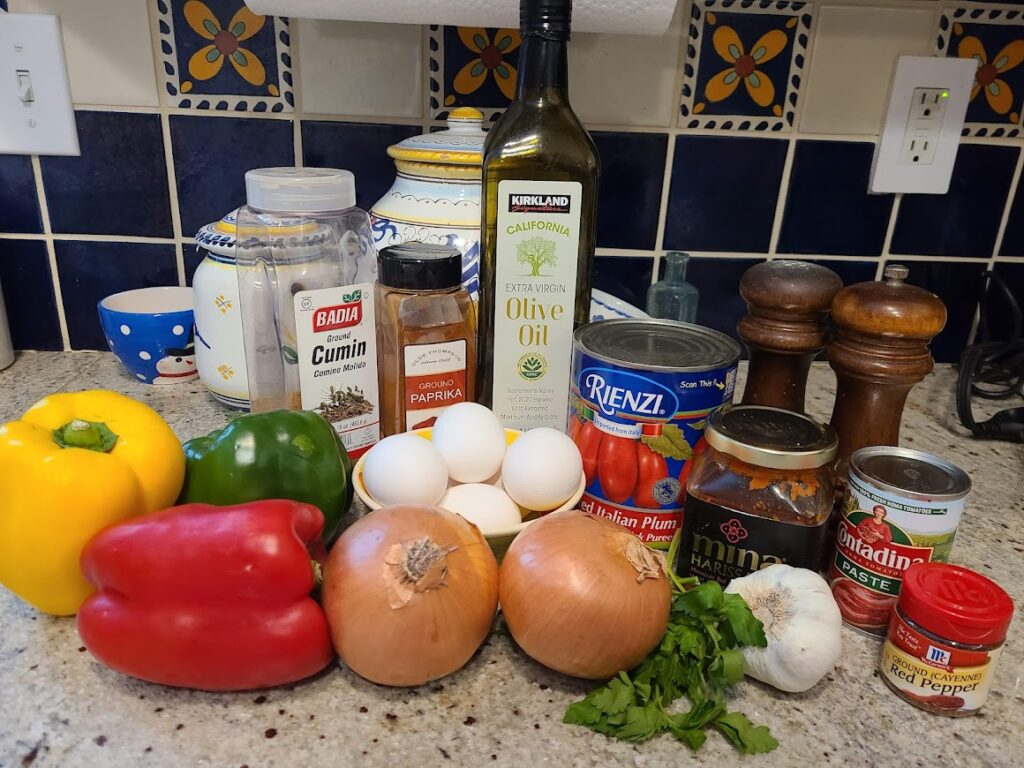 2-4 tablespoons olive oil
2 medium onions, chopped (3/4 cup)
1-2 medium peppers, chopped (any combo of green, yellow & orange)
4-6 garlic cloves, crushed
3 tablespoons tomato paste (50 grams / 2 oz)
1-3 teaspoons harissa – or 1/8 – 1/2 teaspoon cayenne pepper to taste (optional)
5 medium tomatoes, chopped (800 grams / 28 oz) or 28 oz canned diced tomatoes
1 tablespoon paprika
1/2 teaspoon cumin
1/4 teaspoon chili powder
1 teaspoon salt
1/2 cup water
4-6 eggs
chopped parsley for garnish
hearty bread for serving
Step-by-Step Directions
Chop onion, peppers, garlic and parsley.



Heat 3 T olive oil in a pan. Add onions and sautee until translucent.


Add peppers. Mix well.
Sautee over medium high heat until pepper has softened.



Add 4-6 cloves minced garlic. Mix well. Cook 2 min.
Add 3 T tomato paste and 1-3 teaspoons harissa or 1/8 to 1/2 teaspoon cayenne pepper. Mix well.


Add 1 T paprika, 1/2 tsp cumin, 1/4 T chili powder and 1 T salt.
Mix well.



(If using fresh tomatoes, poach in water to remove the skin.)
Squish the whole tomatoes into the pan. This is the easiest way to do this.
Stir. Bring to a boil.
Cover. Turn the head down. Simmer for 15-30 min.
Optional step that makes things easier because it means eggs can be
put in faster and will all have about the same amount of cook time.
Crack each egg into a cup.



Using the back of a spook, press down in the tomato mixture to form
an indent. Repeat for the number of eggs you plan to cook.
Crack an egg into each well or if you pre-cracked them, just pour them in.
Serve with bread.