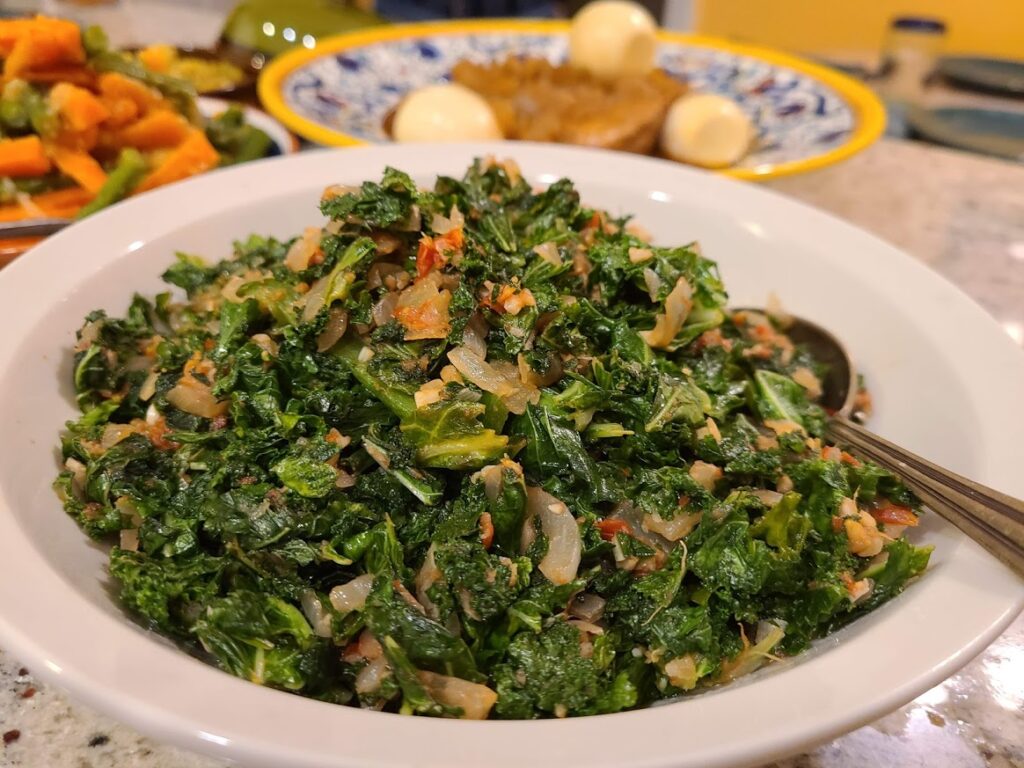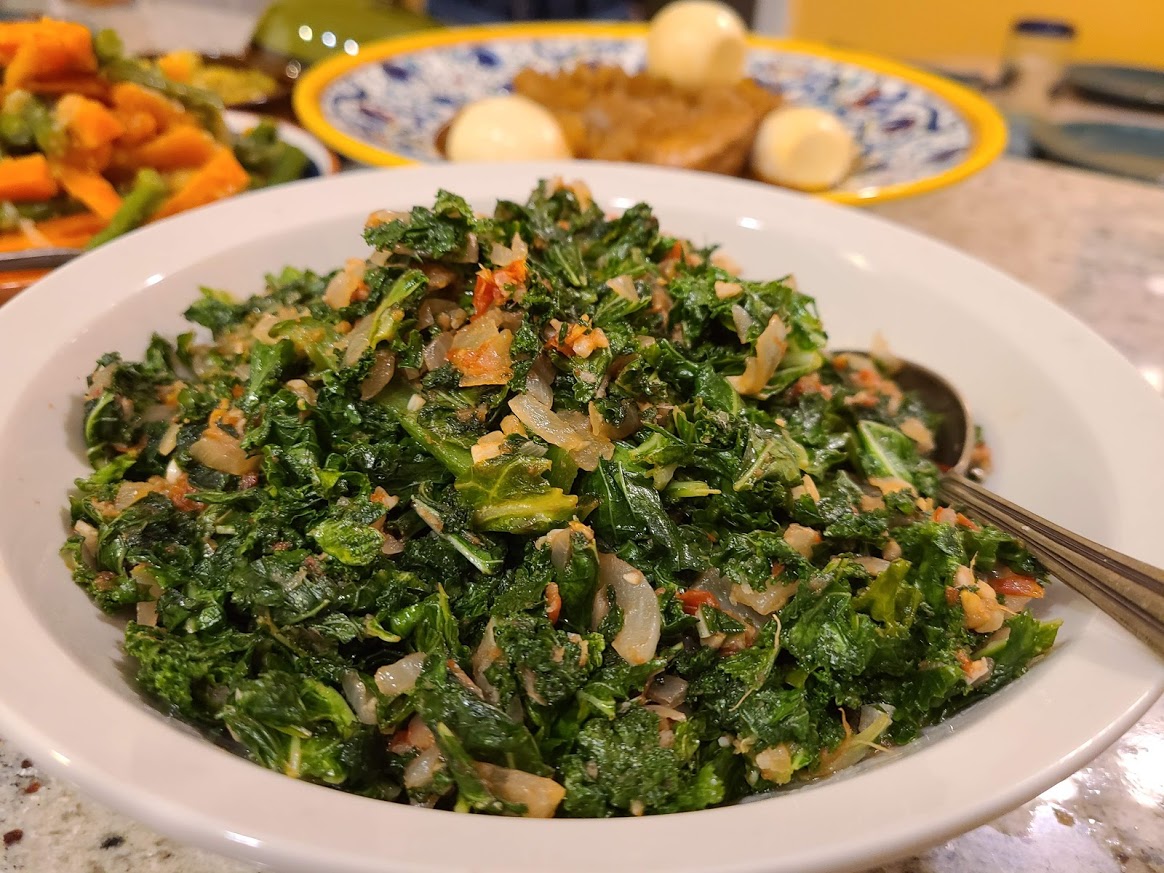 Gomen (Ethiopian Sauteed kale/collard greens) is a light, healthy fairly quick and easy to make. If you like sauteed spinach with garlic, you will like this. Although this dish is typically made with kale or collard greens, you could easily make it with any green. If you use baby spinach which has tender leaves, then you will skip the step where you cover it, as it will cook in just a few minutes as you sautee it. The dish was tasty and can be made a day ahead. One interesting characteristic of this dish is that the onions, tomatoes and garlic are sauteed in a dry pan. This seems to be typical in Ethiopia and Egypt. The recipe calls for about 1 cup of oil. I used about 3T then added 1-2 more. You can compensate for less oil with a bit of water. You want the least amount of water possible, to just barely steam it. This dish is vegan, vegetarian and gluten-free. There were a few options recommended like adding fresh basil and chili paste. I did not do that on the first time. The recipe I made also had an option of adding mimita which is a very very hot version of the Ethiopian Berber spice blend. I did not order mimita, but I did serve the Gomen with the Berber on the side which we all sprinkled on. Berber is a little hot, but not too hot. I ordered the following one on Amazon: Ethiopian Berbere Chili Pepper Blend (8 oz) | Authentic Berbere & All Natural East African Seasoning | NON-GMO | No Preservatives | Made and Imported from Ethiopia | በርበሬ (8oz) by Brundo Ethiopian Spices
Ingredients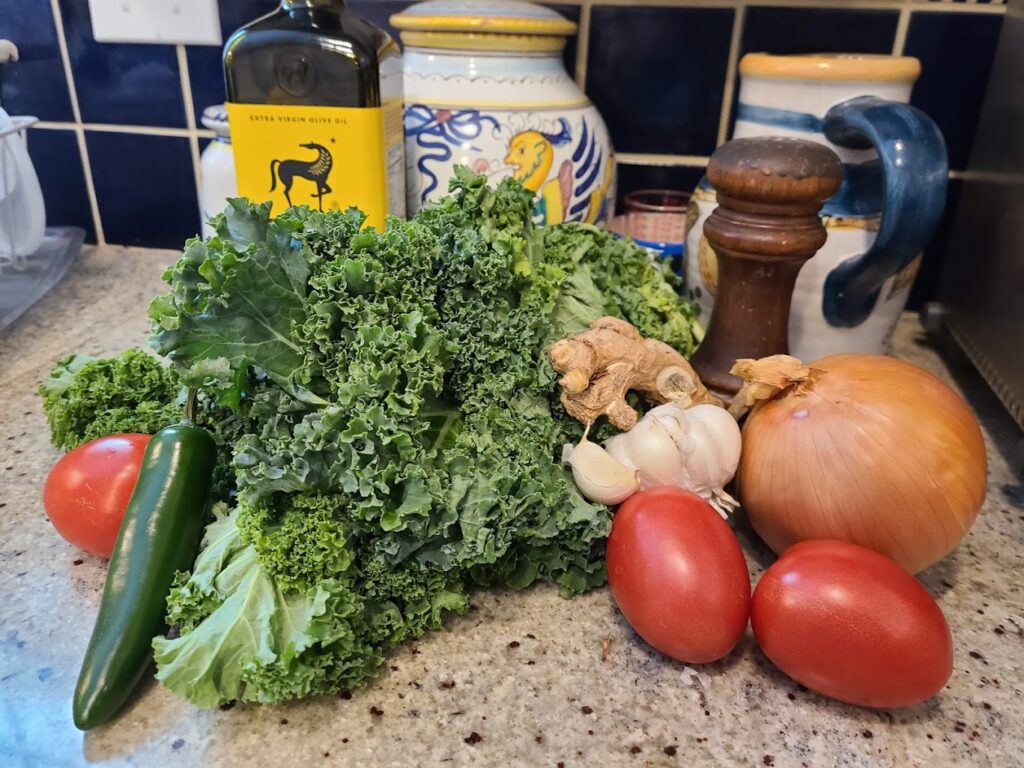 2 large bunches of kale or collard greens, chopped
2-3 medium tomatos, finely chopped (or 1 can of diced tomatoes)
3 large cloves garlic, chopped
3 large cloves garlic, pressed
1-2 inches ginger, grated
1 large onion, minced
1 jalepeno pepper sliced the long way (remove seeds and white membrane)
3 T to 1C olive oil (or vegetable oil) (I used about 4 T, 1C will make it tastier)
1/2 tsp salt (add to taste)
1/4 C water (plus extra if needed)
Optional: mitmita/berber, fresh basil, chili paste (I did not add these)


1.
Wash the greens thoroughly.
Remove leaves from stems.


Chop



Set aside in a bowl.

2.
Mince onion, tomoatoes.
Remove seeds & white membrane from
jalapeno (leave them if you want it hot).
Slice jalapenos lengthwise in 1/4 in strips.
Chop 3 large cloves of garlic.
Mince/press 3 large cloves of garlic.
Grate ginger.
3.
Add tomatoes, onion and the CHOPPED
garlic and salt to a large pot.
(large enough to hold all of the greens).

4.
Sautee onion mixture over high heat for
stirring regularly until the mixture looks
dried out (about 10 minutes).
5.
Add oil. Use 3T to 1C oil, your choice. I used
about 4T in total.
Sautee, stirring for 1-2 minutes.
6.
Add ginger, pressed garlic.
Sautee, stirring constantly for 1-2 minutes.
Add water, let simmer for a minute so
flavors meld.

You can add some Berber here if you like
or serve it on the side.
7.
Add chopped greens to the pot.
8.
Mix well.
Sautee over medium high heat.
Add a bit of water if needed.

9.
Turn heat to low. Cover pot.
Cook for 10-15 minutes until greens are
wilted but still a vibrant green.

Adjust salt as needed.
Add julienned jalapeno. Mix well.

*Optional: you can also add fresh basil and/
or hot chili paste.

11.
Serve.



You can also serve it wtih Berber on the
side for people to sprink on as desired.
Recipe source: Gomen